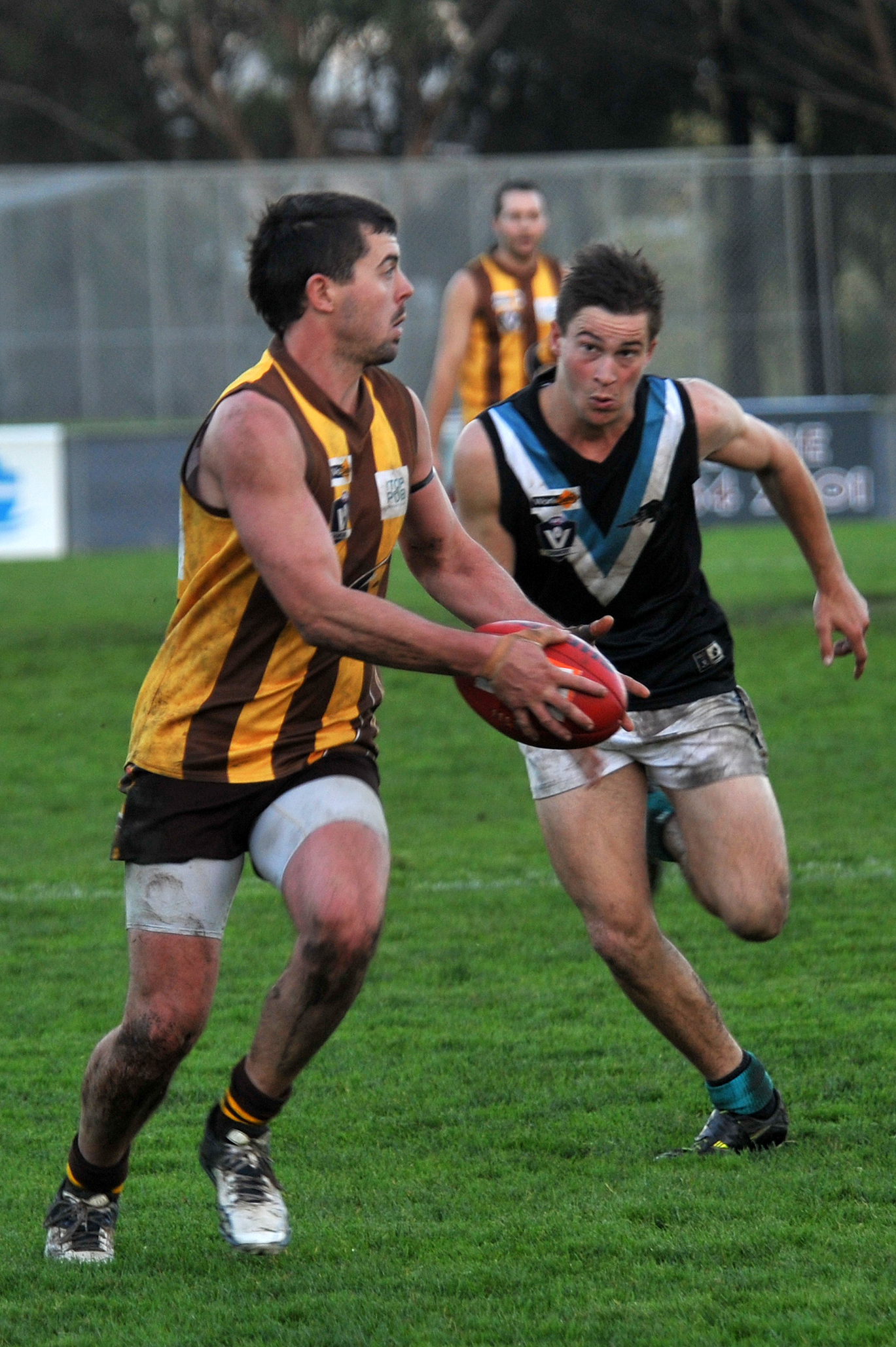 YINNAR continued on its merry way but found the going tough in the Mid Gippsland Football League match of the round against Trafalgar in a 17-point ball game at Trafalgar.

Newborough held out bottom-placed Hill End by four points, Morwell East got in against Yarragon by 11 points while last year's premier Mirboo North was held to a draw by Thorpdale to underscore a close fifth round of matches.
The only blow out was the resurgent Yallourn-Yallourn North's demolition of Boolarra by 88 points to mark the Bombers' first win at Boolarra since 2010.
Trafalgar v Yinnar
TRAFALGAR'S visions of a win over Yinnar were brought to a halt early in the second quarter when the ladder leader fired up.
Kept goalless in the first term, the Magpies posted 5.6 (36) to Trafalgar's 3.5 (17) to go to half-time with a handy lead of seven points, which increased to 16 at three-quarter-time after a three goal term.
Jamie Winters was a huge stumbling block for Trafalgar in the ruck, and while the Bloods trailed all match they could have exploded in the final term with the wind behind them.
However, the home side wasted vital opportunities to kick a miserly 1.5 (11) while Yinnar struggled against the wind with a handy buffer of two goals.
Players had trouble with the pink ball – used as part of the Pink Day fundraiser to support Breast Cancer Network of Australia – as it floated and swirled in the breeze and the kicking at times was awful.
When Sam Mills scored for Yinnar early in the final term it was almost all over and Trafalgar struggled to make up ground.
Tim Aitken booted three early goals for Yinnar but was well-held throughout the match.
Due to the strong breeze most of the play was at the railway end and at times there were no players north of the centre.
In the final scoreline of 10.6 (66) to 6.13 (49) seven players shared the goals for Yinnar while Trafalgar's best were Cohen Lee and Darcy Brock with two each.
Daniel Webster, Kane Grinstead-Jones and Winters were best for Yinnar while the Bloods were well served by Jamie Hines, Lincoln Weymouth and Joel Bragagnolo.
Newborough v Hill End
AN understrength Newborough lifted the Byrne/Fanning trophy against Hill End, but there were some anxious moments en route to the prize.
Languishing near the bottom of the table, Hill End took the game up to its more fancied opponent and nearly caused an upset, falling short by four points in a cliff-hanger.
The Hillmen led at every change and a surprise result appeared to be on the cards.
Keeping the strong Newborough men scoreless in the first quarter was a bonus for Hill End, but it wasted the opportunity to capitalise on the moment with a poor return of 2.6 (18).
Former coach Justin Rea was playing well and Cairns youngster Mugsy Mooka put his best game in so far as Hill End shut out the Bulldogs.
By three-quarter-time Hill End was clinging to a 17-point lead but Newborough, with the aid of the gusty wind, was able to claw back into the match.
Chris Payne scored a couple but it was left to Liam Carolan to kick the winning goal from a set shot; using the wind to his advantage he steered the ball straight to give Newborough a four-point victory, 8.8 (56) to 7.10 (52).
Chris Payne finished with three goals while Ben Rotheram scored the same for Hill End.
Adam Kennedy, Josh Whittaker and Brennan Mills were consistent for Newborough.
YYN v Boolarra
YALLOURN-Yallourn North has been dismantling the record book this season and continued to tear out pages, beating Boolarra at Boolarra for the first time since 2010.
Jumping out of the blocks early the Bombers gave Boolarra no chance of getting into the match en route to an 88-point drubbing.
Using the wind to good advantage YYN built up a first quarter lead and never looked back, keeping Boolarra scoreless in the first term.
By half-time the Demons had only managed a miserable 1.3 (9).
Both teams doubled their score over the next two terms with YYN adding a further 8.8 (56) to Boolarra's 2.3 (15).
Boolarra's loss pushed it further down the table to eighth.
Thomas Hutton and Darcy Shellcot were on target with four goals each for the Bombers while it was a picket fence for the Demons with three players sharing the goals.
Luke Norder was sterling in the ruck for the Bombers with coach Adam Bailey in medal winning form along with Dale Murphy and Derk Pol.
For Boolarra Matthew Buglisi, Jordan Cargill and Nick Hider played well in patches as YYN won 16.16 (112) to 3.6 (24).
Sitting in third place with four out of five wins the Bombers are flying higher than expected but face a couple of hard tests in the next few rounds.
Morwell East v Yarragon
MORWELL East won a tight tussle with Yarragon by 11 points in a game that could have gone either way.
The East led throughout in a match marred by a strong wind blowing to the south.
It forced many players into error and it was a scramble at times for Morwell East to keep the lead.
With a host of players not suited to Mid Gippsland footy, Yarragon was easily brushed aside in the contests by their tougher opponents.
Scores were close at most breaks and while Yarragon outscored the Hawks in the last term by two points the damage had been done as Morwell East ran out winners 9.12 (66) to 8.7 (55).
Yarragon missed the goal kicking skills of Troy Lehman who failed to get on the board this week after being relocated to cover injured players.
Morwell East is now in fourth spot and shows signs it may be a finals contender.
Nick Talerico bagged three for the Hawks with their best players being Frank Marks, Dean Brooks, Joe Whykes and Tim Spotswood, while for the Panthers Luke Woolan (one of three brothers) was best with James Harvey, Tim Farthing and Jade Jedsen in good support.
Mirboo North v Thorpdale
THORPDALE came within one kick of upending neighbour Mirboo North but forced a draw in a highly entertaining match with the end result in doubt up to the last few minutes.
Thorpdale jumped away in the first term and should have won from there; early inaccuracy could have blown it for the Blues as straighter kicking may have inflicted Mirboo North's third loss in a row.
However, fate intervened and Mirboo North fought back out of the hole to level the match at 58 points each by the final siren.
The more accurate Tigers booted 9.4 (58) to Thorpdale's 8.10 (58).
Jonathon Burge finished with four goals for Mirboo North and Thorpdale's Ilan Osman added another four to his already impressive tally.
Josh Taylor, Kris Berchtold, Clancy Bennett and Simon Bussitil were best for Mirboo North while Thorpdale had good players in Nick Brown, Daniel Martin, Jack Yelland and Harley Foat.
After two losses and a draw the reigning premier has slipped to fifth position.
YINNAR preserved its unbeaten status by the barest margin against Trafalgar to remain equal top of the Mid Gippsland Netball Association ladder on Saturday.
The Magpies edged out the Bloods 41-40, leaving them second to reigning premier Mirboo North on percentage with five wins apiece.
Newborough and Morwell East also scored victories to remain third and fourth respectively on 16 points, one win adrift of the leaders.
A Grade
Mirboo North 48 def Thorpdale 39
Yarragon 31 def by Morwell East 37
Trafalgar 40 def by Yinnar 41
Boolarra 50 def Yallourn 22
Hill End 17 def by Newborough 48
B Grade
Mirboo North 45 def Thorpdale 39
Yarragon 22 def by Morwell East 47
Trafalgar 35 def Yinnar 23
Boolarra 37 def Yallourn 18
Hill End 40 def Newborough 33
C Grade
Mirboo North 31 def Thorpdale 25
Yarragon 13 def by Morwell East 57
Trafalgar 25 drew Yinnar 25
Boolarra 27 def Yallourn 21
Hill End 24 def by Newborough 28
D Grade
Mirboo North 30 def Thorpdale 20
Yarragon 21 def by Morwell East 55
Trafalgar 28 def Yinnar 27
Boolarra 10 def by Yallourn 23
Hill End 23 def by Newborough 36
17 and under
Mirboo North 25 def by Thorpdale 29
Yarragon 28 def by Morwell East 39
Trafalgar 28 def by Yinnar 39
Boolarra 13 def by Yallourn 19
Hill End 6 def by Newborough 38
15 and under
Mirboo North 39 def Thorpdale 10
Yarragon 17 def by Morwell East 44
Trafalgar 15 def by Yinnar 36
Boolarra 4 def by Yallourn 58
Hill End 18 def by Newborough 43