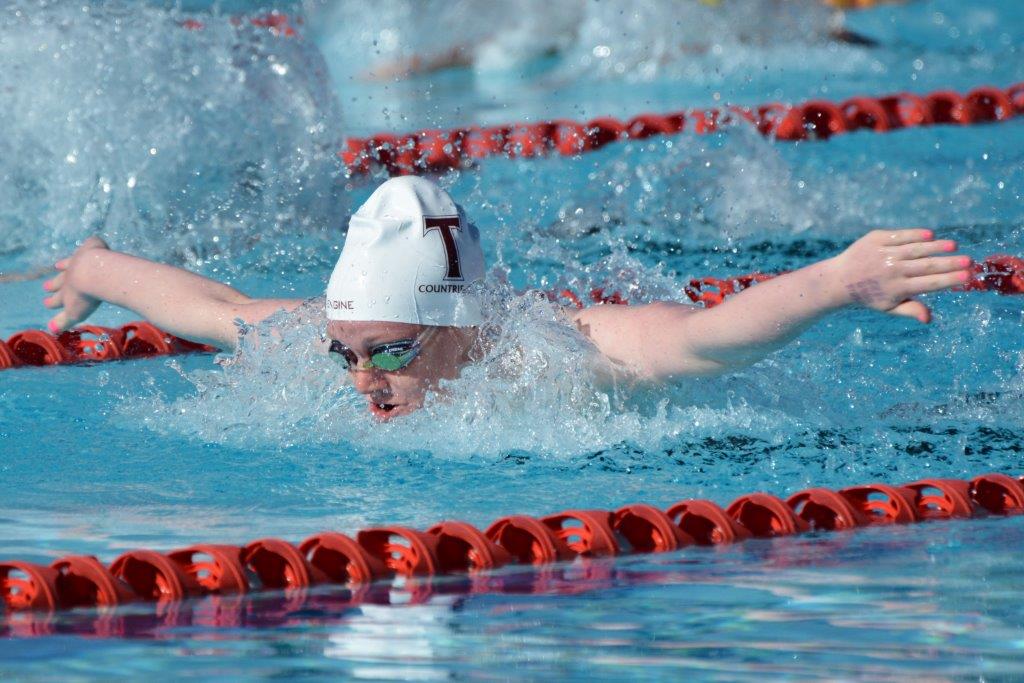 THE Traralgon Swim Club retained its title as Australia's top country swimming club following a series of outstanding performances by a team of 13 at the National Open and National Age Swimming Championships in Sydney recently.
Three of the team, Mikaela Cornelissen (16), Caiden Gill (16) and multi-class swimmer Emily Beecroft (15), launched the club's campaign at the National Open Championships.
The Australian team for the World Swimming Championships was selected from this carnival, and young gun Cornelissen gave the selectors a name to think about for the future with a fifth-place finish in the 50 metre butterfly (26.90 seconds), a Gippsland record.
She also finished 12th in both the 50m backstroke (29.27) and the 100m fly (1.00.26) – in which she shaved two seconds off the previous Victorian country record.
Competing against the likes of James Magnussen and Cameron McEvoy, Gill performed creditably in his debut on the National Open Swimming Championship stage.
Beecroft justified her inclusion in Swimming Australia's Road to Rio Multi-Class Development squad with two silver medal-winning swims in the 50m and 100m butterfly events.
Cornelissen, Gill and Beecroft were then among a 13-strong TSC squad to represent the club at the National Age Championship carnival following the open championships.
Led by Cornelissen and talented 14 year-old Alex Tsebelis, who each made four finals, the club achieved a 25th place finish on the points table, behind only the comparatively large metropolitan-based clubs.
Cornelissen and Tsebelis returned from their four finals appearances with a bronze medal in the 100m butterfly and the 100m backstroke respectively.
Other Traralgon swimmers to make finals and claim a ranking among the top 10 Australian age group swimmers in their event were Gill (two finals), 14 year-old Melina DeCort (two finals), 14 year-old Locke DeGaris (one final) and 15 year-old Ellodie Reid (one final).
Reid looked back to her best in taking bronze in the 200m backstroke (2.20.96), while Gill was in blistering form in the 50m free where he won bronze in the Victorian 16 years in an age record time of 23.15.
DeCort and DeGaris swam well to narrowly miss the medals in their respective events.
DeCort's 100m backstroke swim equalled the Victorian Country record held by Olympian Belinda Hocking.
She is now the fastest female backstroker from the Gippsland area over 100m (1.04.22).
Competing over the final two days of the carnival in the girls' 15/16 multi-class events, Beecroft continued her great form taking home a bounty of five gold, one silver and three bronze medals. Beecroft's gold medals came in a diverse range of events – the 50m fly, 50m back, 100m back, 50m free and the 200m individual medley.
The rising star's stunning 50m fly time of 31.96 was just 0.06 seconds off the world record for her class.
Erin Roberts, Taylah de Ros, Riley Akers, Lauren Akers, Connor O'Neill, Alice Peddle and Trent Morrow were the other Traralgon representatives at the event.
"National Open and Age were held over a 20-day period and for some of our swimmers to be "up" for this length of time is extraordinary," senior head coach Brian Ford said.
"All swimmers performed with grit, determination and distinction.
"To come back with four bronze medals, a Victorian, five country and 15 Gippsland records, top country club in Australia, fourth Victorian club and finish ahead of some 250 other clubs is an enormous effort.
"This was the 14th year in succession the club had medal winners at the national level."
The club held its presentation night on Saturday.