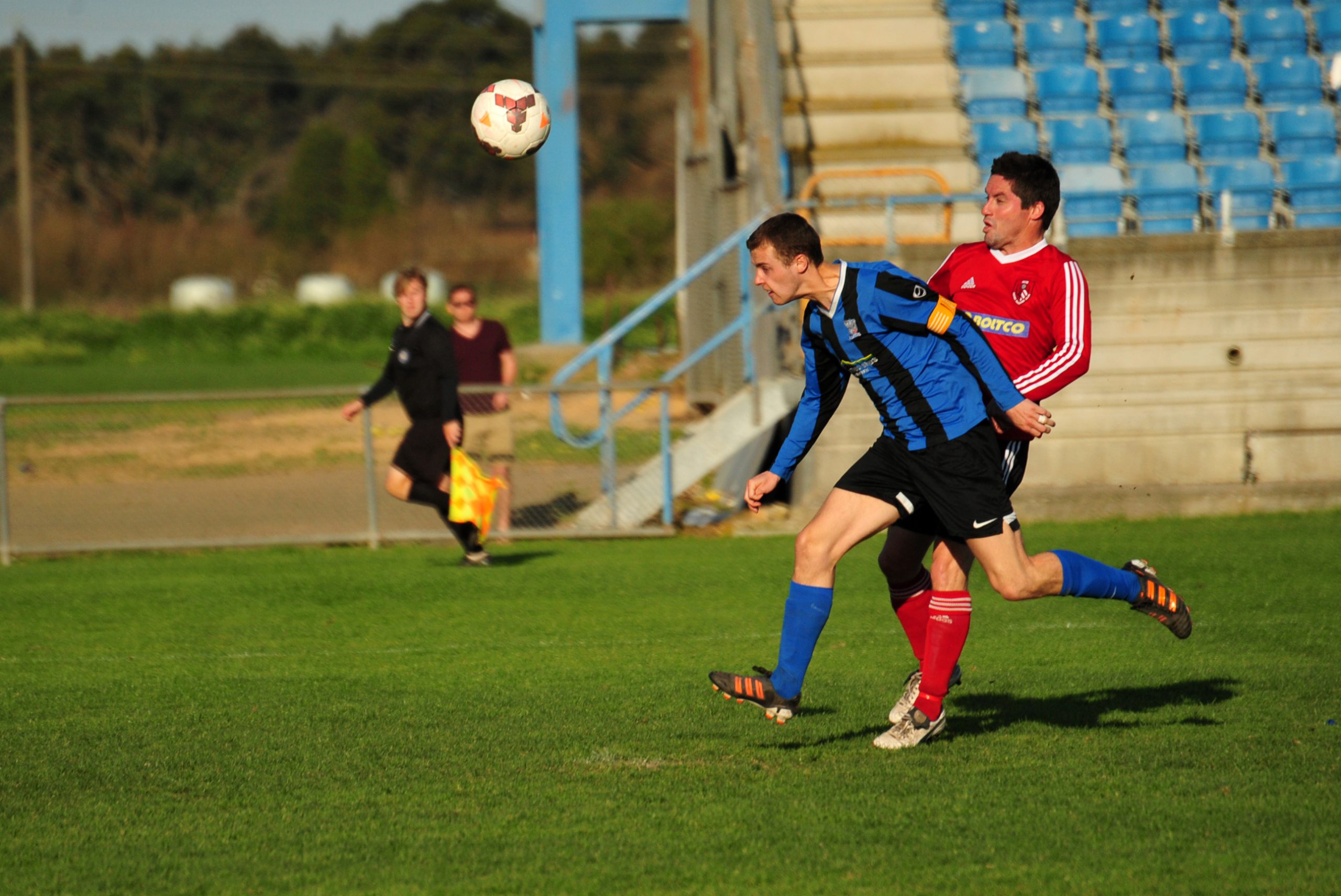 SOCCER
GSL
FALCONS 2000 and Moe United have largely breezed through the 2015 Gippsland Soccer League season but are set for a grind when they come face-to-face on Sunday at Falcons Park.
Sitting second and third on the central division ladder respectively, the clash marks just the second showdown between top three sides this season.
The Red Devils suffered a 2-3 loss to top side Sale in the first such encounter, followed by a bye, but bounced back at the weekend with a confidence boosting 7-0 thrashing of Morwell Pegasus.
Falcons are still without loss, but dropped two points back in round five when they drew 2-2 with Crinigan Road rival Fortuna.
Coach Nick D'Alessandro said that result had hurt, putting a premium on points in big clashes like this one.
"There's always a bit of feeling there with the derbys with us against them (Fortuna), but still we would have liked to maintain a 100 per cent record at home at least," he said.
"We do put importance on these big games really because they're six-point matches if you look at it that way, but (with) 26 games (in the year) you can't look too far beyond week-to-week.
"Important from a mental standpoint, but you don't want to drop any other points anywhere else, because the other top two sides are putting teams away at will."
Similar to Moe, Falcons endured a tight first half at the weekend against Monash before running away with the spoils 5-1.
Golden boot leader Jesse Kennedy and Sam Amaira continued their rich scoring form, adding two apiece to take their season tallies to 15 and 10 respectively.
With 2014 first choice full back Jordan Kennedy still pressing to break back into the senior line-up, along with the likes of early season starter Matt Amaira, D'Alessandro has depth all the way down to second division.
"When you're winning by decent margins it's hard to change things up unless you're forced to," D'Alessandro said.
"We've managed to solidify (the starting XI) the last couple of weeks which holds us in good stead going into Sunday."
Despite its free flowing efforts to date Falcons will find the well organised Moe defence, marshalled by coach Lee Dastey, more challenging to break down.
Moe has potent goal scoring options of its own, with Ash Birrell (11 goals), Matt Shearing (8) and Sam Gatpan (7) all in form.
Returning from injury Luke Bathgate also put his name back into the selection mix with seven goals in the reserves at the weekend.
"The goals part was probably one area we fell down in last year, I think Falcons, Churchill and Sale outscored as convincingly, so from that point of view it's been good for us, we've been getting quite a few goals," Dastey said.
The only injury cloud for Moe is Lachie McKenzie, who missed the Pegasus match on Sunday and is likely to sit out again.
Both sides have goal differences pushing positive 40, and have conceding single digit tallies after eight rounds, but a high-scoring clash is unlikely this weekend.
The last time these two sides met was the top six playoff semi-final last season, where the Red Devils won 1-0 before lifting the title over Sale.
Falcons won the preceding fixture 1-0 in round 14.
"We had some fairly even games last year… not a lot between the two I don't think. They're hard to break down and they don't concede too many," Dastey said.
"We're expecting a tough one, I guess the results so far through the season have indicated there's not a lot between Falcons, ourselves and Sale, so it's an important three points we can't afford not to get."
Emerging as two of the clear favourites for the league title, along with the Swans, Sunday's blockbuster may serve as an early indication as to the prime candidate for the silverware.
Kickoff is 3pm Sunday at Latrobe City Sports Stadium.
NEWBOROUGH-Yallourn United continued on its winning way at the weekend, overcoming a soggy pitch and a dogged Tyers outfit to win 4-1.
Looking for its fourth win in succession NYU started brightly but struggled to find the final pass in tricky conditions at Tyers.
Midway through the half NYU captain Adam Batt broke through the Lightning's backline but could not beat custodian Steve Ward, however his parry sent the ball to Mark Fairbrother who tucked home the rebound to break the deadlock.
Despite creating several more chances for the half NYU could not capitalise and took a slender 1-0 lead into half-time.
Shortly after the restart NYU doubled the lead when Fairbrother again found the net.
The two goal lead did not last long; a NYU foul just outside the penalty area was all the opportunity Tyers' Shayne Pavich needed, sending his free kick past a wrong-footed Damian Gilbert to peg one back for the home side.
The second half became a slog in the heavy conditions with neither side able to hold possession for long.
Late on NYU took control as the home side tired.
Fairbrother completed his hat-trick with a fine solo effort after being thwarted by Ward several times.
He then turned provider, playing Batt through on goal who netted his first of the season deep in stoppage time.
The 4-1 result saw NYU retain the Scott Frendo Cup.
Sale v Trafalgar
ZIPPY Sale star Tommy Nguyen netted four goals for the Swans to help squash Trafalgar Victory 8-1.
Ash Ross scored another brace in support, with strikes to Nathi Khamchom and Trevor Irwin completing the rout.
The game was effectively over by half-time, with the visitor 7-0 to the good.
Rudy Garcia managed a late consolation.
Nguyen's bag sent him to 14 for the year, one shy of golden boot leader Jesse Kennedy.
Fortuna v Traralgon City
FORTUNA 60 prevailed in the closest match of round eight, winning out 3-1 over Traralgon City.
Leading 2-1 at half-time, the Orangemen put the game beyond doubt with a third in the second 45 minutes.
The result kept Fortuna in the middle of the pack in sixth spot, while City is ninth.
Moe United v Morwell Pegasus
MOE withstood a first half fight from Morwell Pegasus before the floodgates opened in the second half at a wet Olympic Park.
Trailing 2-0 at half-time, an early red card in the second left Pegasus vulnerable and the home team took full advantage to win 7-0.
Jayden Camm scored a double.
Churchill v EGUFC
CHURCHILL United posted its second win of the season in style, thumping East Gippsland 9-1.
The win moved the Rams to eighth.
Falcons v Monash
BRACES to Sam Amaira and Jesse Kennedy saw Falcons win 5-1 over Monash.
The Wolves kept it close to half-time, with Ty Christy's strike keeping Falcons honest at 2-1.
Olympians had the bye.