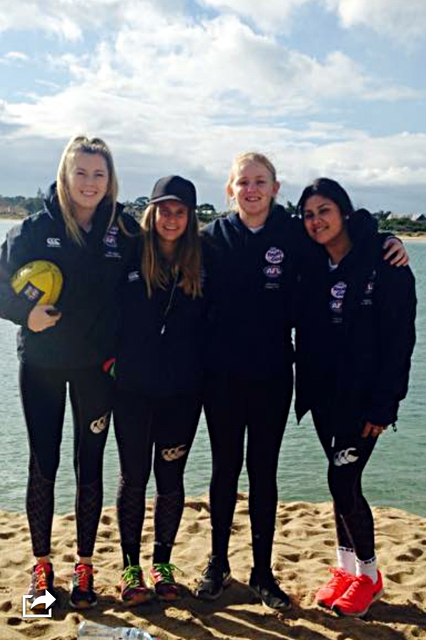 FOOTBALL
By SAM DARROCH
FOUR Gippsland girls went west last week to represent Victoria Country at the AFL youth girls national carnival in Mandurah.
Kim Graham, Shayla Marsh, Shani Dixon and Brodi Pedretti – all members of the inaugural Gippsland Power girls team – helped Vic Country to a fourth place finish against interstate opposition.
Marsh, who began playing club football in the Gippsland Youth Girls League last season, said the representative carnival was a valuable learning experience.
"It was a great experience playing alongside the girls, I enjoyed every second of it," Marsh said.
"The structure of the game was great, and the speed and ball skills were too.
"The level at nationals was so much faster, the speed and the play of ball was so much faster."
The 17 year-old said joining forces with three Gippsland teammates was a highlight.
"It was really good taking the field alongside them… working altogether gave us more confidence, knowing each other and how they all play," she said.
The side went down in three hard fought matches, losing to Queensland by 22 points on Monday, Victoria Metro by 35 points on Tuesday and by 24 points to Western Australia on Thursday.
Vic Country rebounded to face WA again in the third-fourth playoff, and pushed the host all the way before falling just short.
After failing to kick a goal in the first term, Vic Country booted the only two of the second before WA stormed home with five goals to one in the second half to secure a 6.6 (42) to 3.3 (21) victory.
Three members of the side – Marsh, Dixon and Graham – are coached by Gippsland Galaxy's Nikki Schroeter at the Dandenong Stingrays youth girls academy.
Schroeter also coached all four girls at Power, and said their involvement at the national level filtered back to their club sides.
"They come from that sort of high standard… they can actually pass on some of their skills to the girls and what they've learned," Schroeter said.
From the coach
Gippsland Power and Dandenong Stingrays girls coach Nikki Schroeter shares her thoughts on the Gippsland Vic Country representatives.
Kim Graham (backline)
"She's a very solid centre-half back player, very hard at the ball. Nothing gets past her and noone can stop her, she's a very unstoppable player."
Shayla Marsh (forward/wing/ruck)
"You can move her around the ground and her skill level is phenomenal."
Shani Dixon (on-baller)
"She's just handy… just really quick, one of the fastest footballers I've seen and skill wise one of the highest level female footballers that I've coached".
Brodi Pedretti (forward/wing/on-baller)
"She's just a solid footballer… I can see exactly why they chased her up and got her in the team."