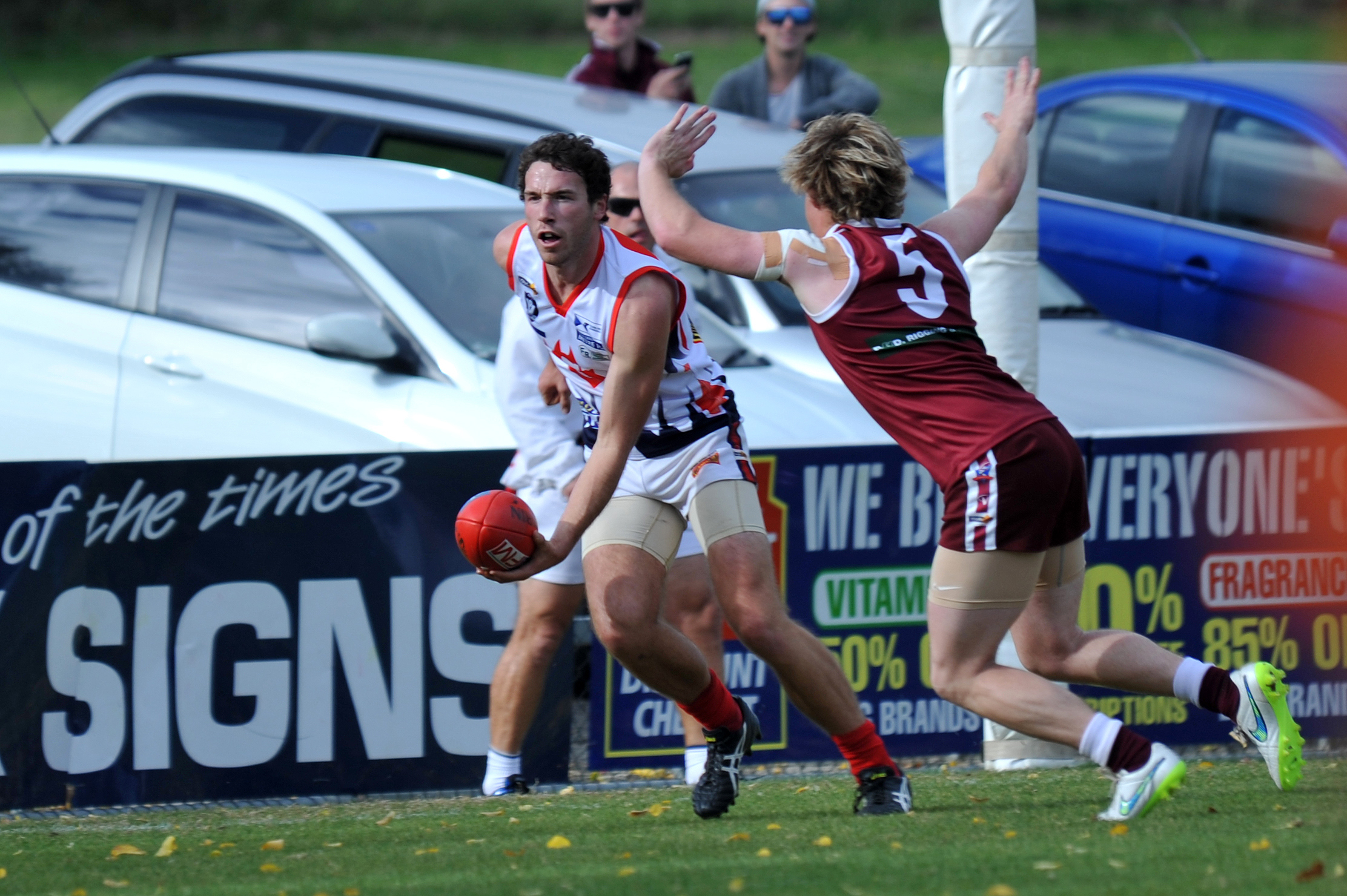 MORWELL will be vying for its fourth straight Gippsland League win when it returns home to host Drouin on Saturday.

"If we win that puts us 4-2 going into interleague which will be a big effort from where we were at the start of the year," coach Joel Soutar said.
It has been a remarkable turnaround for the Tigers, who after two consecutive losses sacked its coach.
Four weeks later and the reigning premier is coming off a dramatic one-point victory over Maffra.
Its recent history against the Hawks will also give the home team plenty of confidence.
Morwell has celebrated big victories in its past four encounters with Drouin, whether at home or away.
However, the Tigers are not expecting Saturday's clash against the competition's big improver to be a walk in the park.
Prior to the Tigers' four game winning run, the Hawks had beaten Morwell on six consecutive occasions.
"Obviously we will have to shut down Ben Hughes. He is a pretty handy forward. They have some bigger bodies and they are pretty young as well," Soutar said.
The duel in the ruck between Drouin coach Bob McCallum and Tiger Dan Musil will be among the contests to watch.
"We would want to be winning it in there and then hopefully going from there," Soutar said.
Drouin is also three and two after five rounds, having dropped matches to Traralgon and Maffra.
Wonthaggi v Traralgon
FRESH from four straight wins, Traralgon will be looking to make it five in a row on the road against Wonthaggi.
"It is going to be a great test. Really respect them as a side and then we get the interleague bye and hopefully re-assess ahead of Maffra," coach Mark Collison said.
"So it's going to be a big few weeks but we are really looking forward to playing the better sides as that's where we want to be."
The trip to the Bass Coast is one that's feared by many clubs, however Traralgon has had a good record there since Power's 2010 return to the competition.
It won all of its games at Wonthaggi from 2010-2013.
Moe v Maffra
PIPPED at the post by Morwell last weekend, Maffra will be looking to bounce back when it travels to Moe to take on the Lions, who are coached by one of its own, in Maffra premiership player Adrian Burgiel.
His side too is coming off a loss to Drouin.
The Eagles have won their past six matches against Moe, and nine of the past 11.
The Lions will have to shut down the lethal Eagle forward duo of Darren Sheen and Daniel Bedggood.
However, the new-look Lions have their fair share of stars too, including Burgiel up forward and James Blaser who has dominated the midfield in recent weeks.
Bairnsdale v Sale
DISAPPOINTED by his side's efforts in the last quarter against Traralgon last week, Bairnsdale coach Shaun Mooney said the Redlegs would have to find a way to bounce back at home against Sale.
"We will take some positives from it, but we need to make sure we play a consistent role for four quarters next week," Mooney said.
The Redlegs were right in it at three-quarter-time against Traralgon, but were outplayed by the Maroons in the last, the home team kicking eight goals to two.
Its opponent on Saturday, Sale, will also be up and about following its three-point win over the ladder leader, Leongatha.
"Most certainly and in this competition you really have to play to your best every week, otherwise you are going to get found out. And that's what happened to us in the last quarter against Traralgon," Mooney said.
There is expected to be some changes to the Bairnsdale line-up when Mooney selects his side tonight.
"Performing like that to finish the game you certainly look at changing things up a bit," he said.
Warragul v Leongatha
Coming off its first loss of the year, Leongatha will be out to bounce back against bottom of the table Warragul.
Having won 11 of its past 13 encounters with the Gulls, the Parrots have had the better of its west Gippsland opponent in recent years.
Morwell v Drouin
(1933-40 (CGFL), 1960-64, 2005-14)
All matches: Played 45 Morwell 32, Drouin 13
At Morwell: Played 23 Morwell 19, Drouin 4
Last 10 matches: Morwell 4, Drouin 6
Last win at Morwell: Morwell 2014, Drouin 2012
Last 5 years at Morwell: Morwell 3, Drouin 2
Last match: 2014 (D) Morwell 11.27 (93) d Drouin 0.1 (1)
Present winning sequence: Morwell 4
Highest scores: Morwell 34.16 (220) (2006), Drouin 18.14 (122) (2011)
Lowest scores: Morwell 4.10 (34) (2010 1st Semi), Drouin 0.1 (1) (2014)
Greatest winning margin: Morwell 187 (2014), Drouin 76 (2011)
Most goals (match): Morwell 16 R.Bawden (1937): Drouin 6 C.Dunne (2010 1st Semi)
Moe v Maffra
(1960 – 2014)
All matches: Played 120 Moe 57, Maffra 63
At Moe: Played 56 Moe 33, Maffra 23
Last 10 matches: Moe 2, Maffra 8
Last win at Moe: Moe 2011, Maffra 2014
Last 5 years at Moe: Moe 1, Maffra 4
Last match: 2014 (Mo) Maffra 15.12 (102) d Moe 3.4 (22)
Present winning sequence: Maffra 6
Highest scores: Moe 27.18 (180) (1993), Maffra 34.24 (228) (2004)
Lowest scores: Moe 3.4 (22) (2004 & 2014), Maffra 3.6 (24) (1968 & 1974)
Greatest winning margin: Moe 116 (1978), Maffra 206 (2004)
Most goals (match): Moe 12 I.Jennings (1968): Maffra 12 P.Neville (1982)
Warragul v Leongatha
(1934-53 (CGFL), 1969-99, 2005-2014)
All matches: Played 124 Warragul 46, Leongatha 75, drawn 3
At Warragul: Played 57 Warragul 30, Leongatha 25, drawn 2
Last 10 matches: Warragul 2, Leongatha 8
Last win at Warragul: Warragul 2013, Leongatha 2014
Last 5 years at Warragul: Warragul 2, Leongatha 3
Last match: 2014 (L) Leongatha 20.8 (128) d Warragul 3.4 (22)
Present winning sequence: Leongatha 3
Highest scores: Warragul 25.16 (166) (1993), Leongatha 27.11 (173) (2011)
Lowest scores: Warragul 2.4 (16) (1987), Leongatha 2.8 (20) (1994)
Greatest winning margin: Warragul 123 (2006), Leongatha 120 (2011)
Most goals (match): Warragul 14 S.Byrne (1989): Leongatha 11 A.Campbell (1997), N.Nagel (2011)
Wonthaggi v Traralgon
(1995 – 2004, 2010 – 14)
All matches: Played 38 Wonthaggi 14, Traralgon 21, drawn 3
At Wonthaggi: Played 18 Wonthaggi 8, Traralgon 8, drawn 2
Last 10 matches: Wonthaggi 3, Traralgon 6, drawn 1
Last win at Wonthaggi: Wonthaggi 2014, Traralgon 2013
Last 5 years at Wonthaggi: Wonthaggi 1, Traralgon 4
Last match: 2014 (T) Traralgon 10.10 (70) drew Wonthaggi 11.4 (70)
Present winning sequence: Draw 1
Highest scores: Wonthaggi 21.23 (149) (2004), Traralgon 32.14 (206) (1998)
Lowest scores: Wonthaggi 2.3 (15) (1999 2nd Semi), Traralgon 8.5 (53) (2000)
Greatest winning margin: Wonthaggi 76 (2004), Traralgon 132 (1998)
Most goals (match): Wonthaggi 6 C.Whelan (2000), A.Seccull (2001), R.Gilliatte (2003), G.Noonan (2004): Traralgon 8 T.Aitken (2010)
statistics provided by by Paul Carter