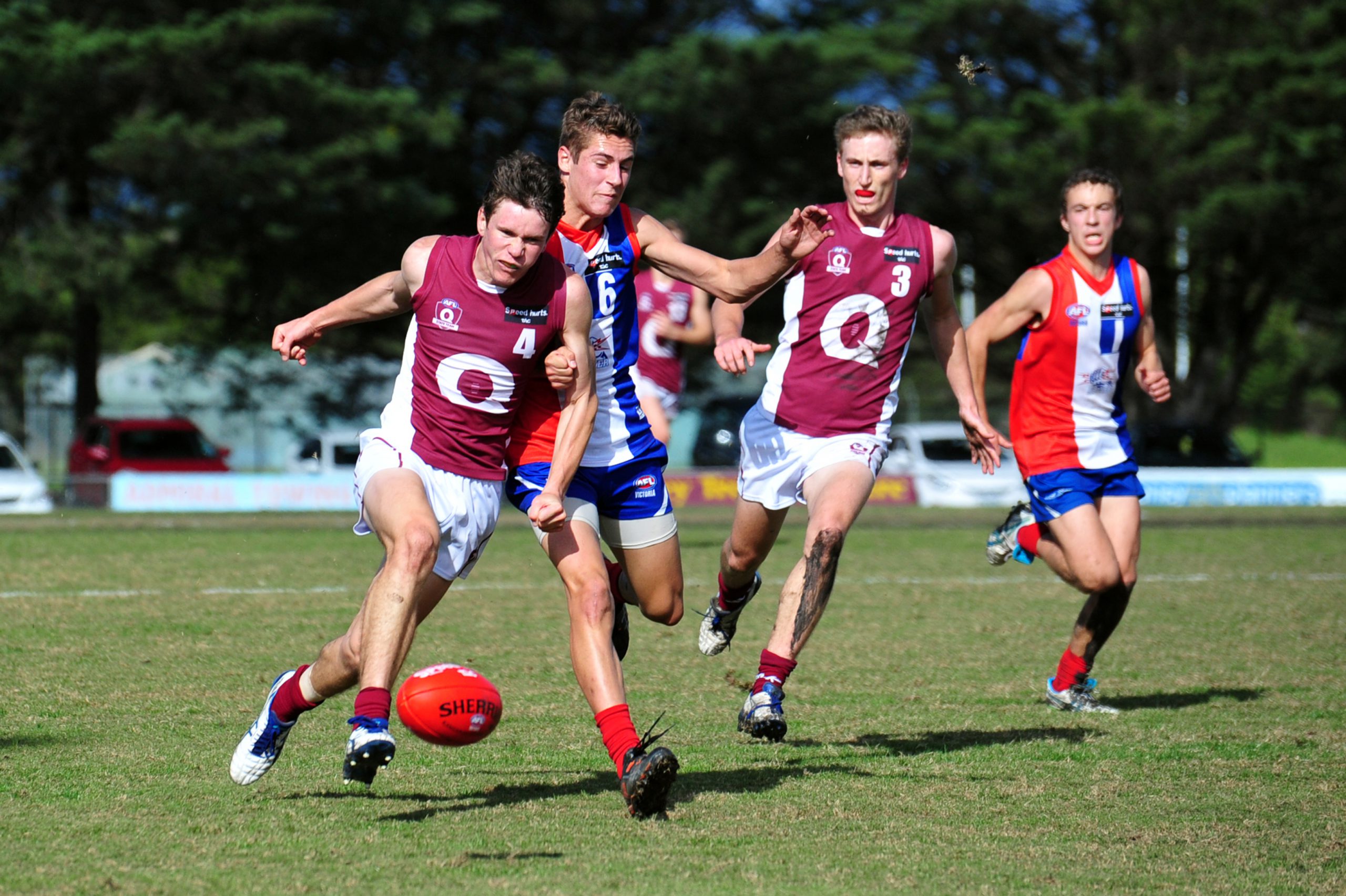 A LAST gasp goal from Ryan Hearn lifted the visiting Gippsland Power to a one-point TAC Cup victory over the Queensland state team at Broadbeach on Saturday.

Buoyed by an airport meeting with Essendon's Jobe Watson, Dyson Heppell, Will Hams and coach James Hird, the Power travelled to the Gold Coast in high spirits.
With former Power players Jack Leslie, Nick Stockdale and Beau Sheridan lending support, the Power began the clash on the front foot in un-Victorian conditions.
The Queenslanders were struggling to get passages of cohesive play going, while at the other end Tom Papley opened the scoring for the Power.
Ben Ainsworth then sent the ball long into the forward line where Harrison McKay took advantage of a free kick.
Some hardness and skill by Ainsworth, McKay, Nash Holmes and Aloysio Ferreira allowed Tate Marsh to record another major, as Queensland appeared rattled by the Victorians' physicality.
Youngster Kade Renooy joined the party with some gutsy play to give the Power a fourth unanswered goal.
Late in the term the home team displayed quick rebound football to find open players and kicked an important goal to reduce the quarter-time margin to 19 points.
The Queenslanders kicked the opening goal of the second term from a turnover by the Power, which missed three gettable chances of its own.
Another turnover saw the northerners bring the deficit back to just over a goal.
The Power defence was under pressure but distributed ably to Todd Beck who cleverly found Deven Costigan who in turn used his pace to boot an inspired goal.
Class by Holmes and Connor Ambler set up Papley for another critical Power goal, but by half-time Queensland had bridged the gap to 14 points.
The second half started in horrific fashion for the Power as Queensland recorded five unanswered goals to romp ahead.
Biting the bullet, McKay was able to stop the rot with a vital goal.
Midfielder Costigan then took a fine mark to set up his second goal and suddenly the Power was back in the contest.
When Ferreira crumbed the pack well to kick the Power's third for the quarter the game was back in the balance, with Power five behind at the final change.
The sides traded goals throughout the final term, with Queensland edging ahead with moments to play.
Some brilliant defensive work initiated by Ambler saw the Power work the ball into attack, and sent it deep into the goal square where Hearn used his height to take the most important mark of the day and kick the goal to give the Power a well-deserved 13.7 (85) to 13.6 (84) win.
The Power's next opponent is TAC Cup leader the Northern Ballarat Rebels on Saturday.