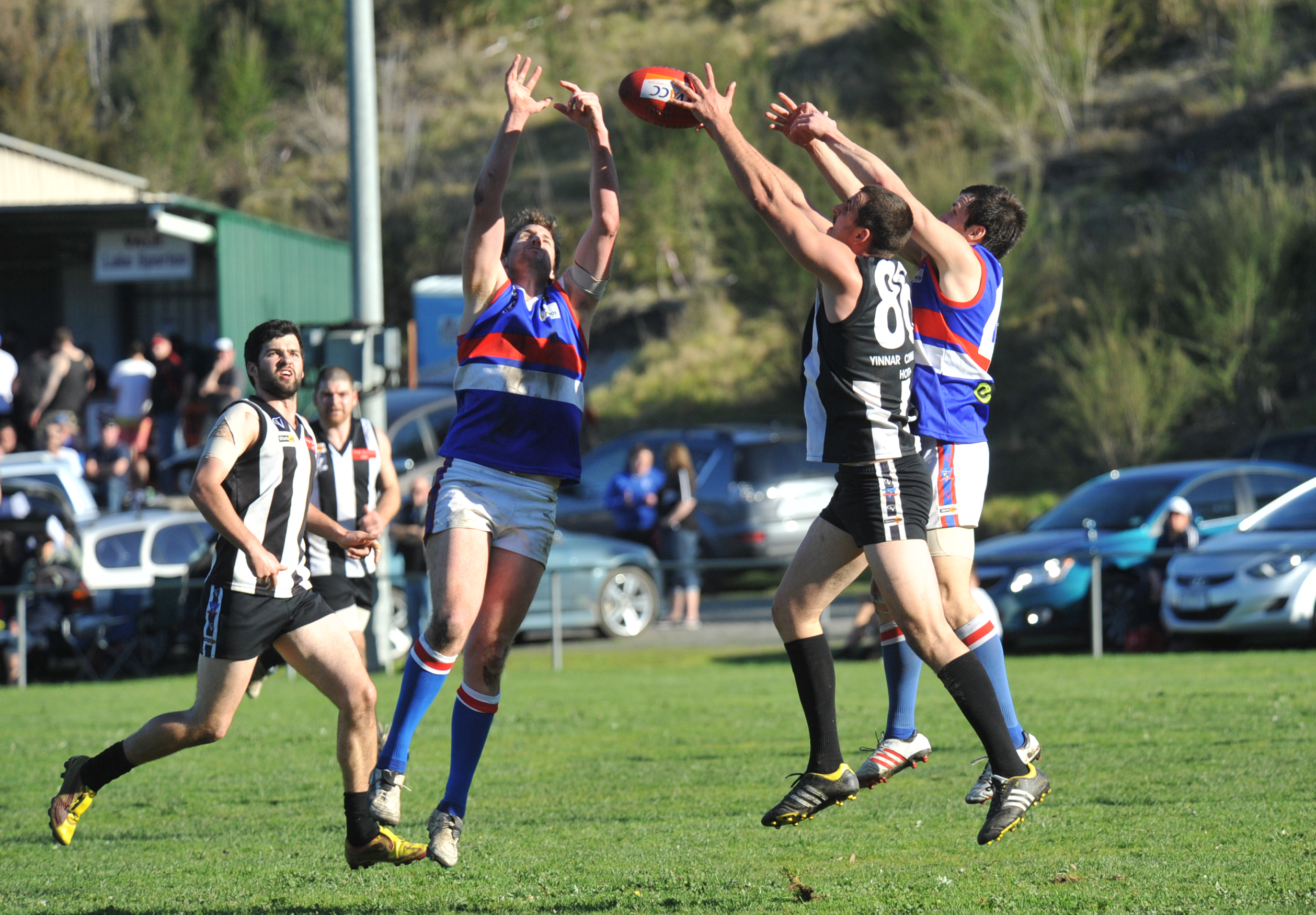 NEWBOROUGH goes into its Mid Gippsland football clash with Yinnar this weekend as the underdog for the first time in recent memory.

The Magpies are sitting on top with just one loss while Newborough is a shadow of its former self.
The Dogs are going through the horrors, underlined by a three-point loss to Morwell East last week which saw them drop to fourth.
Newborough will need to have a more balanced side to have any shot at beating Yinnar.
While the Dogs have won the last three against Yinnar, the roles are reversed in 2015 and the Magpies go in as favourite.
All eyes will be on Tim Aitken to score the bulk of goals for Yinnar, though the Magpies have plenty of players capable of chipping in with majors to complement his efforts.
Newborough has no goal scorers in the top 10 at the moment although former Magpie Stuart Robertson has the potential to put a few on the board.
Yinnar should win but a surprise result would be a shot in the arm for Newborough.
Hill End v Thorpdale
HILL End has been left cursing its luck having failed to win a game this year.
The Hillmen pushed Newborough and Yallourn-Yallourn North at home and will be hoping to do the same and more against Thorpdale this weekend.
The Blues put in a good first half against YYN last week but faded out in the latter part of the game.
Hill End came close against Yarragon but not close enough to get the points.
Thorpdale dropped down a couple of rungs on the ladder and will be looking to climb back up again to finish the first half of the fixture on a high.
YYN v Morwell East
YYN is on track for its best season since 2010 as its remarkable turnaround continues.
From wooden-spooners and just one win in both 2013 and 2014 the Bombers have climbed to second position in 2015 with seven victories.
The real test will be whether they can keep their momentum as the pressure builds at the halfway mark.
Morwell East has won the past five contests but this time all signs point to YYN grabbing the spoils.
The Bombers are missing the on-field presence of coach Adam Bailey but still have plenty of drive around the ground.
Tim Phillips is a dangerous forward and will need be kept quiet.
Morwell East is not a team to be taken lightly and will be pushing hard to score another upset victory.
Boolarra v Trafalgar
ON paper there is nothing between Boolarra and Trafalgar this year.
Both teams were beaten at the weekend and have a matching win-loss ledger of 4-4. Boolarra's last win over Trafalgar was in last year's elimination final, a feat the Demons will be eager to repeat in regular season action.
The form of both has been below expectations and each will need to pick up the pace to challenge for a finals position.
Although both have won four games each, Trafalgar has exhibited a higher ceiling and will go in as favourites.
Mirboo North v Yarragon
MIRBOO North skipped up to third position after its win over Trafalgar and will be keen to continue that form at the halfway mark.
This weekend's opponent Yarragon was winless two weeks ago but has since strung two victories together to gain plenty of confidence.
The Tigers have kicked some big scores against Yarragon in the past five meetings and on form could amass a reasonable total, but with newfound endeavour Yarragon could put up a real fight and make Mirboo North earn every point.