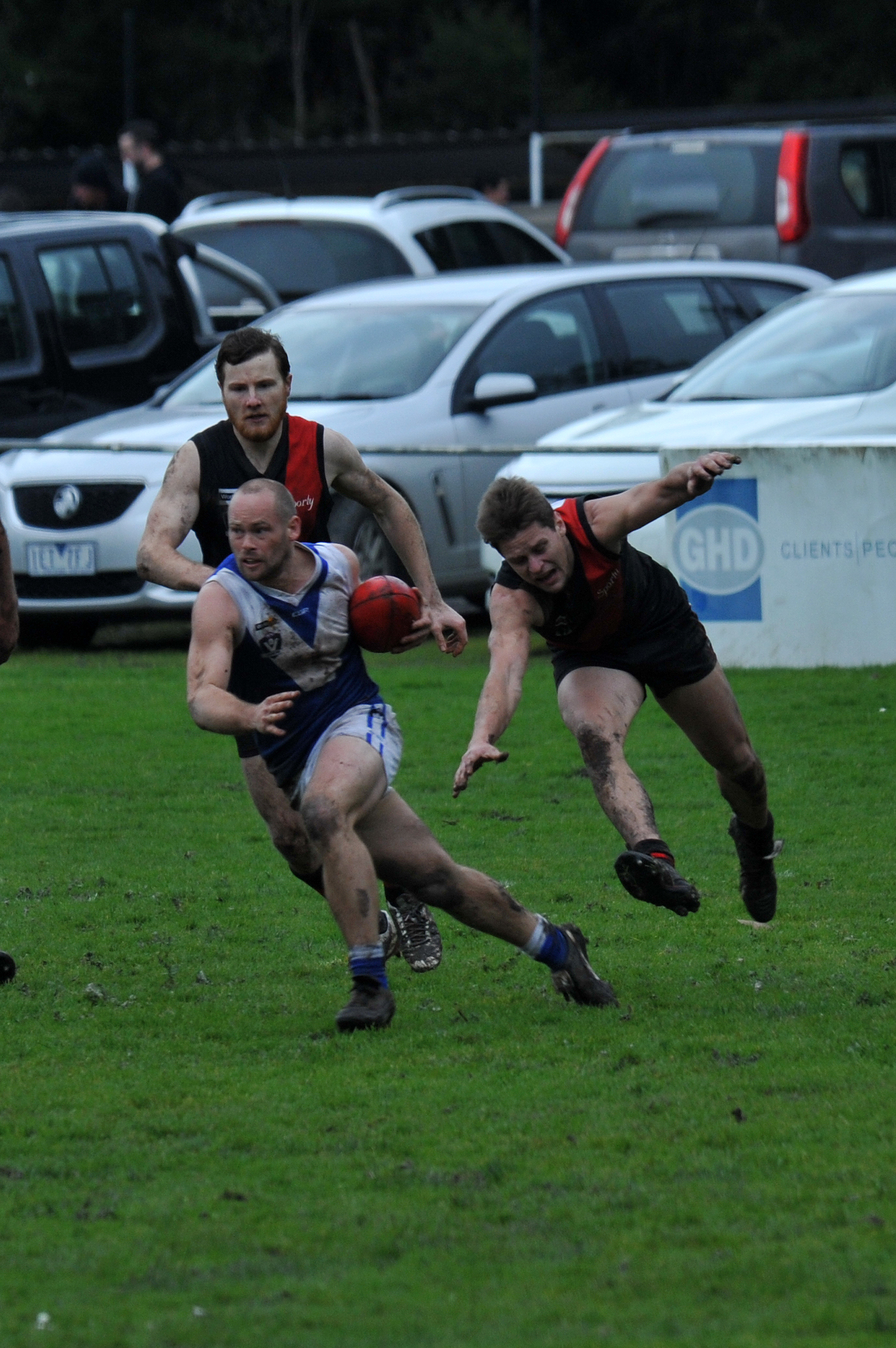 BOOLARRA holds the key as to whether Thorpdale will make it into the finals with the Demons set to tackle fifth-placed Trafalgar in the final round of the Mid Gippsland football regular season.

Assuming Thorpdale can knock over bottom side Hill End, Boolarra could end the Bloods' season with a win.
Trafalgar took fifth after an unexpected but exciting win over Mirboo North last week and hold it by just two points.
Thorpdale was sweating on the result, hoping for a Mirboo North-triumph after losing a low scoring scrap to Yallourn Yallourn North, but must now rely on Boolarra.
The odds are not stacked in the Demons' favour – their last outing against Trafalgar was a 45-point loss – but will be keen to end the fine coaching career of Tony Giardina on a high.
Giardina will end his tenure as coach on Saturday after a seven-year stint, which included a premiership in 2011.
Trafalgar has been waiting patiently in the wings for fifth position for half the season and finally broke through.
Coincidentally it was Boolarra which beat Thorpdale a couple of weeks ago to put the Blues in a dangerous position.
On form Trafalgar should win but Boolarra will be keyed up to do well in what should be an exciting climax to the home and away series.
Last Time: Trafalgar 18.13 (121) d Boolarra 11.10 (76)
Yinnar v Newborough
NEWBOROUGH'S game against Yinnar is a must win scenario for the Dogs to keep third position.
Last year's runner-up holds its spot by two points, and a win this week would see the Dogs play off against Yinnar in next week's first round of finals.
Yinnar is safe in second but still can determine who fills third or fourth.
Should the Magpies get up they would likely play Mirboo North next week provided the Tigers beat Yarragon.
Yinnar has won its past six matches and looks the goods to defeat Newborough, although the Dogs got in by six points in a thriller last time around.
Last Time: Newborough 10.6 (66) d Yinnar 9.6 (60)
Thorpdale v Hill End
THIS match is a must win for Thorpdale in a last ditch effort to regain fifth position, but the Blues have to rely on the dark forces of the Demons to give them a chance.
It has been a roller coaster ride for Thorpdale this season, with good wins over top sides and mediocre efforts against lower sides.
Last year the club finished sixth with five wins and 13 losses and is currently sixth with 8/8 and a draw, marking a big improvement, but the statistics will count for little if the Blues miss the finals.
After tasting success for the first time this year last week, Hill End will be pushing to go back-to-back, but with everything to play for Thorpdale should canter home.
Last Time: Thorpdale 16.12 (108) d Hill End 5.4 (34)
Morwell East v YYN
YYN should continue its unbeaten streak to 17 when it plays Morwell East in the Hawks' final game for the season.
It will also give the Bombers a brief look at the ground they will play on if they reach the grand final, which on form they should.
The rise by YYN has been unbelievable, from wooden spooners in 2013/2014 to top position and potentially premiers in 2015.
The appointment of Adam Bailey was a giant coup for the club and the recruitment and return of former players has shaped the side into a match winning machine.
Morwell East had the potential to be higher but poor form and injuries took their toll.
The East will not be easy and will make YYN earn every kick but in the end the quality of the Bombers should shine through.
Last Time: YYN 18.14 (122) d Morwell East 6.10 (46)
Yarragon v Mirboo North
YARRAGON will play on home turf for the last time until 2017. With the ground set for redevelopment next year, the Panthers will have to migrate in the interim.
Mirboo North knows the importance of a win here but to claim the game needs to improve on recent form.
A loss last week to Trafalgar blew away some confidence and with the finals starting next week the Tigers need to regroup and be more determined to attain their third successive flag.
It has been a topsy-turvy season for the Tigers with a mixed bag of good, bad and ugly games but they should end the home and away year on a high.
Depending on the Yinnar versus Newborough result, the reigning champion could find itself in third position with a win.
Last Time: Mirboo North 13.11 (89) d Yarragon 9.6 (60)