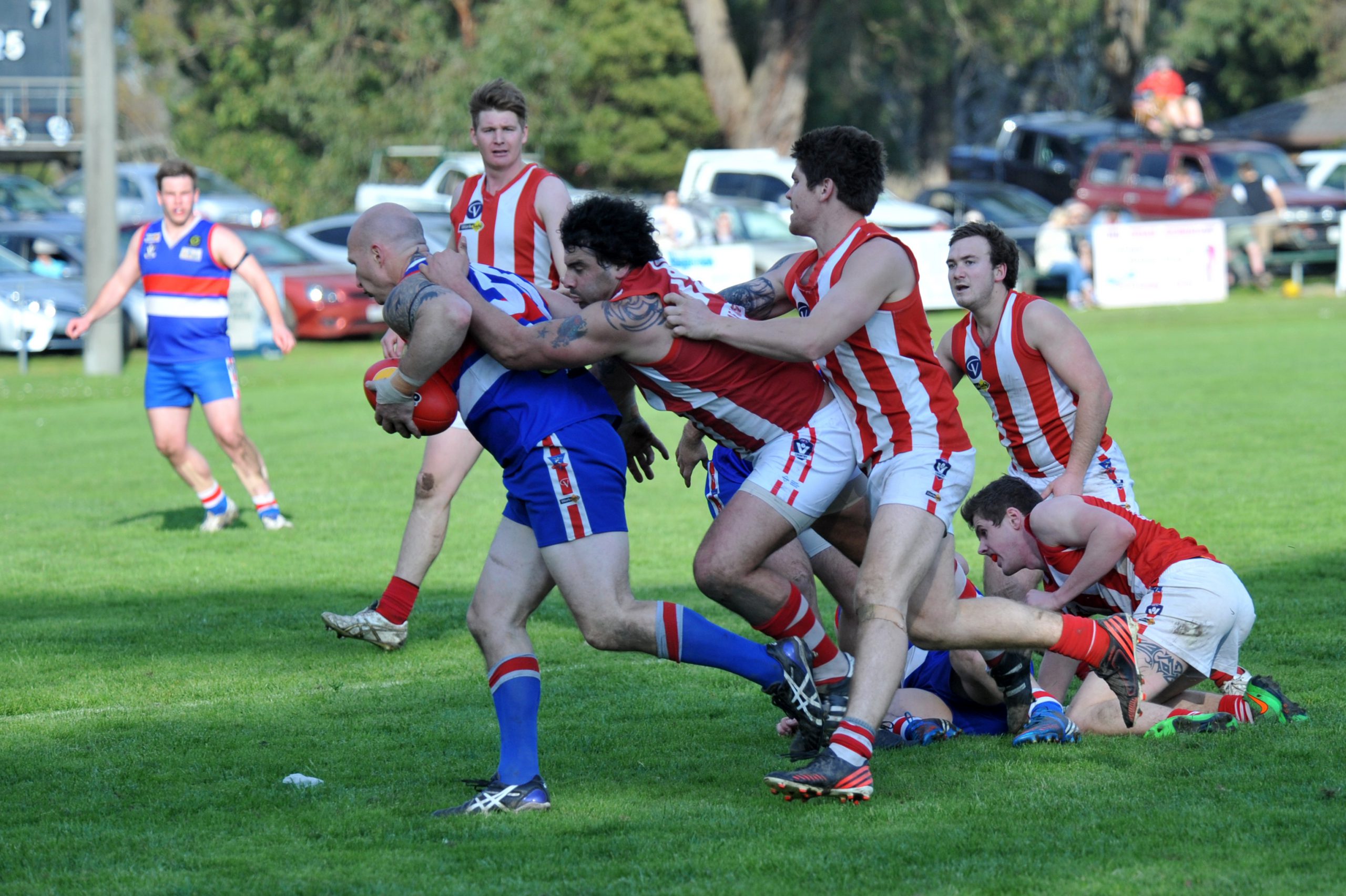 YINNAR proved far too strong for Mirboo North in the Mid Gippsland qualifying final on Saturday in perfect weather conditions at Thorpdale, exceeding expectations with a big winning margin.

Replacing injured players Julian Blackford, Tyler Hillier, Jaydan Wilson and Sam McCulloch, Yinnar had problems before the match even commenced.

The Magpies brought back juniors Aiden Quigley, Max Renwick and Liam Maynard to fill the gaps and the trio proved worthy players, featuring in the best list.
It was a wonderful start by Yinnar which kicked to the clubhouse end.
Two swift goals established a mean lead but Mirboo North's Tim Traill was equal to the task, banging through a major of his own.
Yinnar was quick to the ball and running hard, with James Dowling and Max Renwick providing the speed around the flanks.
Both Tims – Traill and Aitken – were getting plenty of the ball at either end but Yinnar was able to go forward with two more goals to jump to a 21 point lead.
However Mirboo North scored twice through Ben Ah Mat and a another by Traill saw the Tigers within three points by quarter-time.
Yinnar established itself in the second with another four goal burst as Tim Aitken and others scored freely, while Mirboo North scratched around with Traill the saviour with another couple of goals.
Mirboo North's Don Webb and Yinnar's Jesse Bowe were equal in the ruck but Bowe was the better as the match wore on.
By half-time Yinnar was sitting pretty with a comfortable lead and the half-back line was a stumbling block for the Mirboo North forwards.
Yinnar's third quarter was the telling blow; the Magpies all lifted and were running the ball better, as Mirboo North fell into the turnover trap.
The Pies' defenders blanked out the favoured few, allowing only four visits to the 50 metre arc in the first 20 minutes of the term.
In the scoring mode, Yinnar added a further four goals and by three-quarter-time had nine goalkickers sharing 13 sausage rolls.
The margin may have been greater but at times the Magpies rushed and were rewarded with only minor scores.
By the final change the game was well and truly over as the Magpies had extended their lead to 50 points after adding 4.4 (28) to only one point by Mirboo North.
It was tough going for Mirboo North which was expected to be closer but Yinnar was the dominant team on the park.
A six goal last quarter by Yinnar issued the last rites for Mirboo North as the Magpies ran out winners 19.12 (126) to 9.4 (58) and hit form ahead of a showdown with Yallourn Yallourn North.
For Yinnar James Dowling was at his best, tearing into the packs, Brendan Chapman was strong in defence, Jayden Embry was a goer all day and Mark Stolk – who was nearly knocked out in a last quarter incident – came under notice.
Aitken scored four goals but the rest were shared around by 11 other players.
For Mirboo North it was a miserable day with perhaps Traill standing out with five from nine.
Shane Peters was always busy, Tristan Salerno and Luke Palmer played well and Jonathon Burge was also useful.
NEWBOROUGH well and truly knocked Trafalgar out of the running in the elimination final at Hill End yesterday, 12.6 (78) to 5.14 (44).
It marked a disappointing end to the Bloods' season after just scraping into fifth two weeks ago.
Newborough was far too powerful all day with the defensive line superb, in particular Andrew Philip, who kept Trafalgar to a losing score.
It was pressure football from the start as Newborough took control, although the first quarter figures did the Bulldogs an injustice; they had most of the play but could only manage 2.4 (16) to 0.2 (2). Newborough continued to win the possession game in the second, scoring comfortable goals through Josh Pearce who had a handful of majors up to half-time.
Trafalgar was astray when it did go forward and had six behinds on the board before Brendan Dawson booted the first goal at 22 minutes.
By half-time Newborough was in the box seat, leading 6.5 (41) to 1.6 (12).
In what looked like a mini comeback Trafalgar scored two quick goals in the first four minutes of the third term but Newborough woke up, tightened the defence and then let loose with a barrage of its own.
Pearce starred up forward and by three-quarter-time had posted five goals as Newborough kept the pressure on Trafalgar, causing many errors.
The final quarter saw the Bloods become more competitive as they searched for holes in the strong defence of Newborough, but again were off line and scored four more behinds before slotting their third and fourth goals.
Newborough was steady and with smaller players such as Josh Hecker and Brennan Mills taking over it made Trafalgar's task more difficult to get out of the hole.
Stringbean Pearce scored his sixth after being felled and was the dominant forward of the match.
Newborough now goes on to play Mirboo North in the first semi-final at Yinnar.