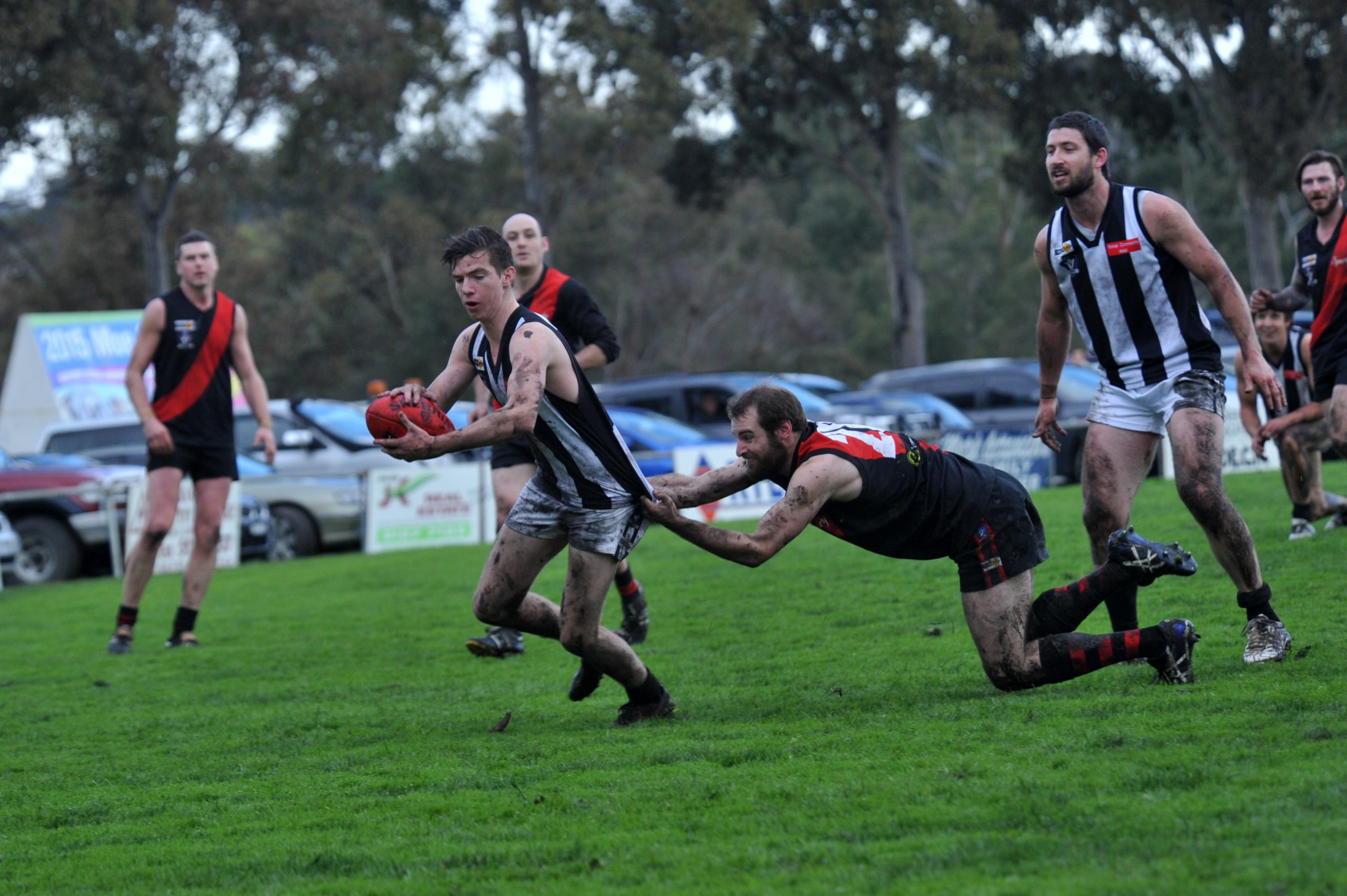 RELATED COVERAGE: The man with the Midas touch
RELATED COVERAGE: Hutton named MGFL best
RELATED COVERAGE: Desire the key to glory
RELATED COVERAGE: Rivals meet on grand stage (Netball)

YINNAR and Yallourn-Yallourn North will collide in their first Mid Gippsland grand final meeting for more than four decades at Morwell East on Saturday.

Yinnar is chasing its 13th flag and holds the MGFL record of 12 premierships with the last coming in 2008.
YYN has nine flags to its credit but it has been a long dry spell since the 1996 crown.
After consecutive wooden spoons the Bombers finished as minor premiers with Yinnar a close second, but the Magpies have had the better of the head-to-head contest.
Yinnar defeated YYN twice, in the first match of the season and the second semi-final, with a mid-season draw in between.
The last time these two played off in grand finals was 1969 and 1970, both were won by Yinnar.
History is in the offing for YYN, which could become the first MGFL team to go from last place to a premiership the following season.
Yinnar finished second last year but was bundled out of the semi-finals by Newborough.
This season the Magpies have been impressive in finals, winning both, including victory over YYN in the second semi-final a fortnight ago.
Yinnar finished strong with a three-goal burst in the last five minutes to win by 20 points, but it was anyone's game until then.
The black-and-white stripes will depend on former coach Sam McCulloch to provide leadership and knowledge.
Running players are Yinnar's forte with Tyler Hillier, who comes back into the selection mix this week, James Dowling and Kane Grinstead-Jones all fleet footed.
One of the key match-ups could be YYN's Luke Norder in the ruck against the beanpole Jesse Bowe, who has the height but maybe not the bulk to match Norder.
In the past Yinnar has relied on Tim Aitken for majors, but the side has many goal kicking options as evidenced when 10 players got on the scoresheet in the second semi.
YYN has league best and fairest Tom Hutton and Barry Brooks around the square who act as a perfect foil for Tim Phillips, who gets under the radar and kicks goals.
The two-time MGFL winner is a difficult player to mind and could be the key if he gets on target.
YYN coach Adam Bailey is an experienced premiership player with Morwell and knows full well there are no second chances on Saturday.
With a 19-year gap in premierships YYN will be fired up to take the flag but it is going to take hard work and some luck to overcome a tenacious Yinnar, which will be fresh after a week's break.
YINNAR
1 Jayden Embry – Speedy on baller who is tough, hungry for success and makes a contribution every game.
2 Max Renwick – Speedy small forward who has come through the ranks from under 10s.
3 Daniel Webster – Premiership player and b/f winner. Solid defender who is rarely beaten.
4 Sam McCulloch – Determined, versatile veteran, former coach and strong player, leads by example.
5 Brendan Chapman – Long kicking left-footer, good defender, having an excellent season.
7 Jaime Aitken – Prolific ball getter, great pair of hands, former Traralgon captain.
8 Cameron Harwood – Experienced veteran, can play either end, reliable overhead mark and strong kick.
9 Jesse Sleswick – Speedy player with great skills, good disposal and attacking nous.
10 Julian Blackford – Marking powerhouse, good leader.
12 Liam Maynard – Elusive forward, exciting player to watch.
13 Sam Mills – Skilful goal sneak, a much valued player with superb judgement.
15 James Dowling – Former league b/f, strong gutsy player willing to work hard and get possession.
16 Brayden Wilson – Gets in hard, likes it tough, dangerous around the goals.
17 Kane Grinstead-Jones – Excellent skills for a small player, good strong mark and excellent disposal.
18 Jamie Winters – Tireless ruckman, strong work ethic, good disposal skills.
19 Tyler Hillier – Relentless attack on the ball, runs all day with good skills.
24 Riley Flanigan – Versatile young gun making his mark at senior level.
26 Jed Hickey – Can play either end, experienced with excellent skills.
27 Damien Yates – Quick youngster who works hard to achieve results.
32 Aiden Quigley – All Australian under 16 player, provides thrill-a-minute.
35 Jarrod Ruan – Good all round player, left footer and strong mark. Good team player
40 Mark Stolk – Solid defender, plays close and shuts down opposition.
41 Tim Aitken – Strong marking player and accurate kick for goal, a clear target up forward.
50 Luke Linton – Mobile ruckman with good pace, can play most positions.
57 Mason Lardner – Hard running defender. First year player who has fitted in well.
61 Jesse Bowe – The tallest in the league, strong ruckwork and a good mark.
64 Matt Nardino – Tough, rugged player who is consistent each week, good defender.
77 Nick Linton – Can be the difference between a win or loss, X-factor.
YYN
1 Barrie Burnett – Captain and experienced player. Five club b/f and league b/f over 237 games.
3 David Stevens – Suitable to wing or half-back, strong mark no nonsense player.
4 Tyler Brown – Club best fairest. Only 18 but experienced at senior level.
7 Tim Phillips – Over 100 games, prolific goal kicker who won league 2008/2015.
10 Campbell MacInnes – Club b/f returned this season, good ball skills, plays tough.
11 Ash Anderson – Local boy. Hard tackling versatile defender with over 160 games.
12 Luke Norder – Strong ruckman with great pair of hands, good disposal skills.
13 Darcy Shellcott – Versatile utility with a strong mark.
15 Barry Brooks – Safe marking and accurate kick for goal, great game awareness.
16 Derk Pol – No nonsense ruckman who can take a big mark and kicks accurately.
19 Marc Gore – Reliable full back in his 198th game.
20 Shane Galea – Returned from Cowwarr, a talented half-back.
21 Adam Bailey – First year coach, excellent leader, strong on baller, lifts the team.
24 Dale Murphy – Excellent forward with safe hands, good disposal skills. Ex-Yinnar player.
25 Tom Hutton – League b/f, 100th game this weekend, can play wing or flanker.
28 Stephen Pearson – Hard defender with smooth skills.
31 Todd Dobson – Wily local with plenty of games under his belt.
32 Jordan Demetrios – Running midfielder, ex-Morwell, works hard.
34 Jason Stevens – Fast moving defender, capable ball skills.
35 Jack Casson – Pacey defender.
36 Brett Harvey – Current fitness coach handy around the goals.
39 Dale Walsh – Good on-baller can play most positions. Ex-soccer player.
46 Rohan Reid – Up from juniors with limited senior experience but a speedy on-baller.
60 Owen Budge – Local boy who has come up through the ranks, strong defender.