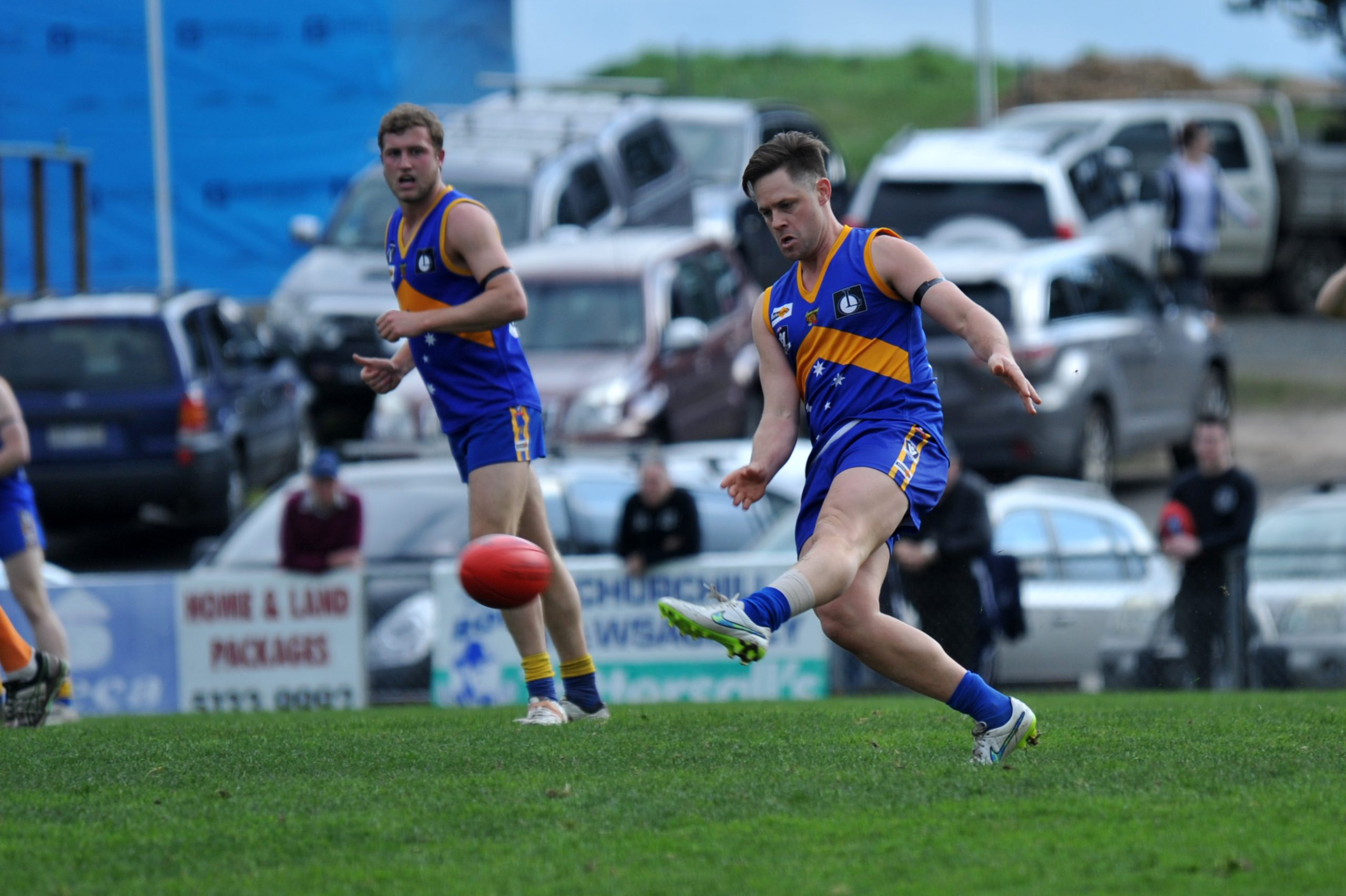 ROSEDALE took a leap toward its first North Gippsland premiership since 2001 last weekend, but will merely be a keen spectator when Heyfield and Churchill fight for the remaining spot in the grand final.

The Cougars booked their preliminary final berth on the back of an 11-point victory while Heyfield had a day it would rather forget against the rampant Blues.
While the result did not go to plan for the Kangaroos, coach Damien Birss will refocus ahead of their second chance against the Cougars.
"The guys have won the important games to get us here, the games that had to be won. They have earned and won the right to get the double shot so we will take full advantage of that," Birss said.
Last year's runner-up, Heyfield has experienced a relatively indifferent season to its dominant 2014.
Birss was left wondering whether his side would even make the top five much less secure a preliminary final berth.
"It has been a difficult season for varying facts. I'm not going to whinge and make excuses but it is a credit to the guys to be in the position that we are in, and could be in if we get the right result," Birss said.
"It didn't look like it would be possible to get a shot at it many weeks ago. The side has toughed it out as Heyfield is renowned for doing and we got the results."
Standing in the 'Roos way of a grand final berth is the side that denied it the title last year, Churchill.
"Churchill, we respect them highly, we know that if we don't bring our best we won't get the result," Birss said.
"Churchill are a strong outfit with experienced campaigners. There have been few changes, with the exception of one or two players, from last year's premiership team. They will take a lot of beating."
The ledger stands at one a piece in 2015 with the sides' most recent contest some 11 weeks ago in round 10.
On that occasion Heyfield dug deep in the final term before falling short by one point.
The Kangaroos did, however, secure one of their best wins for the season early in their first meeting by 31 points at Gaskin Park.
Birss will be looking for a return to that form this weekend with a largely different squad to years past.
"All the planning that happens throughout the year, if they don't execute it come game time and don't perform, there is nothing more that you can do as a coach," he said.
"Sure we might have some older experienced guys back in this week, but the side is relatively young. Most in the side are 22 to 23 years old, we have played seven first gamers this year.
"They might be experienced in the sense of playing at the business end, but they are still very young.
"Everyone thinks that we are experienced campaigners, but it is the culture that is bred into them that makes them perform."
Reflecting on Sunday's victory, Churchill coach Allan Chandler was complimentary on his side's composure and efforts in the cut-throat final, however will be looking for continued improvement and effort from his charges.
"I was just happy to win Sunday really. It was a tough game we played some solid football after quarter-time. Some players really stepped up in our hour of need," Chandler said.
Coming into the contest on the back of a blistering 10-goal victory against Traralgon Tyers United before going onto account for the highly fancied Sale City outfit, Churchill is up and about but wary of the Kangaroos.
"They are always tough encounters against Heyfield. They are an amazing football club that always ends up at the right place at the pointy end of the season and we really respect that," Chandler said.
"It will be an intriguing game as we both know how each other plays. They have very good players everywhere and a number of players that we need to restrict or stop."
Boasting a rotating midfield with plenty of depth, a power forward line of Tim Darby, Brendan Holt, Nick Campbell and Hamish Towns, and a fleet-footed running brigade the Cougars are a complete package.
Spruiking the virtues of numerous contributors in the finals campaign, Chandler expects everyone to be accountable.
"It is something that we have been lucky enough to have the past couple of weeks and hopefully we can have the same sort of game on Saturday," he said.
The stigma around 'defending the title' is not on the reigning premier's agenda.
"Not really it hasn't been mentioned. It was only two weeks ago that we were relying on the results to make finals, now we are one win away from the grand final. How quickly things change in footy, Heyfield was in exactly the same boat," Chandler said.