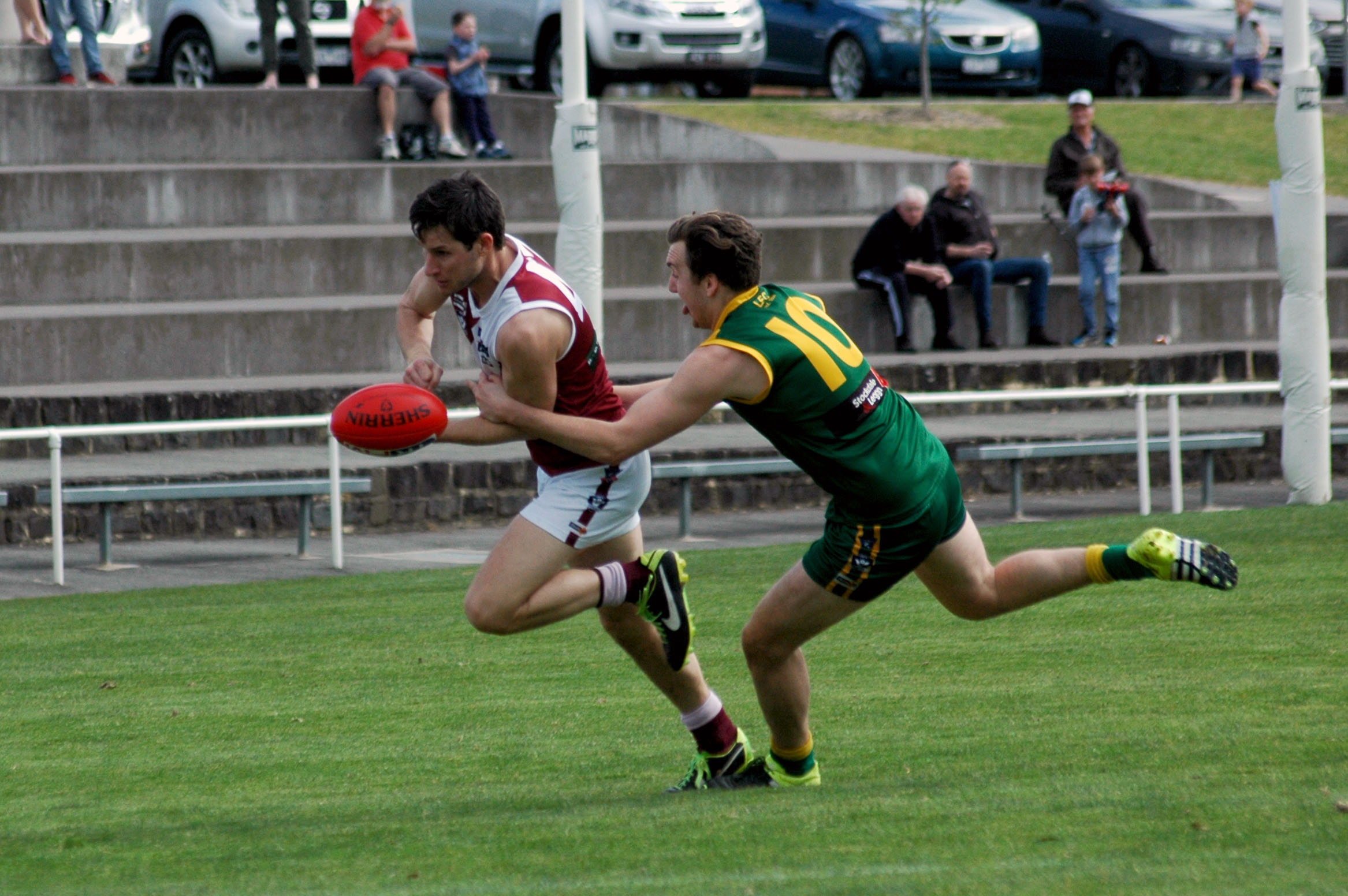 TRARALGON became the first team to secure a berth in the 2015 Gippsland League grand final after a 9.14 (68) to 8.11 (59) victory over Leongatha at Moe.

"It is a good feeling and I'm really proud of the boys," Maroons coach Mark Collison said.
The modest leader has now led his junior club to a grand final in his first year at the helm.
"I've been pretty lucky. I inherited a really good group of young men and we have just kind of stuck to the task," he said.
"We said at the start of the year, we knew we could be good enough. They are a really good group of boys to coach, they work hard, they are always on the training track and ready to go."
Picking up where it left off in its qualifying final win over Maffra, Traralgon had the upper hand early and led by 14 points at quarter-time.

The Maroons extended their lead ever so slightly in a low scoring second quarter, before letting their opponent back into the game, trailing by a point at the last break.
"We had a good start and maintained it well in the opening half," Collison said.
"We missed a couple of shots and they kicked straight and managed to get back into the game."
However the Maroons kicked away in the last quarter, to run out a narrow nine-point winner. Traralgon will now enjoy a week off before taking on either Leongatha or Maffra in the grand final.
"I think it will do us good. I think it's a nice time to freshen up. We will enjoy a weekend off, after we train Tuesday, Thursday and Saturday morning," Collison said.
MAFFRA produced one of the comebacks of the year yesterday afternoon to beat Wonthaggi and keep its premiership hopes alive.

The Eagles came back from 20 points down well into the last term to win the first semi final by 15 points at Traralgon.
"Most of (our) supporters had given us away. To win like that was great for the boys," Eagles coach Wayne Butcher said.
"It was a good game of footy. Our boys didn't give up, that's how we have played all year, we haven't given up and we won't give up.
"Wonthaggi is a great side and they were very unlucky to lose."
Fresh from a win over Sale in the opening week of the finals, Wonthaggi burst out of the blocks and led Maffra by 19 points at quarter-time.
Maffra booted six goals to two in the second to lead by nine points at the half, before Wonthaggi stepped up a gear.
It returned the favour with a five-goal- to-two third term, to take a 10-point lead into the last break.
"I thought we were playing well all day so I didn't say a lot," Butcher said of his three-quarter-time address.
"I just told them we weren't going to win by defending… we had to attack."
However the Power started stronger in the last and the game looked done and dusted.
"They took over and the game looked over," Butcher said.
"They were 20 points up and then we made a comeback… kicked a few goals… it was very exciting at the end."
Led by Kade Renooy, Kel Porter and Danny Butcher, Maffra launched a running attack in the dying 10 minutes of the match. A seven goal to three last term saw the Eagles clinch victory at the death.
Maffra will now meet Leongatha for the chance to play Traralgon in the grand final.

Not only is Maffra through to a preliminary final, its leading goal kicker Darren Sheen has kicked his way into the history books.

Sheen added a bag of five goals to his tally in yesterday's final and doing so became the first Gippsland League player to boot 300 majors in his first three years at a club.