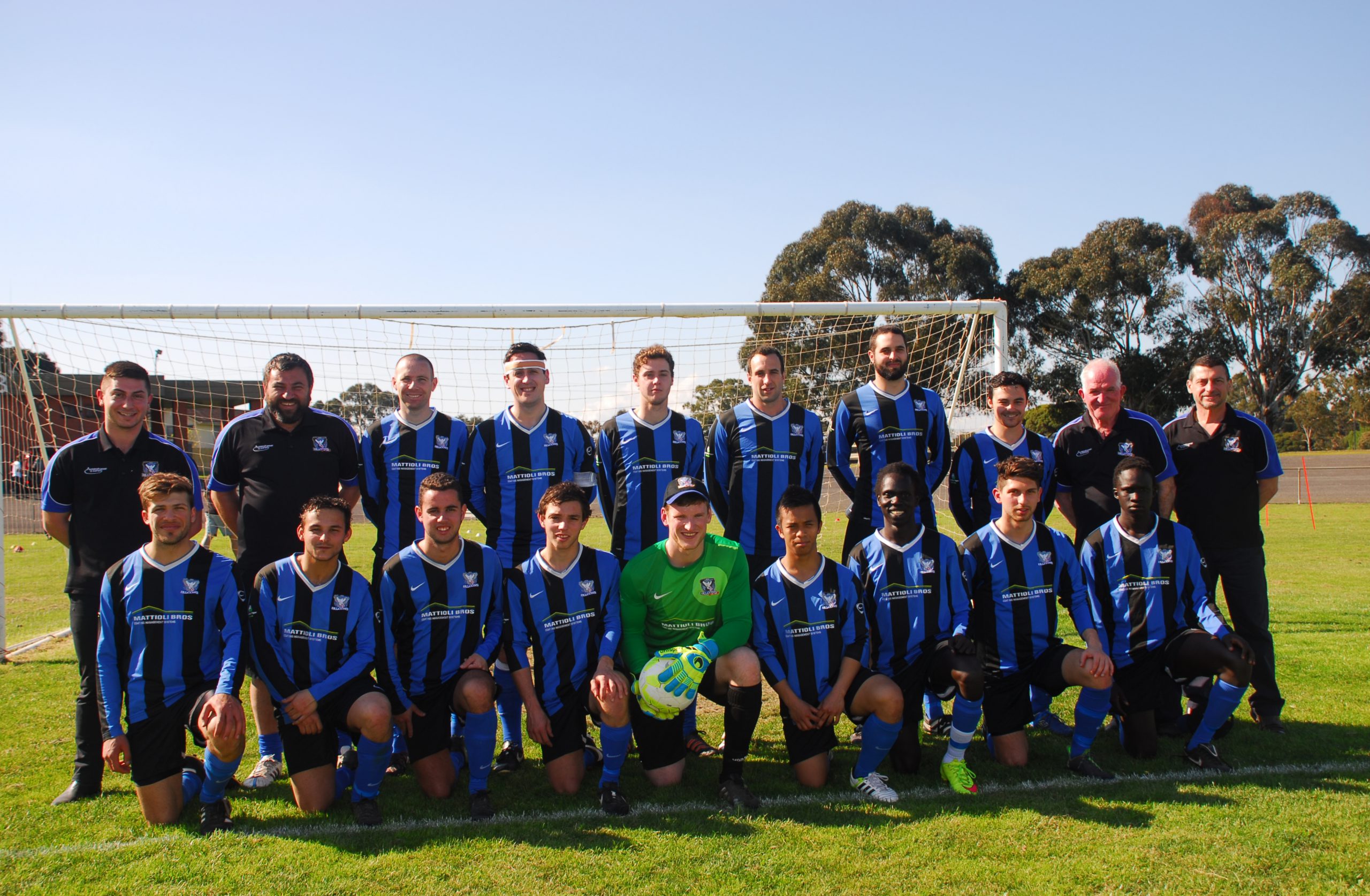 A CLIMACTIC final matchday of the Gippsland Soccer League season saw Falcons 2000 claim its first league title since 1973, after Newborough-Yallourn United shattered Sale's premiership ambitions in the 90th minute at Godfrey Baldwin Reserve.

Leading Falcons in the premiership race by two points, with a superior goal difference, the Swans likely required just one point against the Combine on Saturday to seal a first league crown in 35 years.
A draw was in the cards with scores locked 2-2 at the 90-minute mark, but a goal at the death to the visitors from Burrage put the title back within Falcons' reach.
The Morwell club made no mistake when it journeyed across town to Pegasus yesterday, overcoming a slow start to win 5-1.
The result saw Nick D'Alessandro's side take out the league by one point over Sale and Moe, which smashed Fortuna 6-0 to draw level with the Swans on points and differential in second.
Relief swooned over the black and blue when the final whistle rang out at Ronald Reserve, with club captain Joe Auciello admitting he thought Falcons' hopes were dashed after a 1-0 loss to Sale in round 24.
"Twenty-four hours ago I thought we were coming here for a Sunday kick, but 24 hours is a long time in football," Auciello said.
"Soccer's a funny game and when you're given a second chance you've got to take it and (Sunday) we did.
"The Sale game was devastating because we had destiny in our own hands and we didn't take our chances.
"For a club that prides itself on scoring goals we didn't do that.
"It was a hard two weeks at the club, but two weeks later we got a second chance."
Auciello said when news filtered in of the Sale result on Saturday it stunned the playing group ahead of their final home and away match.
"It was a mix of emotions; surprise, content that our hard work wouldn't be thrown away because the league title meant a lot to the club, especially since we hadn't won one since 1973," he said.
"The club's been through a long journey since the 2000 era, from bottom of the barrel to top stuff in terms of where we've performed, it's been a slow progress upwards and for those that have been a part of it, it's a proud day."
With the cup unexpectedly back up for grabs Falcons started nervously against their less decorated neighbour in the battle of second versus second last.
Both sides created openings in the early going but Falcons were unable to make breathing space until about the 30-minute mark when Jesse Kennedy popped up for his 47th-goal in all competitions this year.
The star marksman's strike was the sole goal of the first half with the home side unwilling to hand over the trophy without a fight.
Some 10 minutes into the second stanza Falcons doubled their lead, but Pegs hit back through Salah Eliaser from a corner to make it 2-1.
Falcons weathered some nervy moments but eventually ran over the top of a tiring Pegasus outfit.
A second to Kennedy and goals from DJ Matar, Nick D'Alessandro and substitute Sam Amaira ensured the result.
Auciello said it was a tough fight for the first hour of the clash.
"Pegs did what a team should do to a club looking to win the league title; pressure, pressure, pressure," he said.
"And our boys probably didn't do what was required in the first 45.
"Second half was a bit nervy but I think when we got to 3-1 up the nerves were put aside and we started playing the way we normally play."
Falcons also picked up the Immigration Wall Cup, played for against Pegasus over two legs during the league season, with the Hutchinson Medal awarded to Pegs goalkeeper Leon Cook.
It was the only physical silverware Falcons took home on the day, with the league trophy conspicuous only by its absence. The Falcons reserves made it a winning day for the club, smashing Pegasus 13-0 to seal the reserves league title as well.