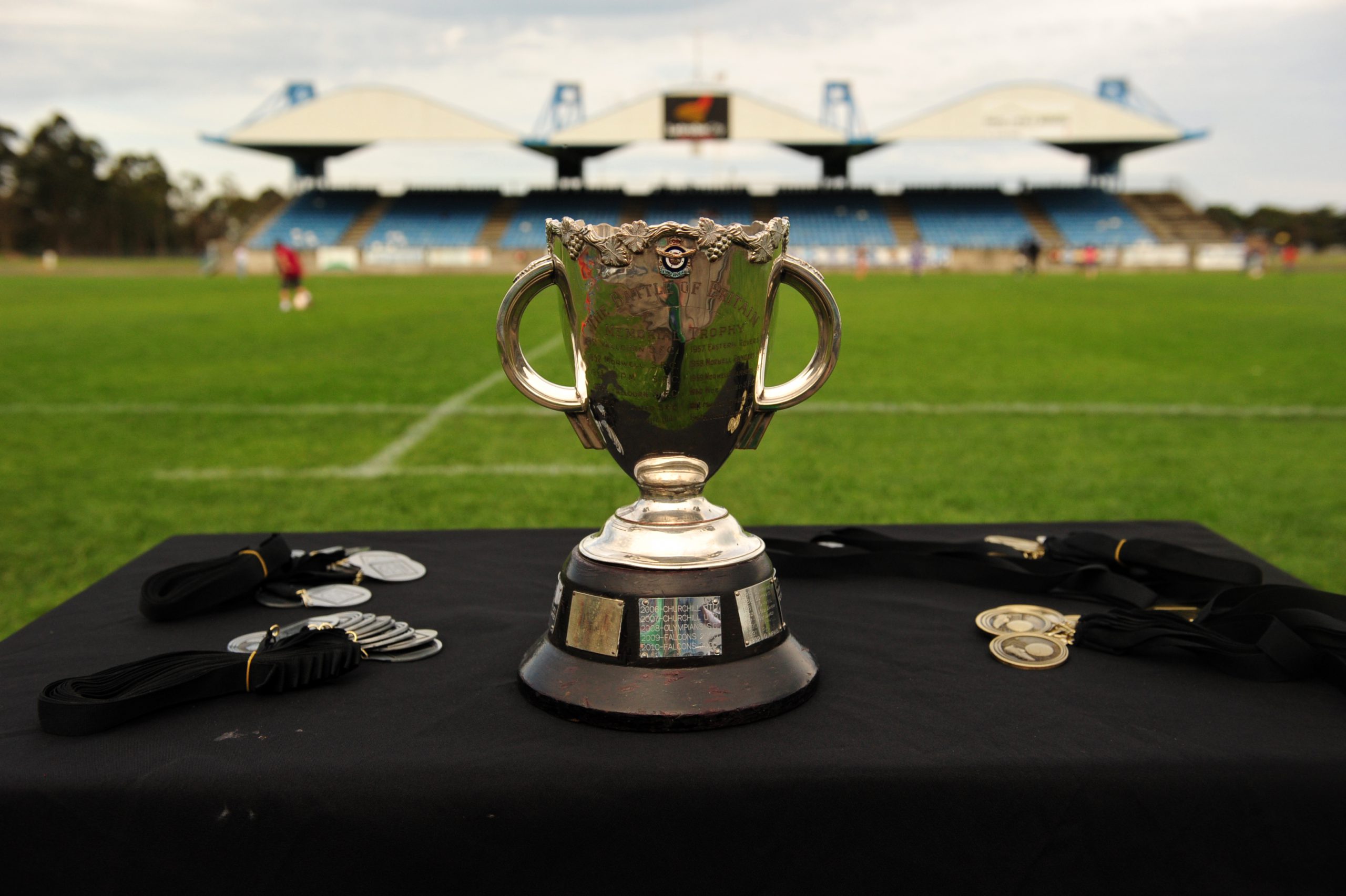 IT has been five years since Churchill failed to win a trophy in the Gippsland Soccer League and the Rams will not be content with anything less than victory in the Battle of Britain Cup this weekend against Falcons 2000.

Last year's league champion has secured silverware in nine of the past 10 seasons, including five BOB crowns, and has had sights set on the oldest football trophy in Victoria since round six of 2015.
The two combatants have traded BOB Cups back and forth over the past decade, with Olympians and Fortuna the only other sides to taste success since 2005.
After falling behind early in the league title race, coach Mark Bianconi said the Rams' focus quickly shifted to the cup competition.
"We put pretty much our whole importance on this trophy this year because… our league title aspirations were gone within the first six rounds," Bianconi said.
"We just put all our focus on the Battle of Britain and made sure when those games came around we were up and about and we got the results in the end, (now) we've got that opportunity."
Churchill certainly rose to the challenge for its cup ties, defeating Newborough Yallourn United 3-0 in June, before fending off Fortuna 8-7 on penalties in the semi-final last month.
The side has been on the improve throughout the second half of the fixture, and took it to Falcons in their last meeting before going down 1-0.
"It probably took us half a season to get used to each other and the way we play. We haven't picked up the results we wanted but we've had some good performances over the second half of the season so it's been encouraging," Bianconi said.
"Our last effort against them we lost 1-0 but really I think for the first half we took it to them and probably had the better of it.
"We know we're good enough to match them we just have to soak up a bit of pressure early and try and nab a few goals."
The Rams have endured a disrupted season with injury but will have a full squad available for this weekend's final, including the services of former golden boot winner Luke Cheney, who looks set to come off the bench.
In the wake of departing personnel, the likes of under 16 graduates Ellis Hayes-Hills and Bradley Sands have had a chance to shine, holding down spots in the senior line-up.
Standing in the Rams way will be defending BOB champion Falcons 2000, intent on scoring the league-cup double.
Falcons claimed its first league championship since 1973 at the weekend but cut the celebrations short to refocus ahead of Sunday's final.
Coach Nick D'Alessandro said it had been a "surreal" past month since relinquishing top spot in the league to Sale in round 24, only to get an unexpected second chance in the final round.
"We had the bye after the Sale game… all you could do was think about how we'd sort of lost it, to then get the news on Saturday we had the opportunity to still win, it was a bit surreal," D'Alessandro said.
"As much as we enjoyed (Sunday night's celebrations) we don't want to let any opportunities slip.
"We've got the grand final, which there's only one of this year, whereas last year there were two to play for, so we understand how significant it would be to win both."
After dominating the first half of the season Falcons endured a tougher run to the finish line, scraping 1-0 wins against Churchill and Monash over a gritty couple of months.
Unbeaten on home turf this season, Falcons goes into the clash as a heavy favourite to lock up its second consecutive BOB Cup, which it puts a premium on each year.
"We've always treated (the BOB) as something we hold with a lot of respect, getting to the final, and that's something the club's been excellent at since I've been involved with it," D'Alessandro said.
"It's been something we always try and push for and even more so this year given there isn't any other finals format, we don't really treat it any differently to winning the league at this point."
Falcons will have a full roster to choose from, bar Stefan Baccega (knee), with no other sides contesting cup finals.
Striker Jesse Kennedy needs just two goals to reach an astounding 50 in all competitions this season.
Churchill will play Moe in the reserves final for the Shopwell Trophy, while Monash and Traralgon City will contest the Nan Bosma Cup.
In the women's Browne Huizer Cup final, Tyers will aim for a clean sweep of all three trophies when it faces Monash.
Games kick off from 9am at Latrobe City Sports Stadium, with the senior match starting at 3pm.