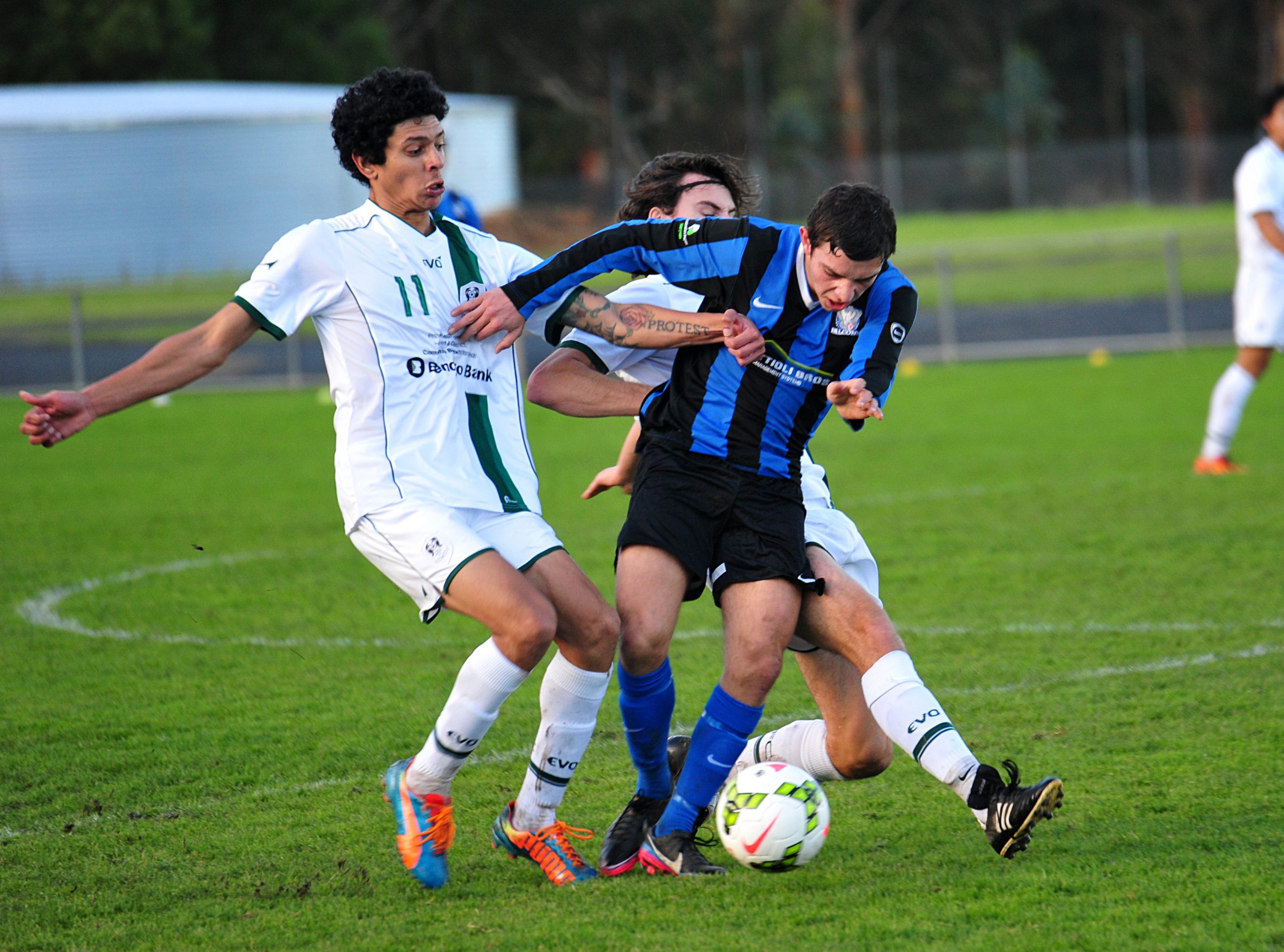 THE Gippsland Soccer League championship remains in limbo pending the outcome of a legal determination on use of potentially ineligible players throughout the competition.
Falcons 2000 were not awarded their first senior league trophy since 1973 on Sunday after topping the points table as the GSL awaits a response from its barrister regarding its member clubs' adherence to international transfer clearance laws.
"I thought it would be prudent before we announce who are winners and who are not until we get this direction from our barrister, which was forced on us by a club with a solicitor's letter," GSL chair David Wilson said.
The issue came to a head when Falcons 2000 presented a 13-page document to the league last month alleging Sale United had played three foreign players during the season without international transfer certificates.
ITCs are required by Football Federation Victoria for all players previously registered overseas or registering for the first time in Australia over the age of 12.
The document alleged Graham Young, Adam Buchanan and Trevor Irwin had taken the field for the Swans without the appropriate clearances, citing evidence of their playing history and registration at Northern Irish club Killen Rangers.
It stated consultation with FFV revealed no ITC had been sought for the players in question.
Falcons received advice from the GSL on 7 September the league had already investigated a potential "breach of eligibility" and found "there was in fact no breach by any club and therefore no penalties were imposed".
A further email from the league sent to all GSL delegates on 15 September said "given that there is not enough evidence to suggest that these players have ever been registered overseas, we are satisfied that there has been no wrongdoing".
Falcons then lodged a formal request into the full findings of the investigation, supplemented by their own research, and slammed the league for a "lack of governance".
"The GSL had confirmed they dealt with this enquiry previously, but through research it shows a clear breach and a lack of integrity acted in the best interest for the league by the GSL management," the document reads.
"It is evident that the club in question did not follow the process and has breached this rule. It is also disappointing that the GSL neglected to research the breach."
Five days after Falcons' formal request submission on 18 September, the GSL sent an email stating a new position that "all clubs are guilty of fielding players ineligibly, due to incomplete ITC paperwork. As a result the GSL Board has decided that there will be no further action taken against any club".
Mr Wilson said the decision not to take action against any club, despite now suggesting all clubs were in breach, came from FFV advice, but this would be reviewed pending the legal decision.
He said the league's previous responses, which had absolved all clubs of wrongdoing, were also made in conjunction with FFV advice.
"We've come up with an assessment which has been challenged so from my point of view once the legal eagles get into it, they can go and do what they need to do," Mr Wilson said.
"We followed the best process we could possibly do at the time, we used the advice we were given at the time and that's where it's got to.
"When we did our investigation of all the clubs we found there are many out there at different levels of the game that required ITCs as well, so we're not just singling out one episode – let's have a look how widespread this is.
"Because it got so big we went to the FFV and said what are we going to do here… they chose to do nothing now because they realised the law as it is needs modification.
"You've got to have some practicality about it. If we go through 21 clubs and start to issue fines for seniors, reserves, women and second division, then you start going back to have they scored a goal, did they get votes… it starts to get ridiculous."
Mr Wilson said he would not comment on the specifics of the case against Sale, nor on the documentation supplied by Falcons (which he had not yet read in full), until the barrister's report was lodged.
Falcons president Tony Salvatore questioned the complete backflip and said he was comfortable his club had not fielded any ineligible players.
"We provided that information and said here's our findings, and asked for a formal reply via the Grievance, Disciplinary and Tribunal by-law, that's when they've come back and changed their opinion and said instead of no club being affected, now every club has breached the ITC rules," Mr Salvatore said.
"We then requested written evidence on which players were ineligible in season 2015. To date no notification has been provided to our club.
"To tell us no player has breached any of these ITC rules, then a week later every team has, is both alarming and disturbing."
Mr Salvatore said Falcons had complied with ITC guidelines in the past and had, where necessary, waited for approval before fielding players under the rule.
He also questioned the league's determination not to police the matter, despite inferring all clubs were guilty of the offence.
"My impression is that the answer is not satisfactory. We are governed by a league – I'm responsible to my club as a president and I have to report to my members, committee and players – I can't just say we'll disregard it because it's too hard," Mr Salvatore said.
"I have obligations as a president and so does the board; the GSL needs to show due diligence and respond within the right channels."
Olympians' second division side received its championships trophy on Saturday, but Falcons were not awarded the senior or reserves trophy following its victories over Pegasus on Sunday.
Mr Salvatore said he understood the lack of presentation for the seniors while awaiting legal advice, however lamented the reserves snub.
"I was disappointed for our players because there was no cup, no representation; it was just empty, that's all," Mr Salvatore said.
Mr Wilson said the league had assigned representatives to attend all championship deciding matches but changed plans upon receiving legal documents on Friday.

Mr Wilson said the league was currently reviewing its rules, structure and affiliation.
The barrister's report is expected to be completed imminently.
Sale United did not return messages left by The Express by the time of going to print.