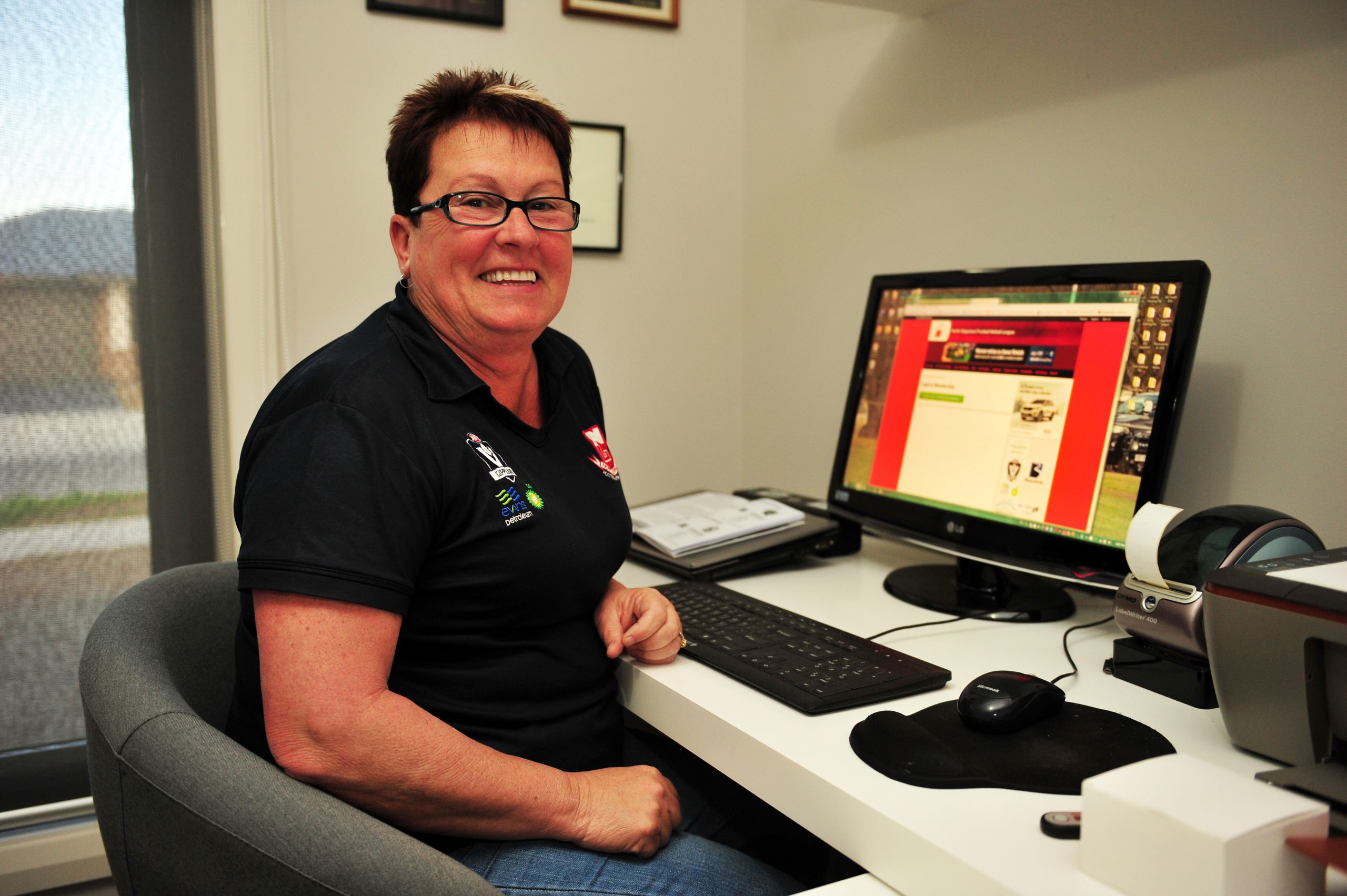 THE football and netball season is done and dusted for most players, but for club and league officials like Pauline Bayley there are still several months of work ahead before a much-deserved break.
There's the annual report, filing and next year's draw to take care of before Christmas.
Then in February it's time to start organising supplies for the 2016 season.
"By the time you arrange all that, February and March are gone and it's time to start (the season) again," Pauline said.
And that's not to mention the hectic clearances period which begins in February.
Of course, thanks to technology those jobs are more efficiently done now than when Pauline began in 1987 with the North Gippsland Netball Association as results and registration secretary.
"When I first started it was all done in an exercise book, it was all done manually," she said.
"You had to write down every girl's grade by hand that she played that weekend. Now they (clubs) select their teams online. I just have to update it."
The results and registration position was rotated among the clubs each year but it gave Pauline a small idea of what was to become two decades of league administration work.
But the 2015 season will be her last. With her administrative tasks winding down, she can look forward to the beginning of retirement in December.
Pauline's involvement in local sport stems back to 1973 when she began playing netball with Gormandale. She continued until the mid-1990s, notching up more than 300 games including the B grade Tigers premiership in 1991.
Apart from playing she was also Gormandale Netball Club treasurer and coached junior grades. She was made a life member of the club in the late-1980s.
When Gormandale's turn came around again for the league secretary role in 1995, Pauline took it on along with the treasurer position. She stayed on in charge of results and registration.
In 2000 North Gippsland Football League and NGNA made the bold move to amalgamate under a board of directors. While it raised some eyebrows in local footy circles at the time, it is a model now adopted by most clubs and many leagues across the state.
Pauline was elected as the netball director and was the first female on the then-new North Gippsland Football Netball League board, joining husband Gordon who was finance director.
"Maybe it helped having Gordon on the football and me on the netball, there was a bit more communication between the two parties (which helped facilitate the amalgamation)," Pauline said.
Representatives of the two sports were able to better pool their resources and now every North Gippsland club is an incorporated football and netball club.
"Every club would now say 'well, we wouldn't want to be a football club without our netball and every netball club would say we wouldn't want to be a netball club without our footy'," Gordon said.
"It's just a given thing in the community that footy and netball are together."
In 2006 Pauline was elected as NGFNL administrator and Gordon as general manager.
Pauline is now AFL Gippsland's NGFNL operations manager and her work is done from the organisation's Morwell offices rather than from home. However, she remains dedicated to grassroots community football clubs and the volunteers who help run them.
"The only thing I always say to them (club officials) is 'no question is a stupid question'," she said.
"If I can't answer it I'll find out and I like to action it straight away. I don't let it sit, I'm very impatient like that – I like to get it ticked off."
Pauline's commitment to local football and netball was recognised at a state level in 2008 when she and Gordon were both named VCFL District League Administrators of the Year, which she named as her proudest moment.
"We both worked so hard prior to that and it was such a surprise," Pauline said.
Next year she will dedicate time to herself and her family, but even though she plans to continue to go to Gormandale matches on Saturdays, she will miss the interaction with those who keep clubs afloat.
"I will miss it, I'll miss the people but like I said in the Tagger (the NGFNL weekly booklet) hopefully when I'm around the grounds I'll still get invited into the afternoon tea.
"I will also miss the staff at AFL Gippsland, it has been a pleasure working for Trav (AFL Gippsland general manager Travis Switzer) and the team who have been very supportive the last couple of years."