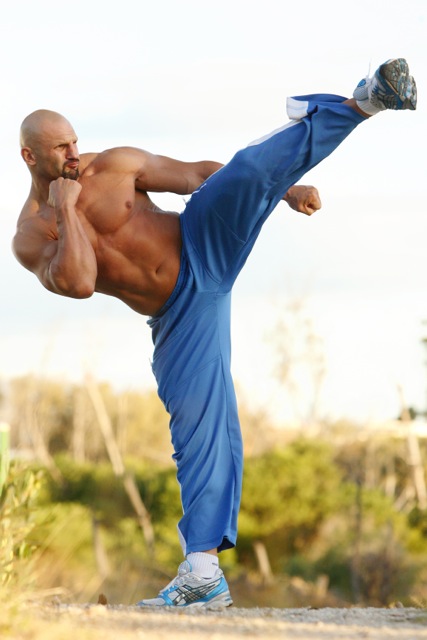 SIX time Australian full contact karate champion Sam Greco wants to turn Traralgon locals into hardened fighters this Saturday.

The K1 legend is set to host a three-hour martial arts seminar and plans to transform people inside the ring, but more importantly, within themselves.
"For me it's not about coming out there and trying to develop fighters over a day, it's about trying to give some quality life lessons that I've learnt throughout my career," Greco said.
"It's not so much about fighting, who cares, it's about not losing the fight within. It's about not giving up when you hit a brick wall, it's about getting back up.
"A lot of people are just willing to give up, to just walk away and say 'I've been defeated', for me I can't do that; where there's a will there's a way… you've got to get up and stand strong in life."
Greco is a former Australian super heavyweight kickboxer, mixed martial artist and wrestler who achieved incredible success and multiple titles across a broad spectrum of martial arts.
The man who once played Stone Cold Steve Austin's stunt double shares the Texas Rattlesnake's mentality – never tap out.
'Slam Em' Sam grew up in a rough part of Brunswick and learned to fend for himself early in life.
While many around him fell through the cracks, Greco found a different path through sport.
A prodigious football talent, he became the youngest signing at then Australian premier league team Brunswick Juventus, but martial arts soon became the primary focus.
He made his K1 debut in 1995 and enjoyed a decade of success before retiring from professional competition in 2005.
Greco said his decision to train his body allowed him to hone his mind, and diverted him from the road that consumed childhood friends.
"My mum always used to say to me 'show me your friends and I'll tell you who you are' and that stands to reason let me tell you," he said.
"People who I used to hang out with as young kids are either dead or in jail or just about to go to jail… I chose a different path because of my sport. I saw a light at the end of the tunnel.
"There's kids out there in today's world growing up in rough areas. It doesn't necessarily mean that you have to follow suit, you have a choice in life.
"(Martial arts) has been very important to me, it's established my life. It gave me direction, it gave me a sense of discipline – even though there was discipline at home – it gave me something away from home. It kept me focused on certain projects and once you focus you're able to achieve."
Fastforward to present day and Greco's seminars are in hot demand worldwide, and a hit in the corporate world.
Saturday's visit to Traralgon, engineered by Topdeck Promotions, will offer beginner to advanced training, self defence tactics, a question and answer session and more, but the message transcends the realm of physical fighting.
"When I use the term fighter people think of gloves, kicking and punching, it's got nothing to do with that. Most of my talks are about the fighter within myself, it's about me not giving up," Greco said.
"I love being branded and not because I'm rough or tough or anything, it's because I love the association – fighting to me means not giving up, fighting against adversity… that's what I'm bringing to the table.
"I want to be able to create and build individual fighters, not so much for the ring but for life."
For more information about the seminar or to book your attendance phone Ozan on 0423 501 118 or email info@topdeckpromotions.com
The full three-hour training session at Traralgon Sports Stadium costs $100, spectator entry is $50.