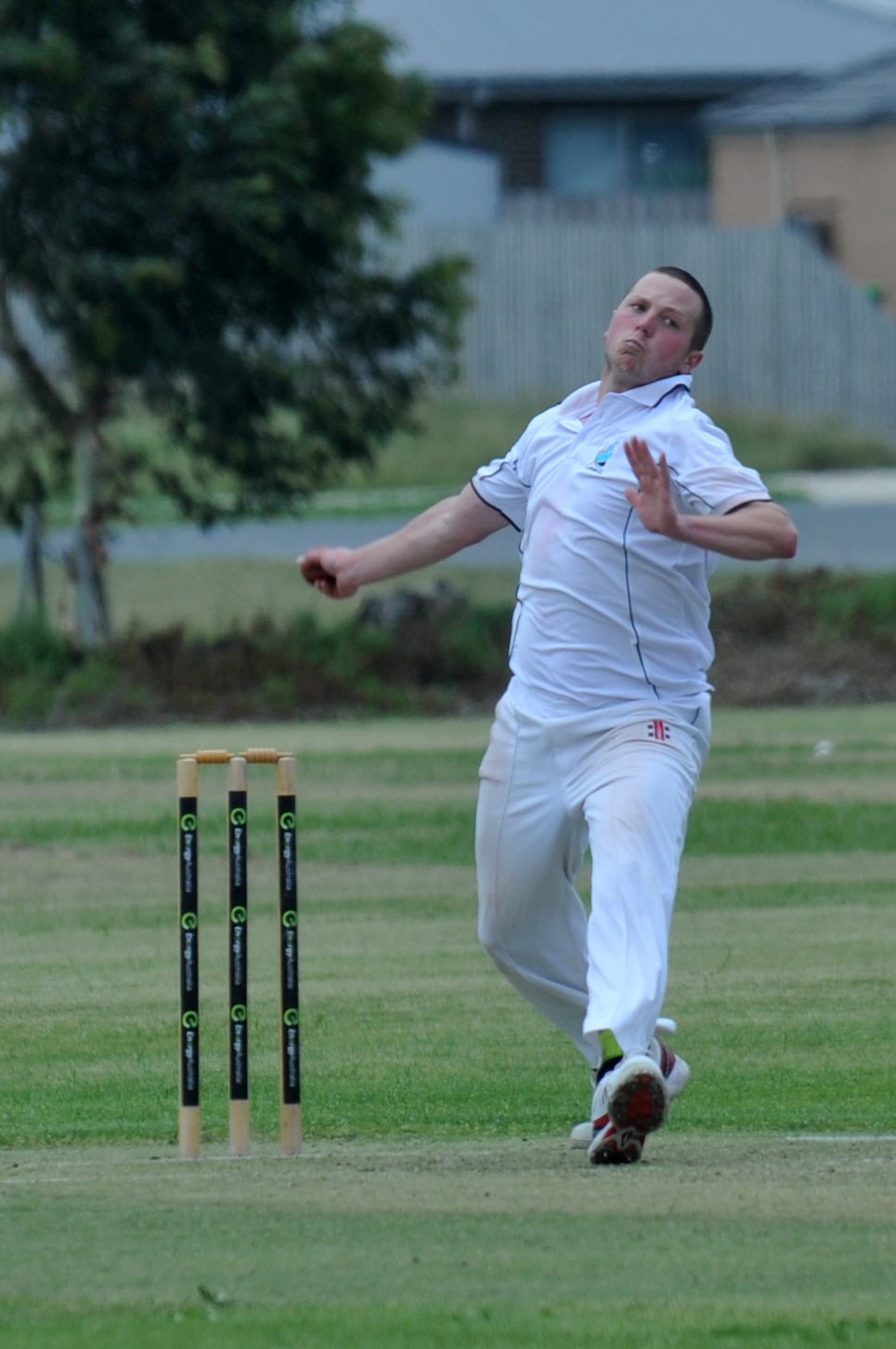 CRICKET
CGCA
FIFTH-placed Latrobe welcomed the undefeated Mirboo North to the Peter Siddle Oval, and home skipper Brendan Evans saw something in the wicket that tempted him to bowl first.
His hunch proved correct as the Sharks removed the Tigers for 133 and drew within four runs of first innings points by stumps with seven wickets in hand.
Jamie Brierley took four wickets with the new ball, including the three big wickets of Jesse Giardina, Shane Peters and Rob Phoenix, the last of who was put down twice but unable to make the Sharks pay for the drops. At 3/22 the Tigers were in real strife until Phoenix teamed up with Englishman Adam Mates; the pair added 39 before Phoenix was caught behind by Benn Zomer.
Ben Williams then hung around with Mates for a 31-run stand but the tail quickly fell away, with only Phoenix, Williams and Mates (58) making it to double figures.
Sri Lankan fast bowler Tyron Gamage scored three tail-end wickets, all bowled, while club coach Chris Johnson took two.
Defending just 133, the Tigers needed early wickets if they were to stay in the game.
Peters opened with the pacy Phoenix and the ever-reliable Liam Smit, but was dealt a blow when the former was forced out of the attack in his sixth over due to injury. The experienced duo of Anthony Bloomfield (32) and Tim Cranwell (24) put on a half-century opening partnership before both fell in quick succession.
That brought Matt Brewer and Steve Freshwater together, two top-order bats low on runs, who proceeded to take Latrobe to the brink of victory before Freshwater fell in the final over of the day. Latrobe ended just four runs shy of victory with seven wickets still in hand. Brewer (36*) and Adam Duncan (0*) will face up next week.
MORWELL was sent in by Trafalgar captain Rhys Holdsworth, a move that paid off instantly with Glen Bone caught behind in the first over off Jackson Noonan.
Rory Hare and Jackson Beani both got starts but the dual loss of Mark Cukier for a duck and Brendan Brincat for seven sent the Tigers into a spiral. At 7/86, Morwell was staring down the barrel at a first day humiliation. Riyaz Pathan weathered the storm with a cautious innings, but was running out of partners until the arrival of Roger Henry to the crease.
The pair moved carefully at first but expanded their strokeplay as the partnership grew, eventually flourishing into a massive 148-run stand that dragged the Tigers back into the game.
Henry offered a chance early in his innings off the bowling of Holdsworth, however a fielding mixup saw the catch spurned. Trafalgar was made to rue the missed opportunity as the next didn't come along until Pathan offered a half-chance on 70, and by then the damage had already been done.
The Canadian finished with 92 not out to his name as Morwell tallied 7/234.
JEERALANG-Boolarra could be on course for its second A grade victory in as many rounds if it can add another 58 runs with seven wickets in hand on day two against Yallourn North.
Bombers captain Patrick Spiteri won the toss and opted to bat first, with Josh Keyhoe and Aidan Vesty putting on a solid opening partnership.
Dillon Leys broke the stand by picking up Vesty, and after that the floodgates opened with only Keyhoe fighting the tide.
Vesty and Evan Sheekey could only manage 15 each while Spiteri made 12, with Keyhoe's 41 the best score of the innings by far as Yallourn North was all out for a paltry 118 in the 51st over. Dillon Leys ended with 3/21, Tim Laaks nabbed 3/29 and Peter Gilpin took 2/28 to round out a magical bowling performance from the Panthers.
Yallourn North needed early wickets to keep the pressure on Jeeralang-Boolarra, knowing it had a long tail, and Glenn Sheekey delivered immediately with both openers, including the dangerous Luke Heath.
Stan Urbanic's dismissal by Lucas Fry shortly before the close leaves the game precariously balanced, and could go either way next week.
Ben Heath is still at the crease and has Ossie Brennan for company, needing just 58 runs for first innings points.
MIRBOO North had better luck against Latrobe in second grade where the Tigers rolled the Sharks for 105.
Ash Halkett was the only man to stand up and be counted for the home side with an unbeaten 41, as Andrew Soplakow (4/11), Jarrod Speed (2/11) and Damian Turner (2/13) got stuck in. Brendan Van Heurck's aggressive 34 got the visitors off to a good start but his dismissal saw his side slump to 3/36 courtesy of Nathan Nikodemski and Mitch Cowell.
Halkett also snagged two wickets to balance the game and at 6/76 it could have gone either way.
Soplakow (50*) and Brandon Bradshaw stuck together to net the winning runs, with the former savaging Jon Hayes (one over for 22 runs) and Paul Dawson (two overs for 19 runs) to seal the win.
THORPDALE sent Moe in to bat and the Lions posted 9/182, with Jacob Mulqueen, Aaron Walshe, Trent and Riley Baldi, Ron Whitney and Mark Rogers all contributing.
Matthew Powell took 4/39 for the Blues while Ian Pinkerton and Heath Ferguson each took two wickets.
In reply Thorpdale was razed for 94, a total which could have been much worse in not for the effort of James Durkin and Heath and David Ferguson, as Robert Blunt (3/8) and Ron Whitney (2/27) did the damage with the new ball.
THE Bombers sent the Saints in to bat first, and Steve Tobin's 18 was the best effort in a dismal performance which had the visitors all out for 78 in the 34th over.
Darcy Shellcott (3/12) and Nick Gooden (3/10) wrecked the St Vincents' batting order before Stuart Anderson (53*) and Tyler Brown (62*) drove the Yallourn North total to 0/119, the latter bouncing back into form after a highest score of just four since the start of the season.
MORWELL'S second grade outfit boasted both Craig Giddens and Gavin Bailey and although the former failed, the latter's towering 72 helped the Tigers post 8/201 against Rawson.
Josh Hammond took three wickets but it was Morwell's day as Dylan Day ripped through the Kookaburras' batting lineup to take a stellar 6/24.
THE Panthers batted first and in windy conditions posted 6/184 thanks to 47 from Dale Abbott and 40 to captain Robert Beamish.
Sam Phoenix took 3/48 and Jack Aitken 2/31 for the Colts to keep them in the game. Latrobe never really got going in the chase, and was eventually all out for 103, Paul McGrath the best bowler with 3/29.