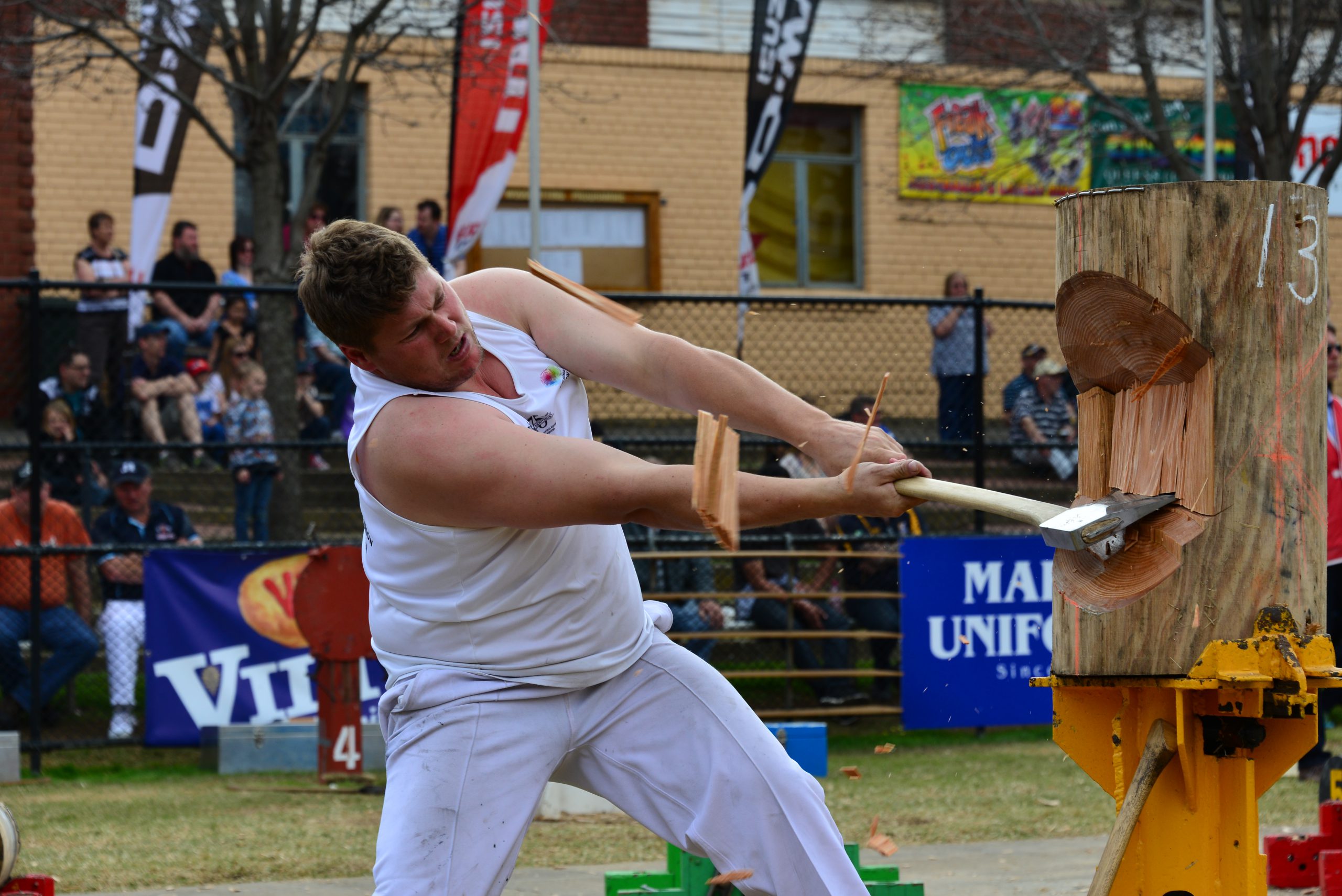 AUSTRALIAN axemen will come from far and wide in the hunt for a state title this weekend, but the man with the wood on the competition will have but a 20-minute drive to the Traralgon Showground.

Toongabbie's Glen Gillam is a raging favourite for the 14-inch standing block Victorian title at the Traralgon Show as the reigning world champion in the 15-inch equivalent.
Gillam has three world titles and a string of state and national wins, including a $50,000 score in Tasmania where he broke a 50 year-old world record twice, since returning to the sport last year.
It followed a four-year hiatus and Gillam is eager to continue making up for lost time by adding to his run of success on home turf.
"Having it here in Traralgon will bring a lot of competitors from out of the local area down and hopefully build the woodchopping up a little bit there at Traralgon Show this year… get a bit more zing about it and more interest from people," Gillam said.
In an ironic twist the break he took from the sport he loves was to spend more time with his young family; now that same sport brings the family he loves together.
Young son Jack Gillam has a toy axe to practise his technique, following in Glen's footsteps who in turn inherited a love of woodchopping from his father and grandfather.
"He's just in awe and with kids they just pick it up. It's a bit of a drive in life and (I'm) a role model in a way for the young bloke," Gillam said.
"It's something different, it gets you out each weekend mainly with the family nowadays and gives you something to do rather than sitting inside. It's going a few different places with family and enjoying the day out with them."
A diesel mechanic in his day job, Gillam said woodchopping was a passion to pursue as a hobby first and foremost.
It just so happens he's among the best on the planet.
"The sport of woodchopping, let's face it, it is not a huge sport, it's no AFL league, so that's your hobby but you put everything into it – you've still got your 9-5 job," he said.
Gillam headlines a quality field with axes to grind in Traralgon.
South Australian champion Ray Caldwell of Mount Gambier will be out to take the crown from the Victorians, while Brad Hains of Ballarat, Jason Kirley from Mansfield and Yinnar local Brian Williams will offer stiff competition in the main event.
The other divisions also promise plenty of excitement with five competitions planned.
The handicap events are a 12-inch (300mm) underhand, 13-inch (325mm) underhand, 10-inch (250mm) standing block and the under 18 underhand, which is always a crowd favourite.
The under 18 chop will feature a family affair with several boys from Bairnsdale's Davis clan, ranging from 10 to 13 years of age, taking part including brothers Marshall and Tommy and cousin Mitchell.
Woodchopping is among Australia's oldest sports and has origins tracing back to Gippsland.
Warragul local Jack Biggs had a wager with Joseph Smith of Ulverstone, Tasmania at the latter's local pub in 1870 over who could fell a tree quicker, and the sport grew from there.

As with the Gillam family, knowledge is often passed down from one generation to the next, and the Traralgon Show is set to highlight its heritage nature with Rick, Poss and Dwayne Grearly forming a competing father, mother and son trio.
Poss is the only female competitor and has previously represented the Australian women's team.
Competitions involve heats and finals and will be taking place every 15 minutes starting at 10am until around 3pm. The 14-inch state title will be staged from 1pm on Saturday at Traralgon Showgrounds.
The event is being hosted by the South and Central Gippsland Axemen Association.