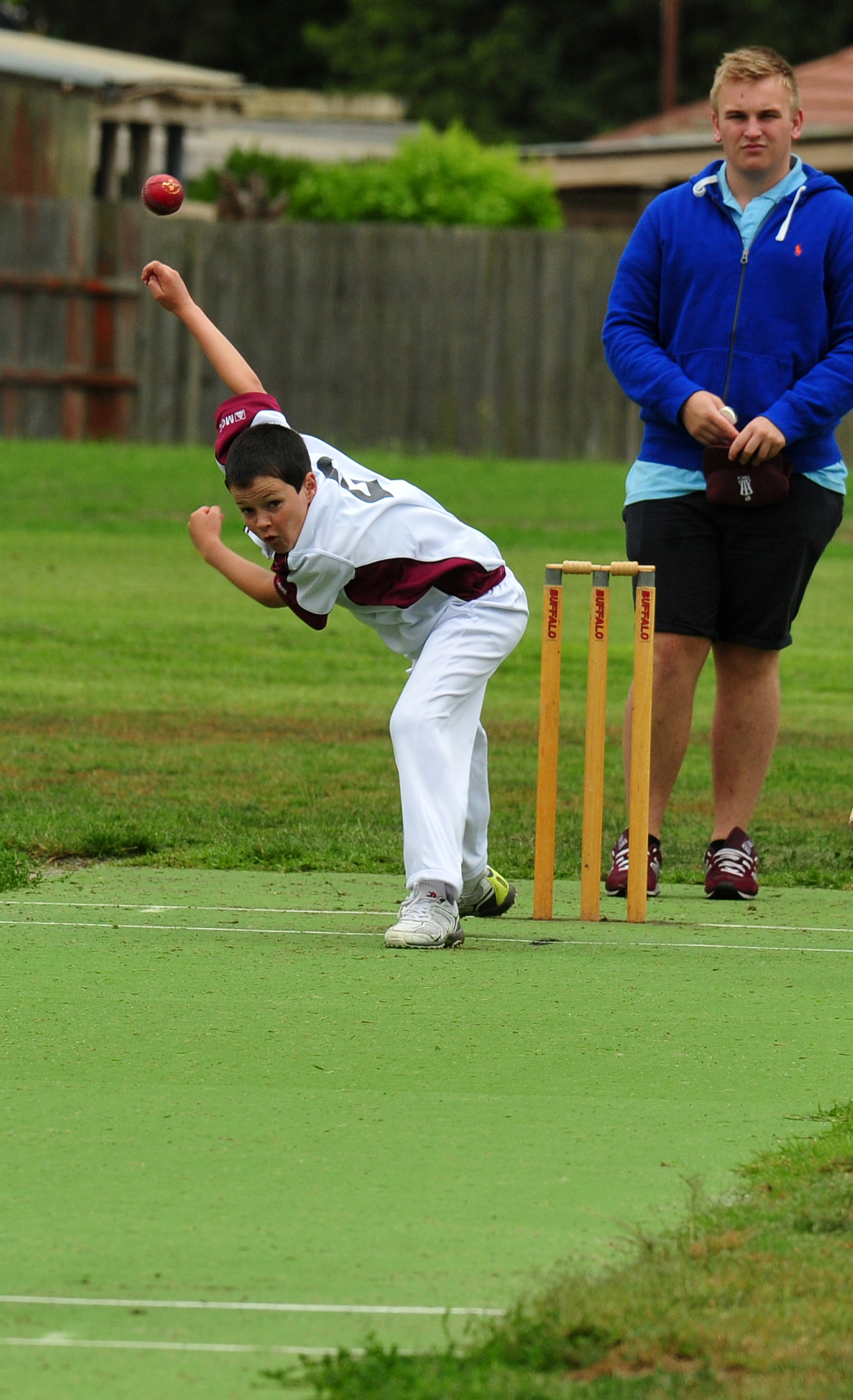 TRARALGON under 15 co-captain Ewan Williams did not let inclement weather rain on his parade in Monday's junior country week opener against Leongatha at Yinnar.

Ewan compiled an elegant 80 on a skidding wicket at Yinnar to lead the host region to 7/157 in the only non-washout under 15 fixture of round one.
The under 14s had more luck on synthetic wickets with results in two shortened matches and play possible in all three.
Bairnsdale defeated Central Gippsland despite an unbeaten half century from Blair Clymo, Traralgon knocked off Leongatha while Warragul and Sale/Maffra shared the points when rain intervened.
The wet start to the Gippsland edition of the under 14 and 15 region seven representative carnival continued on Tuesday but all matches were played to conclusion.
Liam White's 54 at the top of the order led Central Gippsland to under 15 victory over Sale-Maffra.
Shannon Kennedy tore the heart out of the middle order with 3/9, while Leo Connolly claimed 3/17 from 8.1 overs.
Ewan continued his good form to help Traralgon to its second win with 31 and 3/11 from 10 overs against Bairnsdale.
Max Luckie (40) and Ethan Foley (47) were the other prime contributors with the bat.
Warragul scored a convincing win over Leongatha in the other under 15 match of round two, with Jonah Serong's 76 the catalyst.
In Tuesday's under 14 action Blair was again the star for Central Gippsland with a knock of 84, but once more it was not enough to get his side over the line against Sale-Maffra.
In other round two matches Bairnsdale crushed Traralgon while Leongatha and Warragul played out a thrilling 93-run apiece tie.
Hosted by the Traralgon and District Cricket Association for the second consecutive year – the competition is shared around the districts involved for two years at a time – coordinator Mark Brown said the league was committed to providing a valuable development experience for the area's juniors.
"Traralgon in general we've always prided ourselves on our league and we've tried to make junior country week as good as we can," Brown said.
"The executive with Kev Foley as president has put a lot of time in to coordination with the clubs to make sure the lunches are done well, the grounds are mowed, wickets prepared and stuff is ready.
"All the regions are good (when they host)… you couldn't fault anyone."
Gippsland's region seven JCW comprises Traralgon and district, Central Gippsland, Leongatha, Sale-Maffra, Bairnsdale and Warragul in under 14 and 15 age groups.
Brown said it was an important age bracket as talented juniors began to put their names in contention for senior country week honours and other representative pathways.
"This leads into the Gippsland under 18 and 16 teams and leads onto their senior country week," Brown said.
"It's an opportunity for the kids in the region to gather together and display their skills.
"It's an age old concept that's been going for years; I certainly played country week in the '70s, it started in the '50s and early '60s.
"The kids love it, it's just an opportunity to play cricket, play on turf wickets, play against different kids (from across the region)."
Blair continued his onslaught in yesterday's third round, notching an unbeaten 99 to steer Central Gippsland to its first win over Leongatha.
In other under 14 ties Sale/Maffra overcame Bairnsdale and Warragul edged out Traralgon in a low scoring match.
The under 15 third round saw Liam strike 105 to lead Central Gippsland to a mammoth win over Leongatha, with help from Zac Brown's 6/28.
Lachlan Patterson helped Traralgon defend 99 against Warragul, claiming an astounding 5/6 from eight overs to instigate a collapse of 44 all out in reply.
Bairnsdale defeated Sale/Maffra in the other match of the round.
The competition continues today with the final round of matches to be staged tomorrow.