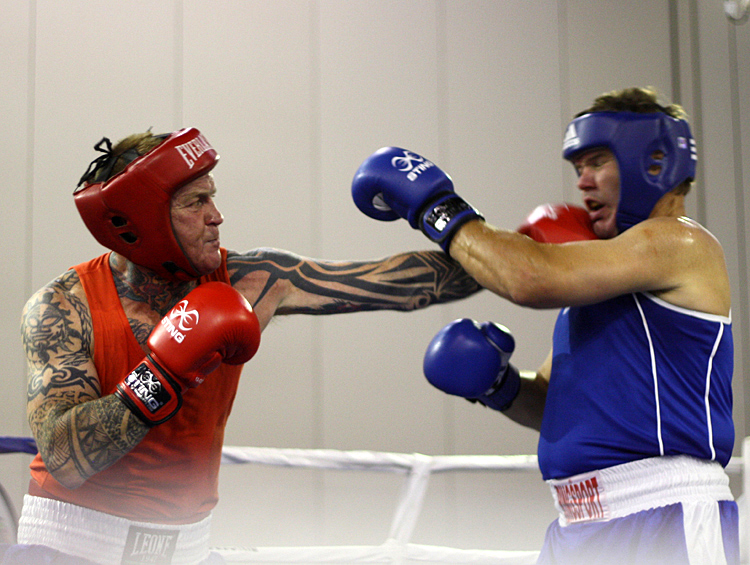 IT ain't about how hard you hit; it's about how hard you can get hit and keep moving forward.

Boxer Chris Franssen is an embodiment of Rocky Balboa's eloquent metaphor.
Since winning the 1988 Australian light heavyweight title the Churchill local has been through the ringer.
He spent six years on crutches after both knees required reconstruction, comprising seven surgeries, and his life suffered in other facets as boxing slowly faded from the frame.
"I went to the alcohol and the drugs for a while. It started off with painkillers then stupider things and stupider decisions I'd made in my life," Franssen said.
"Work also came along then and I sort of went away from boxing for quite a while."
While he wasn't competing any longer, his mind was never far from the ring, and Franssen's love of fighting – fostered at Morwell East Football Club as a teenager – surged back to the fore unexpectedly.
"I always followed the boxing, I dabbled in it – took boxercise and if people wanted a hand here and there I'd help them out," he said.
"Two years ago I did my back at work. I woke up one day and I don't know why, I just got the bug for boxing again.
"If it's in your blood, it's in your blood, you can't get rid of it."
The former student of renowned late trainer Mick Kanavan – who helped Franssen win the 1988 title – dived back into training in Melbourne.
When he was told about the Masters Games the 49 year-old was initially sceptical, believing it was a semi-contact affair, but decided to enter the 45-50 open age group on the promise it was serious competition.
"I'd never really heard of the masters, I was a bit ignorant to it," he said.
"Masters boxing didn't exist when I was younger; I never dreamed this would be around."
With only one other entrant in his category, reserved for experienced fighters, Franssen fought another former Australian champion in Darren Guelfi for the title.
Fortunately Franssen was well-prepared for the southpaw, having sparred with left-hand dominant fighters during training, and went on to stop Guelfi in the second round to claim the gold.
"We didn't know who was going to be there so we didn't know we were going to fight him, so we did our five minute homework on him," Franssen said.
"It wasn't an easy fight, it was a tactical fight and we came out on top and won the gold medal."
Franssen came home with not only a gold medal, but a realisation that his career was well and truly still alive.
"After talking to a lot of guys at the masters there's still a lot of guys my age and older who still want to fight, so this masters is a good thing," he said.
With renewed vigour for the sport Franssen plans to register for the World Championships in Missouri, United States this July.
"That's my next ambition, to win a gold medal at the world championships – something I wanted to do as a kid," he said.
"I get to do it now as an older man."
Franssen admitted he'd lost a step relative to the younger fighters he spars with, but said it was necessary to train at maximum difficulty for optimal outcomes.
"It doesn't matter how old you get in boxing, if you want to get to the best and beat the best you have to spar and train with the best," he said.
Another change has been the general approach to the sport and fitness industry since Franssen was last immersed in it.
The holistic approach has captured Franssen's attention, as have the opportunities for athletes who may have thought they were past it.
"Boxing today there's so much more in education, fitness diet, the new styles of boxing and the new attitude to sport and fitness," he said.
"It's just the whole outlook on fitness for people over the age of 40-45, it truly is amazing."
The reborn fighter hopes to venture into motivational speaking for people over 45 post career to inspire others to follow his lead.
"(Older people might) think it's all over but it's not, it's just the beginning."
Former Morwell local Mario Marino also brought home gold at the Adelaide Masters late last year, despite tearing his rotor cuff during the bout.