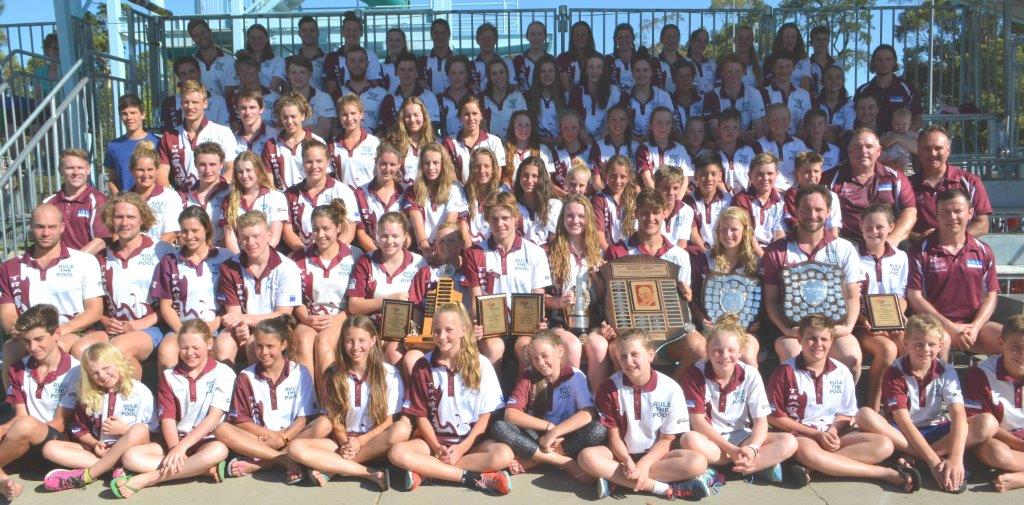 THE Traralgon Swimming Club has won its 16th Country Championship title in 17 years at the Bendigo Aquatic Centre.

The perennial powerhouse club tallied a towering 3092 points to convincingly beat its nearest country rivals in Warrnambool (1184), Bendigo East (856) and Geelong (850).
The 91-strong squad came away with all the team trophies on offer.
In addition to the Allan Monaghan Shield for overall winner it also won the top points scoring team for both male and female athletes and highest score for day three of the meet.
Individually Traralgon's swimmers also dominated the major trophies.
Female captain, 17 year-old Mikaela Cornelissen, had a fantastic three days of competition.
Swimming 29 heats and finals with over three kilometres of racing she won nine gold medals, two silvers and broke four event records.
Her dominance was rewarded with a second consecutive championship swimmer of the meet award, backing up her sublime efforts in 2015.
Mikaela, together with male captain, Caiden Gill (17) won the Australia Day medals for the most outstanding swims on the final day of the meet.
Eleven year-old young gun Jordyn Cargill swam his way into the record books with three golds, two silvers and one event record to win the Rob Godfrey best 13 years and under swimmer accolade.
A total of 26 club swimmers (16 girls and 10 boys) won 40 gold, 22 silver and 15 bronze medals breaking 10 event records in the process.
Other stars of the meet included 16 year-old Emily Beecroft, who won all five multiclass events, 27 year-old Sam Ashby with three gold and a silver in his comeback to competition, and 18 year-old Georgia Tsebelis who achieved the same medal tally.
The club also had its best ever relay medal haul.
From 22 events the club won 19 gold, eight silver and three bronze medals with 66 swimmers part of a winning medal team or making finals.
The outstanding relay swim was in the girls' 17 years and over 4×50 metre medley where both Traralgon teams broke the existing country and event record.
The winning combination of Georgia Tsebelis, Caitie Mitchell, Taylah DaRos and Maggie O'Keefe swam 2.06.62, some three tenths under the existing record and only 0.20 ahead of Traralgon team mates – Sophie Fitzpatrick, Fabienne Schoutens, Mikaela and Erin Roberts.
With the 2017 Country Championships announced for Sale from 27-29 January the club will vie for a record breaking 17th title.
Traralgon swimmers now put their sights to the Victorian Sprint Titles in February, the local Gippsland Championships in early March, Australian Age Group Titles late March and the Olympic Trials in April.