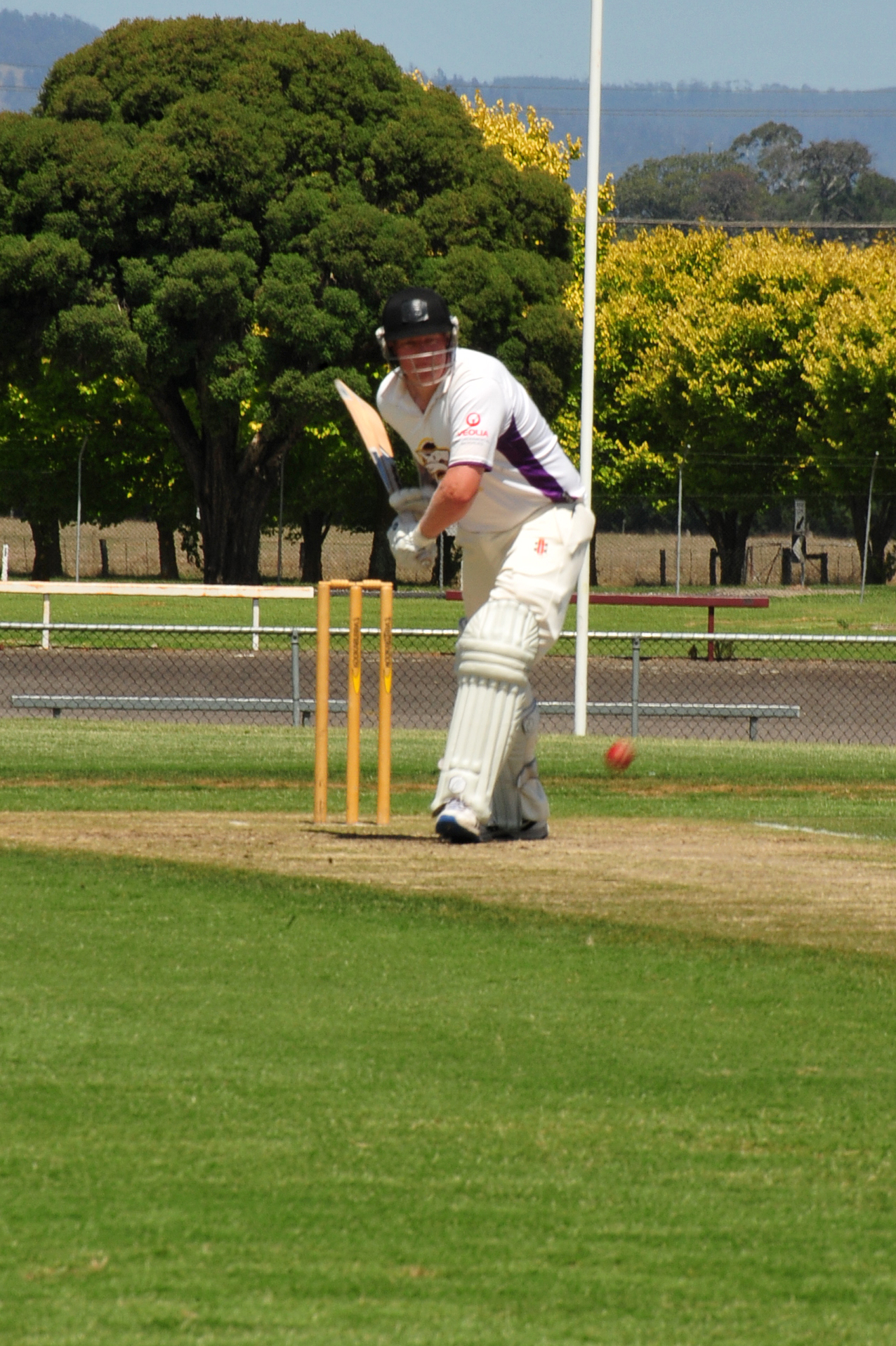 THE Traralgon and district cricket flag race is wide open and the final four looks settled at last.

In an incredible finish to round 11, Centrals knocked off the previously undefeated Gormandale in a second innings outright.
Not to be outdone Ex Students, after scraping home in the first innings, turned the heat up to secure an unlikely outright against a dispirited Imperials line up.
Centrals are now seven points outside the top four with Ex Students and Glengarry locked on 49 apiece in third and fourth respectively.
Gormandale and MTY Raiders lead the pack with 59 and 53 respectively.
GORMANDALE started day two in a precarious position, 48 runs ahead of Centrals with six wickets in hand, before collapsing to a second innings outright loss.
Centrals knew early wickets was the key and made inroads when Adam Brady was first to go LBW to Marc Fenech for 14.
Soon after Rob Darby played a poor shot to be caught in slips off Corey Pollard for three and Centrals were right on top as Gormandale slumped to 8/84.
Barney Webber's 21 gave the Tigers something to bowl, while the in-form Will Cheatley continued his good season with a hard hitting 41* as the Tigers were dismissed for a poor 109.
Centrals captain Pollard was sensational with 5/40 to take his tally to nine for the match.
Chasing 142 for the win Centrals were off to a great start as Jimmy Hall (31) and Sam Gray (13) put on 43.
Steve Hazelman did the hard yards to compile 40 to set up a thrilling finish with Centrals on 8/125 still needing 18 to win.
Stuart Brooks did well to score 26* and guided his side to a great win.
Adam Brady with 3/19 was best for the Tigers.
GLENGARRY started day two in search of quick runs to extend its lead over Toongabbie and set a target after 40 overs.
Most batsmen contributed as Justin Little (24), Hayden Ross-Schultz (40) and Frank Marks (28) helped the total to 5/166 declared, leaving the Rams an improbable 239 for victory.
The Rams never entertained a chase and finished the day at 4/55 off 40 overs.
Richard Watson was best for Glen taking 3/24.
The result meant Glengarry claimed the Timmins-Ries cup for the second time.
Ben Marks was again man-of-the-match in the cup clash.
STARTING day two needing 67 with five wickets in hand the Sharks got off to a steady start before skipper Michael Warne was caught and bowled for 120.
Rick Battista was joined by second day inclusion Greg Munro and the pair added 16 before Munro was out for seven.
Suddenly the Sharks were 7/88 and wobbling.
Battista was stoic and top scored with 43 but the trembles came again and the Sharks were forced to endure another nail-biting finish at 8/115.
Eventually they scurried home to make 136 thanks to another hero effort from Andy Mathews with 15*.
Nat Campbell stole the show again with a brilliant return of 6/37 while Joel Randall took 3/37.
Needing to bat out the rest of the day Imperials surrendered like rabbits in a spotlight as they crumbled to 59 all out from 29 overs.
Andy Mathews was superb with 4/13, while Jimmy Pryde and Kade Duncan took two wickets each.
The Sharks needed a mere 45 for maximum points which they did in a canter two wickets down.
NEEDING a further 44 runs to make CATS bat again Traralgon West faced a massive task to stop CATS sealing outright points.
In a gutsy second innings effort the Eagles battled hard for 67 overs and made 175.
Best bats were Tim Fitch (33), Jon Bell (30), Brendan Peavey (25) and Ben Edebohls (20).
Callum Stewart nabbed 3/42 to be CATS' top bowler.
Requiring 118 off 13 overs for outright points CATS threw everything bar the kitchen sink into the chase and reached 7/98 at the close.
Bell took 5/28.
ONLY 35 runs were needed for MTY Raiders to take first innings points against Churchill and Matt Dyke was first to go for a well made 39.
The star for Raiders was Liam Maynard who batted brilliantly to secure his side a win before he being dismissed just shy of a ton for a well made 91.
When Raiders lost their sixth wicket stumps were drawn at 6/191 declared.