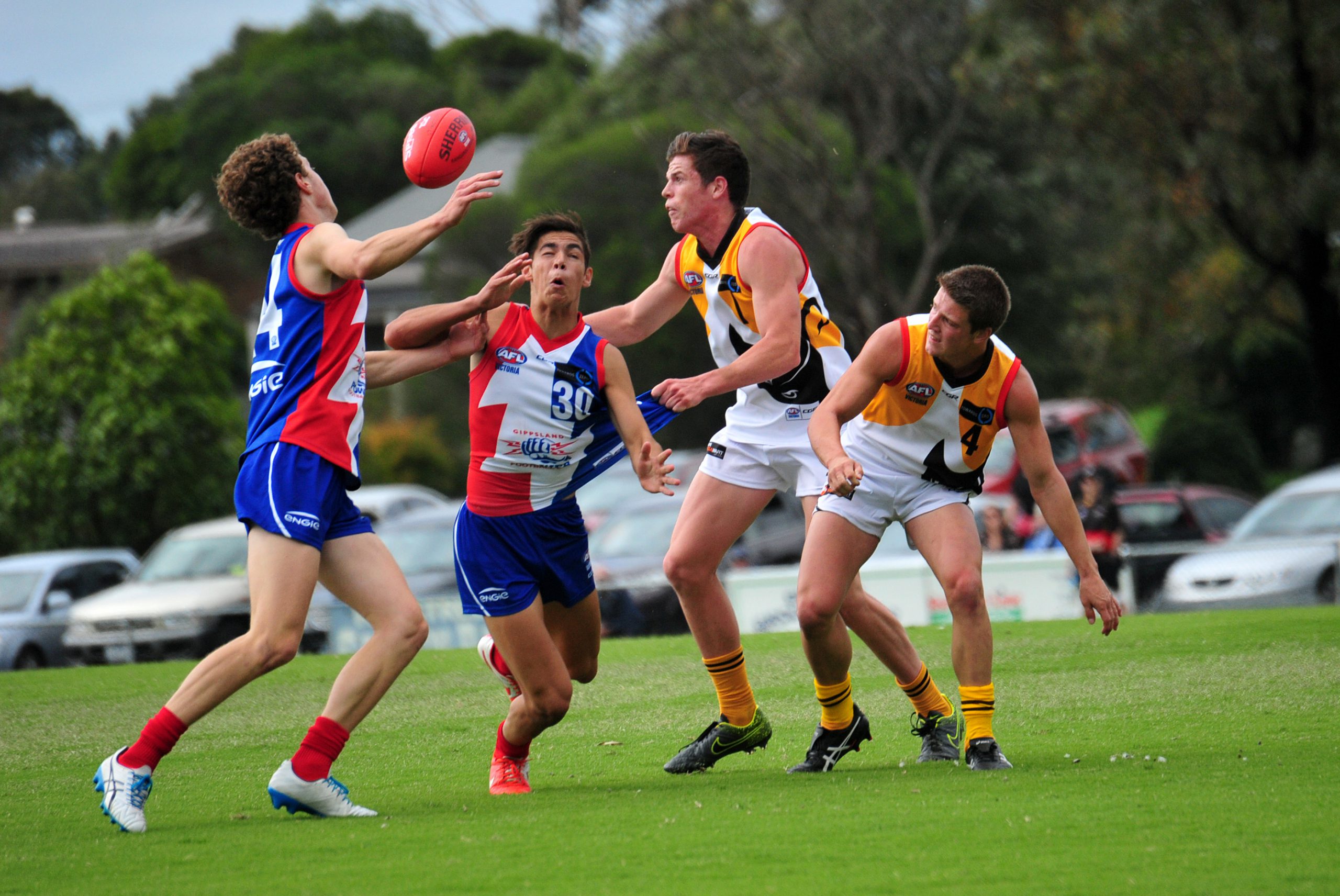 WITH 13 debutants on deck Gippsland Power's new cast of young stars showed no signs of being overawed in a narrow round one loss to Dandenong Stingrays at Traralgon on Saturday.

A young and largely untested Power side fell 12 points shy of the visiting Stingrays in a frenetic 10.15 (75) to 13.9 (87) shootout which ebbed and flowed from go to woe.
Power talent manager Peter Francis said it was an encouraging first up display from a squad looking to find its feet at the elite under 18 level.
"Sometimes you might have seven or eight (on debut) but we had 13; we were really pleased with the way they went," he said.
"They all chipped in at different times and with so many new players, and a lot of 17 year-olds, did a really good job."
The Power was on level pegging at the first change after both sides booted 3.2 (20) but a few errant shots from the home side allowed Dandenong to take control 6.5 (41) to 3.8 (26) by half-time.
Captain Ben Ainsworth took the bull by the horns in the third term and booted two long-range set shot goals from well outside 50 metres to inspire his side, which lifted in a four-goal term to lead by three points at the last change.
The frantic pace of the match – defined by a play-on-at-all-costs attitude and quick movement up and down the pitch – began to wear on the Stingrays as cramps began to cripple the visitors, but Power could not find the killer blow in the fourth.
Three costly behinds early in the last quarter left the door ajar and Dandenong marched through to score a come-from-behind 12-point victory.
Despite the loss Francis said there were positive first up signs from the fresh-faced squad, which bought in to coach Leigh Brown's game plan with aplomb.
"(Leigh) wants them to move the ball really quickly and get it into that tall timber in the forward line and they did that very well," he said.
Among the standouts for the Power were Lakes Entrance-based indigenous player Tyrone Hayes, Sale small midfielder Nick Hogan and ruckman Kieran Jones.
After getting a taste of the top level as an under 16 last season, Aiden Quigley played a mature role while Ainsworth also excelled in his first hit out as captain. Longwarry local Kane Oldham was eye-catching when he was introduced while Kade Renooy was pick of the goal kickers with three for the afternoon.
The Power will travel to Queen Elizabeth Oval to tackle Bendigo in round two on Saturday.
Power: 3.2, 3.8, 7.10, 10.15 (75)
Stingrays: 3.2, 6.5, 7.7, 13.9 (87)
Goals: K Renooy 3, B Ainsworth 2, J Rout 2, C Henness, N Voss, N Mulqueen.
Best: B Ainsworth, K Renooy, T Hayes, A Quigley, T Marsh, N Hogan.