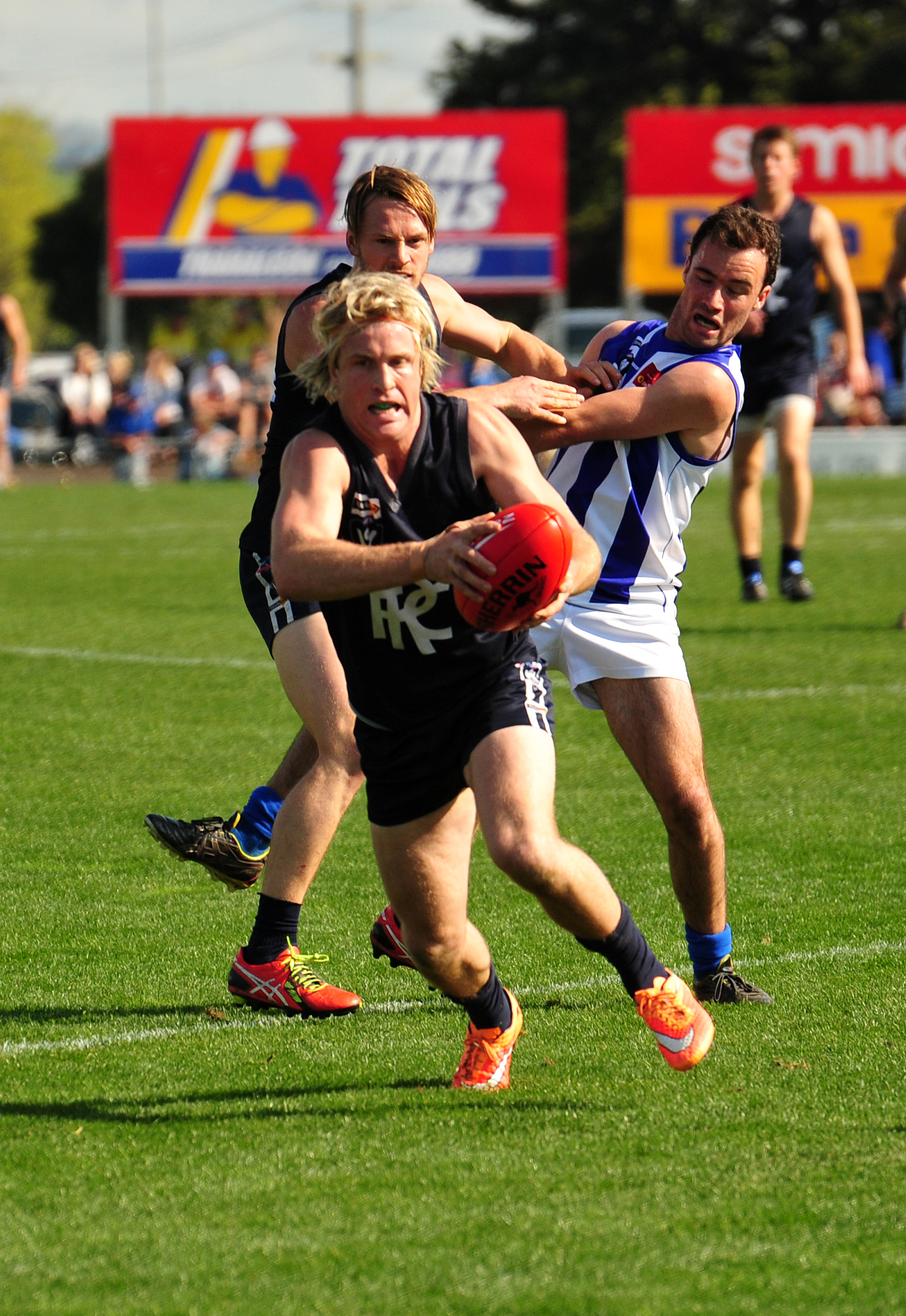 Round 1: Heyfield
In: Sam Bristow, Joel Bristow, Sam Tudor (Maffra), Christopher Sutton (Traralgon), William Flanagan (Rokewood-Corindhap)
Out: Brad Caldwell (Traralgon), Jaimie McIntosh (Boisdale-Briagolong), Justin Smith (TTU)
It will be a proud day down at Moore Street when the reigning premier unfurls the 2015 flag this weekend.
Barring injury and unforeseen circumstances, the Blues should again feature highly in this year's finals series but the question remains – will they go back-to-back?
New playing coach Sam Bristow joins the club in 2016 with plans to make it happen.
Bristow is a 250-game veteran from Maffra who played in six premierships with the Gippsland League club.
His experience will help bolster the Blues' defensive unit and along with brother Joel will help cover the loss of 2015 premiership players Tim Clarke to Carlton and Andrew McQualter to Richmond.
Round 1: Gormandale
In: Justin McLay, Tye Morrison, Bodhi Walker, Barry Parsons (Sale), Josh Tollner, Michael Walker (Stratford), Simon Jackson (Boisdale-Briagolong)
Out: Mitch Bennett, Hudson Holmes (Maffra), Kyle Smillie (Westmeadows), Logan Deschepper (Surrey Park), Brad Walsh (UNSW)
It was a disappointing end to season 2015 for Sale City.
After finishing just half a game behind Rosedale for the minor premiership, the Doggies bowed out in straight sets in a poor finals performance.
The halcyon days of the 2010-2011 flags seem like a distant memory now but the premiership window is not yet shut for the rebuilding Dogs.
Last season's best and fairest winner, David Piasente, is set to take over the coaching role from Hayden Burgiel.
As a player, Piasente was never afraid to put his body on the line and epitomises the sort of ferocity needed for the Doggies to go one better this year.
If the new top dog can instil some extra bite into his young pups, the ravenous Dogs may chow down on the competition.
Round 1: Rosedale
In: Josh Neille, Dan Murphy (Buchan)
Out: Adrian Cox (Boisdale-Briagolong), Jesse Bedggood, Dan Stevens (Toora), Matthew Goodwin (East Ringwood)
Heyfield faces a tough opening clash against Rosedale in a repeat of last year's grand final.
The Roos always field a tough squad, having been premiers in 2014 and runners-up in 2015, and this year will be no exception.
Expect this squad, led by new coach Josh Stubbe, to have a serious shake at the title.
Former AFL players Damien Birss (St Kilda, Western Bulldogs) and Gippsland Power coach Leigh Brown (Collingwood, Fremantle) will add a lot of strength to the Kangaroos line-up.
Prepare for a tough battle at Moore Street this weekend when the Roos will look to atone for a lacklustre effort in last year's decider.
Round 1: Churchill
In: Brendan Chapman, Mark Stolk (Yinnar), Jayden Steers (Warragul Industrials), Justin Smith (Rosedale)
Out: Brian Graham (Wyndhamvale), Hayden Hector, Tyler Mustoe (Traralgon), Marcus Pilgrim, Lachlan White (Morwell-East), Stephen Hawkins (Benalla)
Traralgon Tyers United will look to go deeper into September in season 2016.
It faces Churchill in round one in a repeat of last year's elimination final.
Reeling from a first-round 2015 finals knockout, the Bombers will be hungry to get points on the board early in the season.
They always put a strong team on the field and certainly have a lot of depth in their playing group.
Jay Neagle will coach for his second successive season and his approach of taking the year one week at a time is starting to produce results with this up-and-coming squad.
The loss of three-time league best and fairest winner Brian Graham Junior will be tough to cover in the midfield.
Round 1: TTU
In: Joseph Whykes, Lucas Towns (Morwell East), Sam Mazou (Yinnar)
Out: Nick Campbell (Yalllourn-Yallourn North), Dillon Leys (Trafalgar), James Allan (Mirboo North), Chris Weller (Neerim-Neerim South)
It was a year of ups and downs in 2015 for the Cougars.
They claimed the 2014 title when coach Allan Chandler delivered the ultimatum that nothing less than a finals berth was acceptable.
But last year the Cougars were knocked-out of the finals race in the semis by eventual runners-up Heyfield.
As often happens after a period of success, sometimes dubbed the premiership hangover, clubs can lose a bit of hunger.
But Chandler is not the sort of coach who will let this team rest on its laurels.
Strengthened by new recruit Lucas Towns (Morwell East) and captained by 2015 best and fairest Chris Williams, expect a tougher, more focussed Churchill unit this year.
Round 1: Woodside
In: Jay McDonald (Calivil United), Chris Bruns (Leongatha), Matthew Sheridan, Scott Boddy (Boolarra)
Out: Andrew Kiely (Devon Meadows), Lukas Jenkins, Clint Staley (Toora)
Yarram is an improving club and the 2016 season will be a good indicator of just how far it has come.
Coach Chris Pettitt, who will steer the club in his third season, is joined by Jay McDonald as assistant.
McDonald was an interleague representative from Bendigo with an impressive football CV, and this experienced leadership group should inspire the Demons to greater heights.
McDonald's wife, Ash, will work with the Yarram netball squad in a double coup for the Demons.
The Good Friday season opener against Woodside was a wake-up call for the Demons in their pursuit of a top five berth, which has proved just barely out of reach since returning to the league in 2014.
Round 1: Sale City
Out: Jack Wyhoon (Glengarry), Kapun Morris (Queensland), Luke McLean (Noble Park), Mitchell Jones (Pearcedale), Kallan Fitzclarence (Warragul Industrials), Tom Brennan (Bairnsdale)
For a club facing some off-field challenges, Gormandale finished season 2015 with a respectable five wins and 13 losses.
Daniel Domaille steps up as senior coach in 2016, replacing Luke Henderson.
A change at the top could be the breath of fresh air the club needs to improve its prospects in 2016, and a finals berth is not out of the question this year for the Tigers.
It will be a tough ask when they face Sale City in round one, but if the local community really gets behind the club on home turf, anything could happen.
Round 1: Glengarry
After knocking at the door of the finals in 2013 and 2014, it was a disappointing finish for Cowwarr in season 2015 when the Saints slipped back to eighth position.
On the positive side, round one is a clean slate and with matches against Glengarry and Woodside to open the season, the chance to go two-zip is feasible.
New coach Brett McMasters should be drilling this into his players' psyche before the first ball is bounced.
A more disciplined game plan could land the Saints a position in September's action.
Round 1: Yarram
In: Gary Jones (Maffra), Aidan Fitzgerald (Lucknow), Rob Michaelides, Stephen Lambert (Morwell), Ricky Benis (Devon-Welshpool-Won Wron-Woodside), Dale Hanratty (Toora)
Out: Daniel Risol (Moe)
Woodside faces a few on-field challenges this year after finishing second last on the table in 2015.
The Wildcats have proved with good recruits they are a different breed this year, with a huge Easter win over neighbouring Yarram.
Gary Jones has been proactive in locking down players and a sound game plan for the new-look side since Daniel Risol pulled the pin late last year.
The addition of athletic ruckman Aidan Fitzgerald will free Ryan Foat to roam the forward line while the return of Morwell duo Rob Michaelides and Stephen Lambert will boost the club's quality.
With all 10 teams starting from scratch, and some winnable games in the opening rounds, Woodside has the perfect opportunity to restore some much needed confidence.
Round 1: Cowwarr
In: Aaron Walker (Stony Creek), Jack Wyhoon (Gormandale), Darcy Hargreaves (Paynesville)
Out: Stuart Brooks, Bobby Marshall, Dean Pearce (Traralgon), Robert Cahill, Brock Rowson (Yarragon)
The good thing about winning a wooden spoon is that you can't go any lower.
The only way for Glengarry this year is up.
It's amazing how quickly one win turns into two, and then three or four.
This step-by-step, week-by-week approach is what the Magpies need to turn their club around.
Incoming coach Chris Day has a wealth of experience in country football and will go back to basics to revive the 2013 premier.