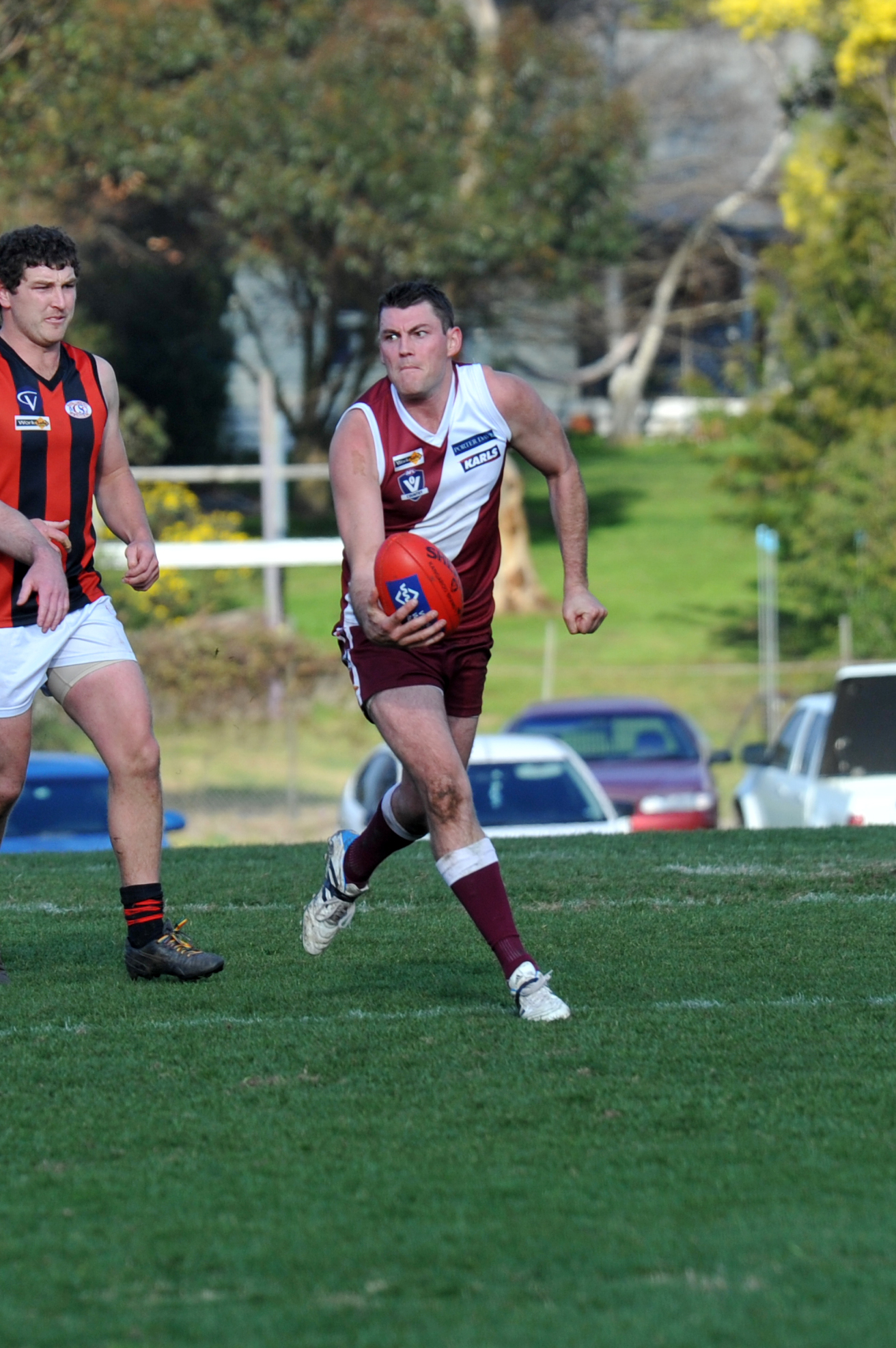 Coach: Mark Collison
Last season: Premier, third
Won 14, Lost 4 (56pts)
IN: Jason Winderlich (Essendon), Dean Pearce (Glengarry), Stuart Brooks (Glengarry), Brad Caldwell (Rosedale), Hayden Hector (TTU), Tyler Mustoe (TTU), Bobby Marshall (Glengarry), Jack Jacobsen (Glengarry), Luke Johnson (Sale), Daniel Loprese (Boolarra)
OUT: Michael Geary (retired), Mick Cooper (retired), Tom McQualter (Inverloch), Jarrod Henderson (Yinnar), James Appleford (Rye), Hayden Britten (Heidelberg)
Prediction: 2nd
WHEN Traralgon was thumped by Leongatha in round one last season it sparked an honest cross-examination, which ultimately led to success.
"We actually had a team review that following Tuesday and a few home truths with a few of our senior players and I suppose from that point onward we never looked back," second year coach Mark Collison said.
The heavy loss served as motivation as the Maroons powered to a premiership, coming full circle in the grand final against the Parrots.
Now out to defend the flag Traralgon has enlisted high profile help in the form of Essendon player Jason Winderlich.
"We expect him to do the little things and be a player, not just a figurehead," Collison said.
"The off-field stuff that he brings is supporters and probably the best thing is local young kids can come down and watch him.
"From my point of view on the field it's important he comes in, buys into how we want to play and do the team things and he's done all that to date so he's been really impressive so far."
The departure of retiring captain Mick Geary and grand final star Hayden Britten (Heidelberg) come as blows but the side has recruited well with former GWS train-on player Hayden Hector back from TTU and Rosedale premiership assistant coach Brad Caldwell on deck.
With the bulk of the championship side returning expect the Maroons to push for another title.
Coach: Beau Vernon
Last season: Runner-up, 1st
Won 15, Lost 3 (60pts)
IN: Chris Dunne (Darwin), Matthew Chalmers (Tarwin), Tyson Hanegraaf (Korumburra), Jake van der Pligt (Inverloch-Kongwak), Jason Smith, Ben Smith, Eddie Smith (Foster), Hayden Brown (Tarwin)
OUT: Tas Clingan (Wantirna), Jake Best (Vermont), Ryan Higgins (Surrey Park), Patrick McCaughan (Surrey Park)
Prediction: 1st
BEAU Vernon's fairytale first season in charge fell one win short of the perfect ending, but hopes it was only a prelude for the Parrots.
Returning to the sport as a coach after a heavy knock left the former Leongatha player a quadriplegic at the age of 23, Vernon led the side to a minor premiership and grand final.
Now it's about building on that success.
"We just want to continue improving. That's not just in terms of winning a premiership that's all grades we want to improve on and off the field whether it be performance, enjoyment, all those things," Vernon said.
"Winning games last year gives the blokes a little bit of a taste of success and kind of makes us all – coaching group and players – want to work harder for success this year.
"We'll look to play a similar brand of footy to last year, exciting, take the game on and we've got good juniors coming through."
Tas Clingan and Jake Best are the only key players departing in a side looking to capitalise on a wide open premiership window.
Coach: Wayne Butcher
Last season: Preliminary Final, 2nd
Won 15, Lost 3 (60pts)
IN: Jarryd Clohesy (Stratford), Lachlan Channing (Stratford)
OUT: Darren Sheen (Narre Warren), Jake Roe-Duggan (Ouyen United), Jarred Jans (St Josephs), Sam Bedggood (Boisdale Briagolong), Ben Bathala (Boisdale Briagolong), Gary Jones (Woodside), Sam Bristow (Rosedale), Shannen Lange (Port Melbourne VFL)
Prediction: 6th
THE Eagles will focus on teaching their young to fly this season in the wake of departing experience.
Goal kicking phenom Darren Sheen has flown the coup while premiership players Gary Jones and Sam Bristow have taken up coaching gigs in North Gippsland.
Returning coach Wayne Butcher said 2016 was about rebuilding for the side which dominated the previous decade.
"We've probably got a young side really, probably more a development year for us," Butcher said.
"Our twos won the flag and we had a young side there so we'll have a younger side than the last couple of years."
Among the bolters for the senior side is thirds best and fairest winner Ben Bruns.
"He's probably been the kid who's stepped up the most and will probably play a bit of senior footy this year, he's come from nowhere a little bit," Butcher said.
Coach: Stuart Gilmour
Last season: Semi-Finalist, 4th
Won 11, Lost 7 (44pts)
IN: Thomas Motlop (NT Wanderers), Braedon McLean (NT Wanderers), Simon Bates (NT Wanderers), Scott Pugh (Kilcunda Bass) Joel Little and Eli Richards (returning from injury), Joesph Magro (Dalyston), Thomas Davey (Dalyston), Matthew Schreck (Dalyston), Jamie Cann (Tarwin), Nick Tucker (Lang Lang)
OUT: Toma Huther (Port Melbourne VFL), Jack Blair (Collingwood VFL), Aloysio Ferreiro (Casey) Earl Shaw (St George), Travis Krause (Dalyston), Dylan Wilson (Dalyston), Bodi Hill (Dalyston)
Prediction: 4th
WHEN Wonthaggi staged a vote about moving to the new West Gippsland Football League from 2017 the Power uncovered some passion.
A resounding vote in favour of remaining in the major league made it clear the players relished the challenge and wanted the best from themselves.
"Our players were 98 per cent they want to play the highest standard of football and netball across our whole club," coach Stuart Gilmour said.
"We didn't even consult the players on the vote, we wanted to make sure we didn't influence them. They stood up at the meeting and made it really clear they wanted to play the higher standard."
The Power has retained the bulk of the squad which reached the 2014 grand final but has lost a handful to higher duties in the VFL, including ruckman Toma Huther, Gippsland Power graduate Aloysio Ferreiro and Jack Blair.
Gilmour said the side planned to stick to its defensive guns but add some slicker ball movement to the mix with some older recruits to lead a squad with an average age of 22.
"We've kept the same game plan, we've slightly tweaked it for better ball movement, but we're a defensive orientated team, we'll never lose that," he said.
The return of on-ballers Joel Little and Eli Richards from injury will make a difference in the middle.
Coach: Shane Fyfe
Last season: Elimination Final, 5th
Won 10, Lost 8 (40pts)
IN: Jarrod Freeman (Foster), Michael Todd (Croydon) Ben Jones (returning from England), Tim Di Marco (Sale City), Lachie Heywood (Stratford), John McIntyre (Bendigo), Matthew Coutts (Hill End), Jack Fisher (East Brighton), Justin Mitrevski (Clayton), Jason Garrett (Mackay), Taylor Stephenson (Heyfield)
OUT: Josh Dunkley (Western Bulldogs), Jake Thomas (North Shore), Justin McClay (Sale City), Tom Hams (Bairnsdale), Clayton Kelly (Boisdale Briagolong), Andrew Ogilvie (Stratford), Luke Johnson (Traralgon)
Prediction: 8th
AFTER a few high flying years the Magpies dropped back to the pack in 2015.
With some experience out the door new coach Shane Fyfe, replacing Travis Ronaldson, has turned to some former statesmen who achieved success at Sale.
Magpies premiership players Justin Mitrevski (2012) and 2008 champions Michael Todd and Jason Garrett have returned to the club to fill the lacking mid 20 age demographic.
Fyfe said the ethos had been on developing 'thinking footballers' through pre-season.
"My big thing through the pre-season is becoming a better decision making team in traffic. I've termed it thinking footballers, thinking our way through things rather than being told to do them, that's been a big focus for us," he said.
"We're probably going to try move the ball a lot quicker and utilise our forwards more – mark and handball straight off."
Fyfe said Sale was also focused on whole club culture in 2016 and beyond.
"We're just trying to build the whole club, not just the seniors, but the netballers and under 16s right through to seniors and create an atmosphere at the club people want to be around," he said.
Coach: Joel Soutar
Last season: 6th
Won 8, Lost 10 (32pts)
IN: Daniel Siddle, Josh Piper (Mirboo North), Tyler Hillier (Yinnar), Jason Macfarlane (Trafalgar), Brad Soutar (Morwell East), Nathan Scurrah (Thorpdale)
OUT: Rob Michaelides (Woodside), Mannon Johnston (Northcote Park), Lachie Little (Northcote Park), Jayden Askew (Northcote Park) Doug Grining (St Albans), Dean MacDonald (YYN), Dylan Smith (YYN), Stephen Lambert (Woodside), Brandon Bailey (Coburg), Boyd Bailey (Frankston)
Prediction: 7th
WHEN Joel Soutar started out at Morwell the club was in transition.
With two premierships under his belt the now senior coach finds himself in a similar position as the Tigers look to bring through the next generation of champions from their junior base.
"I think it's pretty similar to where I started when I was a junior; we had that young group coming through… we've all got to stick together and build that base coming back up," Soutar said.
"Eventually when you've played five or six years of good senior footy you've got a good base and then you can bring in your top up players after that to get you up the top of the ladder.
"We've still got the base of good senior players there that played in premierships, we've just got to build the young guys up and make sure their development comes as quick as it can."
The formation of the Morwell Eagles JFC has been a big step in the right direction and Soutar said young talent would get a chance this year.
Among the young prospects are round-ball recruit Kuiy Jiath, brother of Gippsland Power's Changkuoth Jiath, Sam Deliacato and Brendan Briggs.
"We'll give them the opportunity to have a crack at senior footy and that's where a lot of our good players now have come through… they got their opportunity early," Soutar said.
"Our main focus is to get a good bunch of juniors coming through and turn them into good senior footballers."
A handful of key players including Mannon Johnston have joined premiership coach Harmit Singh at Northcote Park, while former Richmond listed Dean MacDonald is headed to YYN with Adam Bailey.
Coach: Bob McCallum
Last season: 7th
7 wins, 11 losses (28pts)
IN: Todd Beck (Gippsland Power/Pakenham), Brad Virgona (Buln Buln), Deen Allen (Buln Buln/Thorpdale), Lachie Bott (Wandella), Andrew Moore (Paynesville), Brad Trotman (Longwarry)
OUT: Daniel Carmody (Colbinabbin), Cameron Hall (Colbinabbin), Tyron Stevens (Trafalgar), Peter Bartlett (Trafalgar), Josh Collins (St Kilda City), Luke Duffy (Port Melbourne VFL)
Prediction: 5th
DROUIN'S recruitment drive looked impressive on paper in 2015 but a flood of new faces came with a set of challenges.
"We felt like we underachieved last year with the group that we put together," coach Bob McCallum said.
"Last year the group came together pretty quickly with the way the coaches changed, it was just a really large group of guys coming in that hadn't played together and hadn't known each other that long with past players coming back and new players as well."
The Hawks came close to the big boys, running the likes of Traralgon close in the final quarter, but was unable to land the killer blow.
League best and fairest McCallum said recruitment had targeted more specific roles this season, namely in the speed department, as it looks to mould its talented individuals into a champion team.
"Just the experience you get playing together over a number of games. To build a premiership you've got to have a side of guys that are playing 50 games together first," he said.
"We've got that first season under our belt and we look back at those game we lost, we were winning the game in the fourth or the third at some stage and ended up losing.
"We feel like we're not that far away but to actually take that new step that's up to us."
The club's major loss was centre back Daniel Carmody, but the addition of speedy ex-Gippsland Power gun Todd Beck and Buln Buln premiership winner and best and fairest Brad Virgona come as big inclusions.
Coach: Stuart Anderson
Last season: 8th
4 wins, 14 losses
IN: Stuart Anderson (Superules FL), Tom Brennan (Gormandale), Aaron Rowe (Lucknow), Jamie Church (Woomelang), Bayley Parsons (Lakes Entrance), Charles Mein (Buchan), Harrison Cook (Paynesville), Perry Hill (Paynesville), Ashleigh Radford (Wy Yung), Nick Pesa (Paynesville), Josh Whykes (Lakes Entrace), Christian Feretti (Wy Yung), Braedon Ross (Orbost), Luke Henderson (Gormandale), Gus Donovan (Foster)
OUT: Ben Commins (Swifts Creek), Dale Johnson (Doveton), Darcy Plant (VAFA), Sam Virga (Superules), David Preston (Superules), Luke Dyer (Lindenow), Cameron McPhan (Lindenow), Brayden McCarrey (Wy Yung), Lloyd Powell (Wy Yung), Daniel Perrin (Wy Yung), David Donchi (Lindenow), Bayden Ashwood (Lindenow), Shaun Mooney (Wy Yung), Tomm Bryan (Lucknow)
Prediction: 10th
The every mysterious Bairnsdale will be led by former North Melbourne and West Coast AFL player Stuart Anderson.
The Sale local will coach the Redlegs, whose hotchpotch mix of players sourced primarily from the East Gippsland Football League always makes for a surprise package.
Former coach David Preston is among the clearances headed to Superules while key midfielder Luke Dyer is off to Lindenow.
Former coach Shaun Mooney is among a host headed to Wy Yung.
Coach: James Blaser
Last season: 9th
4 wins, 14 losses
IN: Daniel Risol (Woodside), Michael Farrell (Trafalgar) Richie Horton (Hill End), Jamie Ferguson (returning), Declan Keilty (Casey), Anthony Young (Gippsland Power), Dylan Bath (YYN), Mitchell Luck (YYN), Kayne O'Connell (Thorpdale), Christian Berquez (Trafalgar), Lachlan Rees (Paynesville), Pat Bills (Hill End), Joel Bragagnolo (Trafalgar), Klay Butler (Trafalgar), Daniel Earl (Yarragon), Justin Morrow (Trafalgar)
OUT: Mitch Stanlake (North Shore), Lukas Jenkinson (YYN), Adrian Burgiel (Maffra), Gavin Low (Knox)
Prediction 9th
Moe will be out to test its limits this season under new coach James Blaser.
A focus on youth, led by fourths coach Lachlan Sim, has begun to bear fruit at the top age under 18 level with a string of players gunning for senior berths.
"The junior development we've had over the last few years has been really good. We've got four or five kids stepping up from the under 18s and there's eight to 10 kids in the under 18s who could play senior footy," Blaser said.
"It is bearing fruit now. I'd like to give them all an opportunity but at times it might be limited if I can get a full strength side on the park. It's a good sign they all want to play senior footy and they're putting in for it."
Blaser said progress was more important than results for the Lions.
"We just want to monitor it on our own improvement rather than where we finish on the ladder," he said.
"If we're playing our best footy and can't compete that's fine, but if we're playing terrible footy and getting flogged that's a bad sign.
"It's more about the progress than the end result.
"I think it's going to be a different competition and I don't think there's going to be an easybeats. I'd be surprised if there was as many 100 point wins throughout the competition."
Former Woodside coach Daniel Risol leads a string of about 14 key signings at Moe, with Michael Farrell (Trafalgar) and Declan Keilty (Casey) among the big inclusions.
Coach: Steve Kidd
Last season: 10th
2 wins, 16 losses
IN: Brayden Fowler (Manly Warringah), Matt Rennie (Casey), Nate Paredes (Casey/Gippsland Power), Dylan Proctor (Gippsland Power)
OUT: Jarryd Drew (Southport) Tom Hobbs (PM VFL), Harry McKay (Carlton), Ben McKay (North Melbourne)
Prediction: 8th
A wooden spoon can be a great motivator or it can prove soul destroying.
Warragul has subscribed to the former this season with renewed life at the Gulls set to fill sides across the grades, including the return of under 18s.
Coach Steve Kidd said the club had responded to its 10th place senior finish with a positive attitude to turn things around.
"The most important thing was really to stick together. With a wooden spoon a lot of players could leave and you could have a huge turnover, but we've really been sticking together, trying to build a culture and a club that we're all going to be proud of," Kidd said.
"The general feeling has been we have an opportunity to build something as a group that we wanted… the attitude and the numbers at training have certainly gone to another level this year.
"Coming from a really low point there's nothing holding us back."
Kidd said the Gulls would not hide in their shells and vowed to play enterprising football in a bid to develop for the future.
"It certainly won't be a defensive style of game, we don't intend on dropping numbers back and stop sides from scoring, we're going to try and play a brand of footy we think can take us to the top over the next few years," he said.
The club has lost key players Jarryd Drew (Southport) to Queensland and Tom Hobbs to the VFL, but has former Gippsland Power players Nate Paredes and Dylan Proctor back full time.
Matt Rennie (Casey) adds a big body to the outfit and Brayden Fowler's return from Sydney is another boost.