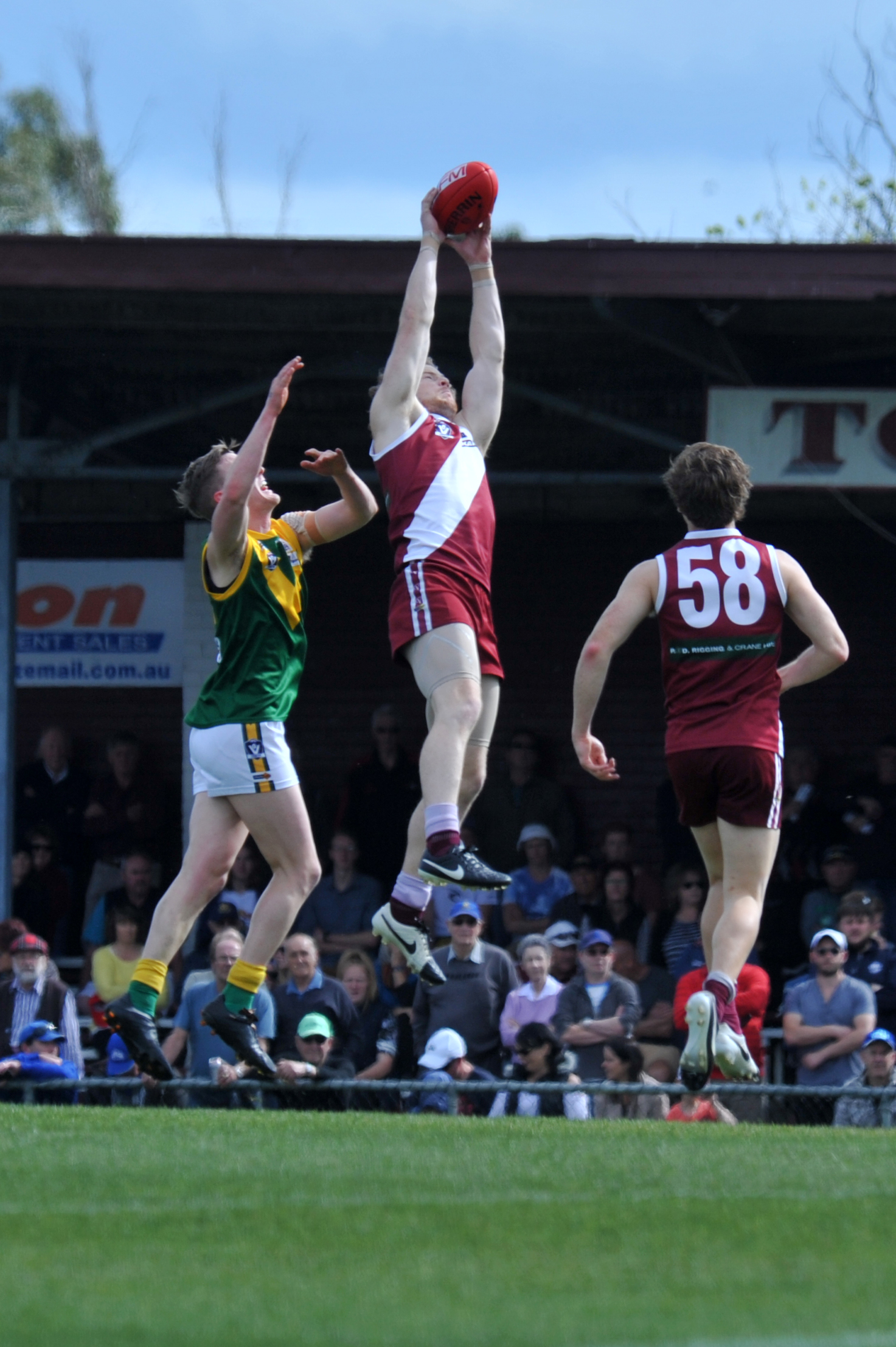 ROUND one can make all the difference, just ask Gippsland League premier Traralgon.

After being thrashed by 123 points in the 2015 season opener against Leongatha the Maroons did some soul searching and ultimately turned the tide to defeat the same opposition by 30 points in the grand final.
Mark Collison's men won't be out to repeat that performance when they unfurl the flag at Traralgon on Saturday; the second-year coach knows the importance of a strong start against the Parrots.
"There were a few things that went wrong in that game but touch wood this year we're a bit more prepared… we're another year older, another year together, another pre-season together where last year we went in a little blind," Collison said.
One thing Collison will be out to emulate is the process which led the side to premiership glory.
"Our expectation is always to win… but improvement (is the goal). Last year we kept improving to the point where we didn't lose a game in the second half of the year and that was because the boys bought into training, recovery, dedication and all that stuff," he said.
His opposite number, Beau Vernon, was robbed of a fairytale finish to his first season in charge.
The Parrots coach said he was keen for another crack in the grand final replay.
"Hopefully we go out there and implement what we've been working on through pre-season," Vernon said.
"I just want full effort and it will be an exciting game after last year with them beating us in the grand final.
"It's been a long pre-season… it's just exciting games are now back around."
Traralgon has been a favourite venue for the Parrots until last year's final with five wins from their previous six visits.
Traralgon v Leongatha by the numbers
(1936 – 53 (CGFL), 1969 – 2015)
All matches: Played 146 Traralgon 85, Leongatha 58, drawn 3
At Traralgon: Played 63 Traralgon 42, Leongatha 21
Last 10 matches: Traralgon 4, Leongatha 6
Last win at Traralgon: Traralgon 2015 (GF), Leongatha 2015 (Round 10)
Last three matches
2015 (T) Leongatha 9.13 (67) d Traralgon 8.11 (59)
2015 (2nd Semi at Moe) Traralgon 9.14 (68) d Leongatha 8.11 (59)
2015 (Grand F at Traralgon) Traralgon 12.11 (83) d Leongatha 7.11 (53)
Present winning sequence: Traralgon 2
Highest scores: Traralgon 29.14 (188) (2009), Leongatha 23.24 (162) (1995 Grand Final)
Lowest scores: Traralgon 1.14 (20) (2003), Leongatha 2.7 (19) (2006)
Greatest winning margin: Traralgon 127 (2009), Leongatha 123 (2015)
Most goals (match): Traralgon 12 T.Aitken (2009): Leongatha 10 W.Ryan (1936)
MORWELL will get its longest road trip of the year out of the way in round one against a rival which has proved its match in recent years.
The 2014 grand final replay against Wonthaggi will test the rebuilding Tigers, who are turning to youth this season, while the Power has the bulk of its squad in tact.
"Us and Wonthaggi are in the same sort of spot; they were fairly competitive last year and might have lost a couple, it's always a good tussle against them," Morwell coach Joel Soutar said.
"Round one you just want that effort and hopefully we can get that first win and do well from there."
Despite plenty of departures from Morwell's dual premiership side, Power coach Stuart Gilmour was still wary of the Tigers.
"They always come out and play a really good brand of footy. They've got some leftovers from (premiership coach) Harmit (Singh) with the way he played the game and they're quite difficult to match up against at times," he said.
"With the likes of Timmy Ryan and that still over there there's some quality footballers."
Gilmour said the sides always matched up well against each other regardless of personnel.
"Our games against Morwell, even at reserves level, are really close so we've got a huge amount of respect for Morwell," he said.
"We love the way they run their club and respect them as players so we know they always go well up here."
Five of the last seven clashes between these two outfits have been decided by three goals or less, including Morwell's 18-point grand final triumph.
Wonthaggi v Morwell by the numbers
(1995 – 2004, 2010 – 2015)
All matches: Played 40 Wonthaggi 24, Morwell 16
At Wonthaggi: Played 18 Wonthaggi 11, Morwell 7
Last 10 matches: Wonthaggi 4, Morwell 6
Last win at Wonthaggi: Wonthaggi 2015, Morwell 2013
Last three matches
2014 (Grand F. at Morwell) Morwell 8.7 (55) d Wonthaggi 5.7 (37)
2015 (M) Wonthaggi 18.15 (123) d Morwell 7.10 (52)
2015 (W) Wonthaggi 4.16 (40) d Morwell 4.6 (30)
Present winning sequence: Wonthaggi 1
Highest scores: Wonthaggi 29.19 (193) (2004), Morwell 22.26 (158) (1997)
Lowest scores: Wonthaggi 3.4 (22) (1995), Morwell 4.7 (31) (2003)
Greatest winning margin: Wonthaggi 134 (2003), Morwell 88 (1997)
Most goals (match): Wonthaggi 11 M.Silver (2004): Morwell 7 R.Taylor (1996)
WARRAGUL and Moe shared one win apiece in the head-to-head last season and look an even match again ahead of their round one clash this weekend.
The Gulls have bounced back from the wooden spoon with enthusiasm and an upsurge in numbers at the club has steeled Steve Kidd's side for a more competitive 2016.
"It's so important we get off to a competitive start so we're going to be pretty pumped up and ready to go," Kidd said.
"The whole club in general has taken another step forward from where we were last year."
James Blaser has replaced Adrian Burgiel in Moe's top job and secured some 14 recruits for the senior list.
The revamped line-up is eager to match the feats of its lower grades, with its thirds side winning all practice matches by triple figures.
"Everyone wants to win round one but not everyone can. We're going to go there with the expectation that we need to win," Blaser said.
"I think it's going to be a different competition and I don't think there's going to be any easybeats… if you don't rock up to play on the day you won't win."
Warragul managed just two wins last year but with one against the Lions will be confident of a repeat.
Warragul v Moe by the numbers
(1909-11, 1915, 1920-26, 1928-53 (CGFL), 1954-99, 2005-15)
All matches: Played 195 Warragul 106, Moe 86, drawn 3
At Warragul: Played 92 Warragul 58, Moe 34
Last 10 matches: Moe 6, Warragul 4
Last win at Warragul: Warragul 2013, Moe 2015
Last three matches
2014 (W) Moe 11.11 (77) d Warragul 5.3 (33)
2015 (W) Moe 15.9 (99) d Warragul 9.10 (64)
2015 (M) Warragul 13.10 (88) d Moe 9.10 (64)
Present winning sequence: Warragul 1
Highest scores: Moe 26.18 (174) (1999), Warragul 36.22 (238) (1997)
Lowest scores: Moe 2.3 (15) (1996), Warragul 3.3 (21) (2014)
Greatest winning margin: Moe 135 (2014), Warragul 205 (1997)
Most goals (match): Moe 13 I.Jennings (1969): Warragul 10 H.Farmer (1932)
THE battle of the birds always brings a flock of spectators and Sunday promises to be no different.
Both east Gippsland sides – Maffra and Sale – are on the rebuild but there will be no mercy shown by the traditional rivals in round one.
Maffra coach Wayne Butcher said it would be trial by fire for the youth getting a shot at senior level.
"It'll be a big barometer to see how our kids go. It's a hard one first up, battle of the birds, grudge match, two close towns – it's a big game," Butcher said.
"It's going to be a really good game for our kids to play in early and virtually just jump straight into the fire and see what we've got."
Incoming Sale coach Shane Fyfe was equally eager for the test.
"There's always some feeling. I don't mind playing Maffra at the start, they're always up there, they're always competitive so you get a gauge of where you're at, whether you've done enough over pre-season or what you have to work on," he said.
"There'll no doubt be a big crowd at Sale, it should be a cracker of a game."
The all-time ledger between the two juggernauts is astoundingly close with four wins the difference over 277 matches.
Sale v Maffra (Sunday) by the numbers
(1901-53 (GFL), 1960-2015)
All matches: Played 277 Sale 139, Maffra 135, drawn 3
At Sale: Played 129 Sale 82, Maffra 46, drawn 1
Last 10 matches: Sale 7, Maffra 3
Last win at Sale: Sale 2014, Maffra 2015
Last three matches
2014 (M) Sale 11.18 (84) d Maffra 4.10 (34)
2015 (M) Maffra 17.8 (110) d Sale 13.8 (86)
2015 (S) Maffra 10.14 (74) d Sale 10.5 (65)
Present winning sequence: Maffra 1
Highest scores: Sale 31.13 (199) (1995), Maffra 27.14 (176) (2009)
Lowest scores: Sale 0.3 (3) (2004), Maffra 1.1 (7) (1902)
Greatest winning margin: Sale 162 (1987), Maffra 131 (2005)
Most goals (match): Sale 10 R.Christie (1978): Maffra 11 A.Paynter (1994), D.Stubbe (2009)
DROUIN has not had much luck on its road trips to Bairnsdale with one win from seven visits.
Hawks coach Bob McCallum was optimistic of adding a second victory on the road with a consolidated squad in 2016.
"We haven't had great success travelling the freeway to Bairnsdale but we can only really judge them from last year, because there hasn't been much mail coming up the freeway on how they're going," McCallum said.
"We're just looking to start the season off well as we did last year and continue that through the year."
Drouin won the corresponding match on home turf last year by 26 points but has just one win from their past six encounters.
Bairnsdale v Drouin by the numbers
(1960 – 1964, 2011 – 2015)
All matches: Played 15 Bairnsdale 9, Drouin 6
At Bairnsdale: Played 7 Bairnsdale 6, Drouin 1
Last 10 matches: Bairnsdale 6, Drouin 4
Last win at Bairnsdale: Bairnsdale 2015, Drouin 2011
Last three matches
2014 (D) Bairnsdale 27.19 (181) d Drouin 4.4 (28)
2015 (D) Drouin 13.9 (87) d Bairnsdale 8.11 (59)
2015 (B) Bairnsdale 17.11 (113) d Drouin 14.3 (87)
Present winning sequence: Bairnsdale 1
Highest scores: Bairnsdale 27.19 (181) (2014), Drouin 27.27 (189) (2011)
Lowest scores: Bairnsdale 4.7 (31) (2012), Drouin 2.6 (18) (2014)
Greatest winning margin: Bairnsdale 162 (2014), Drouin 112 (2011)
Most goals (match): Bairnsdale 12 J.Gibbs (2014): Drouin 10 A.Cook (2011)
Gippsland League Statistics provided by Paul Carter