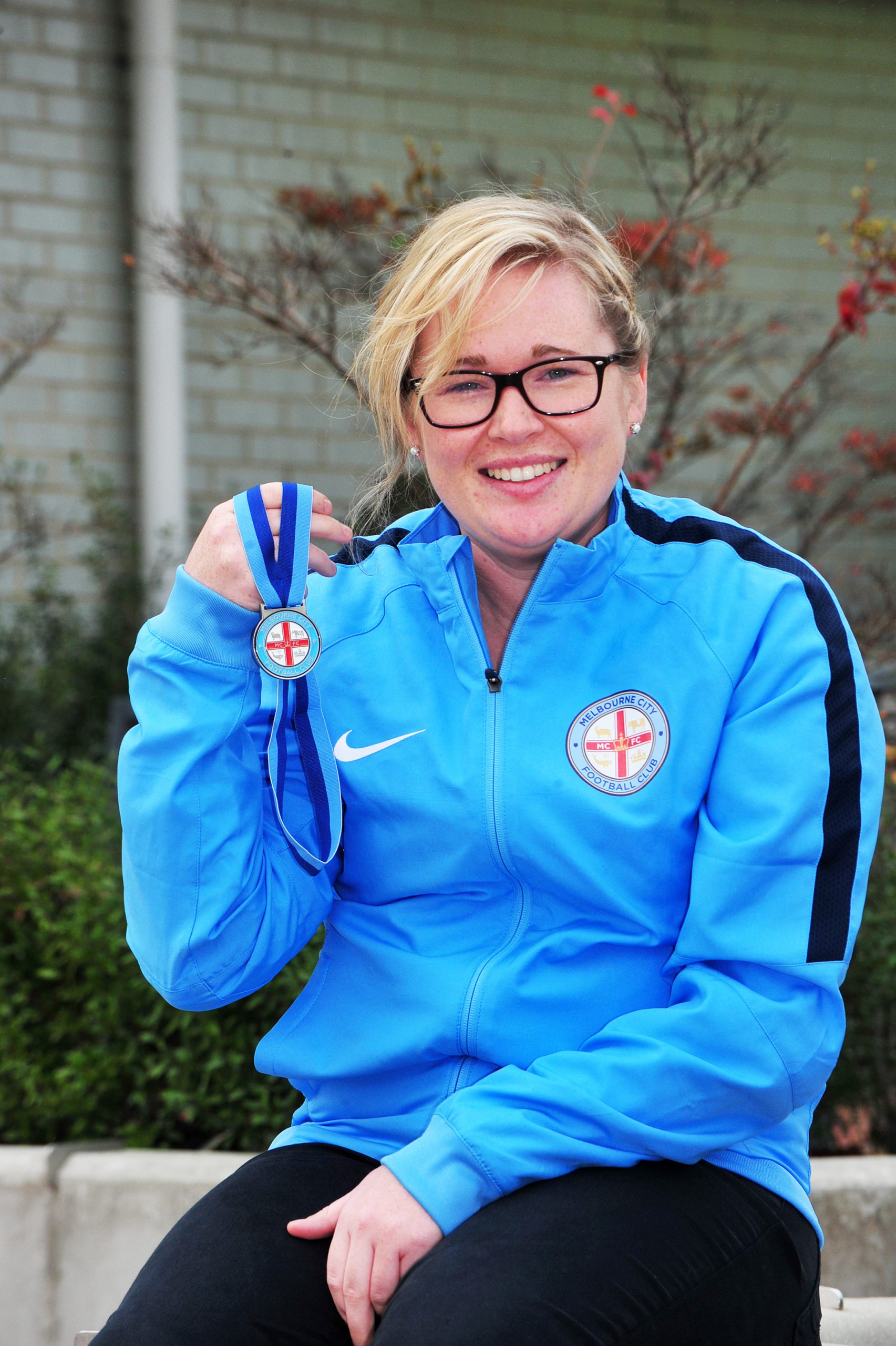 SOCCER
By SAM DARROCH
VOLUNTEERS aren't concerned with recognition, but hard work does not go unnoticed.
The rewards of altruistic labour followed for Churchill's Nicole Osborne when she was named the Melbourne City volunteer of the year on 9 April at Grand Hyatt Melbourne.
After five years of selfless service to soccer, the accolade came as a timely reminder of what the game meant to her in a rare period of doubt.
"I couldn't believe it more than anything. After a crazy couple of weeks I'd had with soccer I just started to get to the stage where I was hating the sport. Winning that award has made me fall back in love with it," Osborne said.
Volunteer work has run in Osborne's blood from an early age.
She didn't come from a soccer family, but when she starting playing as a junior they became one, and a heavily involved one at that.
Both Osborne and her brother played at Churchill and their mother took up various roles across the club, including a committee position as junior coordinator.
Osborne was also ready to lend a hand at every turn.
"I've pretty much been brought up (around it). With my mum being part of the soccer club, I've been volunteering there, collecting flags, helping out in the canteen at Churchill since a young age," she said.
"It's something I've grown up with and it's a very important role in our community to have volunteers out there running those canteens, doing the hard stuff, because if we didn't have them we couldn't have games on the weekends, that's all sports."
Now 25, Osborne enjoyed a decorated playing career before turning to coaching and coordination.
She played in the former Gippsland women's premier league and had stints at Trafalgar and Warragul before stepping back to pursue coaching; she's still involved with the Southern United skills acquisition program and lends a hand with Gippsland FC.
After volunteering with Melbourne Victory through SEDA for two years, Osborne changed allegiances when then Melbourne Heart played its first game in Gippsland.
Through her involvement with the Gippsland Soccer League, where she worked for five years, Osborne volunteered for the match and was hooked.
Working primarily in the community department at City, Osborne's role has been diverse.
In years past she has been at every City home game, helping coordinate children to run out with the players and small-sided half-time matches.
Osborne would also work at the club's junior clinics and school holiday programs with its development officers.
Last season she changed roles and transferred to City's W-League franchise which required less travel, but no less effort.
There she was in charge of the volunteers on the day and making sure they were performing their roles.
In volunteering terms, it was a promotion.
It's also become a family affair.
"With Melbourne City I've dragged my dad along whose been stretcher bearing for them for probably four years now," she said.
Osborne encouraged anyone involved in sport at any level to give something back to the game.
"Get out there and help your local club; get into volunteering, you never know where it can lead you and the opportunities that can come about," she said.
"You meet a lot of amazing people out there that I've become life friends with now."