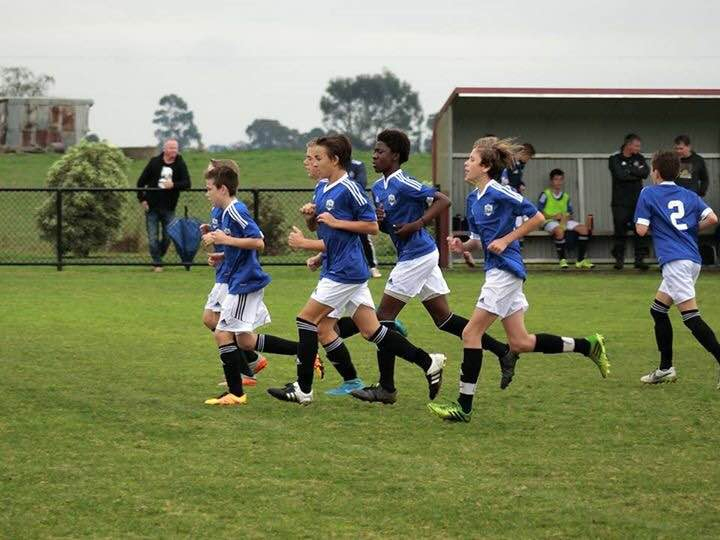 GIPPSLAND FC was back in action at Trafalgar in its metropolitan south A grade competitions at the weekend, bar the under 18s who had the bye.

The under 14s and 15s continued their fine recent form and the under 13s are still looking to convert their impressive play into goals and consequently, wins.
Under 15s
Gippsland FC picked up another three points with a 1-0 victory against Keysborough SC.
The host performed well and played a high possession game which allowed them to control the match for long periods.
Despite this, the first half was a see-saw affair with the visitors having a couple of free kicks just outside the area which they could not convert.
In the second half Gippsland had all the play and it was only a matter of time before they scored.
A finely crafted move was finished off by Adonya Victor to make it 1-0.
Gippsland keeper, Ben Elliott, had an excellent game, commanding his area and giving Keysborough few chances.
Myles Luders stepped up and showed good touch on the ball and had some excellent runs down the left side of the field.
Nicholas Matheson also put his hand up and showed some good ball control, winning the ball and stopping the visitors' strikers in their tracks.
Under 14s
GIPPSLAND continued its recent resurgence with a 2-1 win against Hampton SC.
The host dominated the first 20 minutes but failed to turn that into scoreboard pressure.
The game became a little scrappy as half-time approached.
Gippsland had slightly more dominance in the second half; however the first goal did not arrive until there was 15 minutes left on the clock.
The slightly controversial goal was a result of the Hampton goalkeeper fumbling a ball which Daniel Gatpan poked over the line.
The away team felt the goalkeeper had the ball in his hands under control but the referee had a different view.
Hampton immediately responded.
Gippsland failed to deal with a corner and the visitors managed to bundle the ball across the line.
With less than five minutes to go Gippsland was awarded a free kick on the edge of the box which Connor Dastey converted to give the hosts another three points.
Under 13s
THE Gippsland boys suffered a 3-1 loss to Brighton SC.
At times Gippsland was playing a style that suited the opponent but worked out from the back well.
Harrison Meyer scored for the home team and Kelsey dal Pozzo, Antony Katiforis, Liam Sibley and Harrison were all solid contributors.
The club returns to Melbourne this weekend.
The under 13s take on Glen Eira at 11.20am, the under 14s are playing Mornington SC Blue at 12.45pm.
Clarinda United FC are the under 15 opponents at 1.45pm and the under 18s return to Noble Park SC to play at 1.15pm.