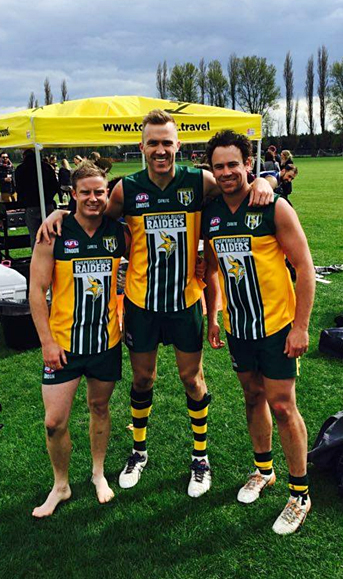 THREE former Newborough footballers have taken their Aussie Rules talents abroad.
Brennan Mills, Jared Risol and Jarrod Bennetts are currently in the midst of their AFL London season with the West London Wildcats while travelling through Britain.
All three played juniors and some senior matches together at Newborough and their camaraderie has extended to the pitch in the United Kingdom.
Jared's father and Newborough life member, Peter Risol, said it's not a first for Newborough, with current coaching staff member Darryl Disisto previously playing in the competition.
"I know of other people from the area playing footy over there for other teams, it's pretty common actually," he said.
"It's a great social occasion. It's probably the equivalent of the over 35s sort of thing. They train every week and they've been enjoying having a beer afterwards."
AFL London is the premier Aussie Rules competition outside of Australia.
Populated by a number of Australian expatriates, the league also exposes British and other internationals to the game at a high standard.
Eight clubs compete across three tiers in the competition, which has been running since 1989.
Risol said it was one of a number of international leagues, with competitions also cropping up in Germany and Holland.
"The United Kingdom one is probably the strongest because that's where a lot of the expat Australians are, so it's a pretty good comp and it's a lot of fun," he said.
The Wildcats' most recent match was a thumping 21.14 (140) to 2.4 (16) win over the Wimbledon Hawks.