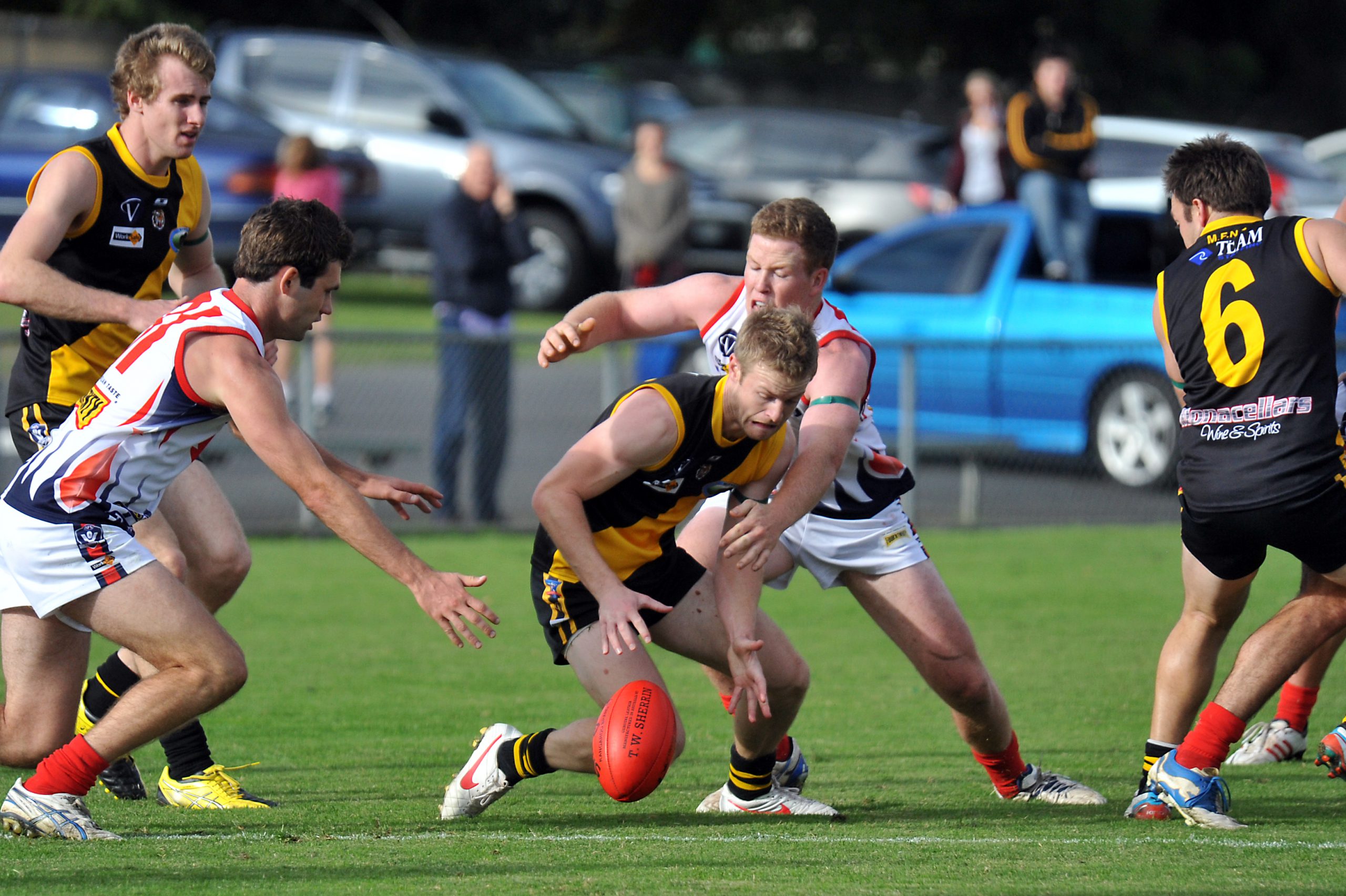 THE name Soutar has been synonymous with Morwell Football Netball Club for some time and will be up in lights again this weekend.

Club coach Joel Soutar will play his 200th senior game for the Tigers alongside older brother Devon, who will line up for his 150th appearance in the black and yellow, when Morwell tackles Drouin on Saturday.
Joel said it would be a special occasion to share the milestone moment with a sibling who has been a big influence on his football career.
"It's always good to play with him (Devon), he's taught me a lot over the years," Joel said.
"It's a bit funny we're playing our 200th and 150th on the same day but hopefully it spurs the boys on and we can get over the line."
In reaching the double ton Joel, who played his first senior game as a top age under 16, will join an elite group at the club.
"I don't think there's been that many at the club, I think there's been seven or eight to do it, so it's big," he said.
"I love the club and to play 200 games is a massive achievement but we mainly want to get a win on the board, that'll be the main focus."
Both Soutars will be hoping their twin milestone match is a sign of the stars aligning.
The Tigers have endured their worst start to a Gippsland League season since 2003, when they also dropped five on the trot, and will be desperate to break through against the Hawks.
History is on their side, given four of the last five games played between these teams have seen the visiting team return home with the premiership points.
The possibility of Dan Musil and Boyd Bailey coming back in to the lineup also bodes well, as does the inclusion of Simon Noy who made his return at the weekend.
With Drouin also limping, having scored just one win to date, Soutar hoped to sneak in and steal the points on Saturday.
"It's been a tough start to the year but they're also one and four; it's tough to play down at Drouin, we haven't had the best record when we've travelled down there," he said.
"We're gradually working toward hopefully a win, get some confidence for the young group and go from there."
The Tigers have struggled to put together four quarter performances, with third terms particularly poor.
Soutar said it was a focus, particularly with a number of under 18 players still adjusting to the longer quarters in senior football.
"We're just trying to work on the areas where we think we're falling down so morale's not too bad, with a young group they're all pretty positive and up and about," he said.
"You usually try and score every quarter and one goal a quarter is not what we want so we're trying to work on scoring three or four goals a quarter to keep us in it, we always have one quarter where we don't score or score one goal and they score heavily.
"Just the lapses are killing us at the moment.
"Once the heads go down its hard to get the young group back into it, they're the things we're working on."
Drouin and Morwell have shared their past 10 clashes with five wins each.
LEONGATHA is on course to break the Gippsland League's defensive record.
The Parrots have conceded just 183 points this year, against Bairnsdale and the four 2015 finalists, at an average of 36.6 points per match.
The tightest defence in league history was the 1964 Traralgon premiers and champions who conceded 808 points in 19 home and away matches at an average of 42 points per match.
Should Leongatha continue in the same vein it will let through just 659 points in the home and away season.
Warragul will face a stern test to break Leongatha down, but has shown marked improvement this season.
MAFFRA has won all eight meetings with Moe since the start of the 2012 season, their 20-point win at Moe aside, all by 45 points or better.
However the sides have not been better matched for quite some time as they currently sit third and fourth on the ladder.
Maffra has been hit by a spate of injuries to key players lately, but showed last week against Morwell there are plenty willing to step up when required.
Moe is developing one of the more potent forward lines in the competition; their key forwards Karl Mutke and Mark Engley will keep the Maffra defenders busy, while there are several classy crumbers to do the work at ground level.
Moe has won its past three games this year and is chasing four-in-a-row for the first time since 2010.
TRARALGON and Wonthaggi have staged some heart-stopping matches over their relatively short history of matches against each other.
With the league averaging one drawn match per 100 games, these two have drawn three times in 40 matches, along with another eight games where the margin has been two goals or less.
Last year's matches went to the home side on both occasions, but the margins were typically small with Wonthaggi winning by 12 points and Traralgon by eight.
The Power has had trouble covering personnel losses from last year, giving the Maroons the edge in this match.
BAIRNSDALE has managed to beat its old Gippsland League rival Sale just once since returning to this competition in 2011.
It will be a battle of fast starters versus strong finishers; the Magpies have been flying out of the blocks while the Redlegs have saved their best for late in games this year.