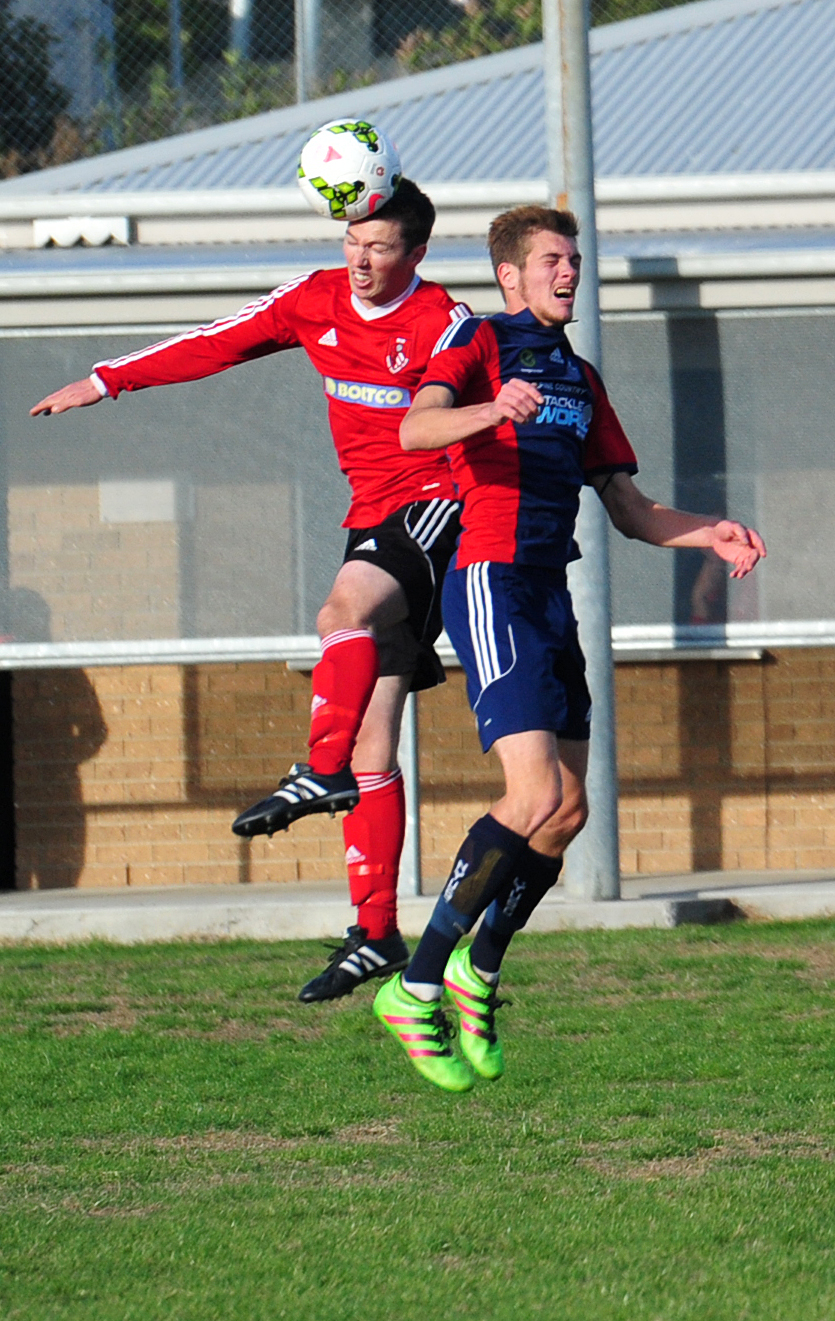 UNDEFEATED Moe United faces its toughest test of the Latrobe Valley Soccer League this season when it travels to league champion Falcons in round eight.

The Red Devils jumped to the top of the table at the weekend on the back of a 4-1 win over Trafalgar combined with former leader Newborough Yallourn-United's upset 2-3 loss to Olympians.
While Falcons sit a game behind Moe in third spot, coach Kev O'Farrell said he still considered Nick D'Alessandro's side the team to beat.
"We expect this to be our toughest test so far for sure. Although they're a bit lower at the moment we think they're probably the benchmark. It will be a good chance to test ourselves against last year's winner," O'Farrell said.
Moe's hardest assignment so far this season has been NYU, which held the Devils to a 1-1 draw at Olympic Park in round four.
"We had some chances in that Newborough game, in the first half particularly, and didn't take them which cost us in the end. Had we taken our chances we could have been two or three up at half-time," O'Farrell said.
It remains the only blemish on Moe's record this season with five wins, but the Devils have not yet faced any other member of the top six besides the Combine.
O'Farrell said facing Falcons would be a true test of where the side stood in 2016 following some personnel changes in the off-season, but he was up for the challenge.
"These are the games you look forward to as a player; if you can't get excited about these games you won't get excited about any," he said.
"You've always got to defend well in these games, you're not going to win too many of these games by more than one goal.
"Keeping a clean sheet is definitely a key, then you've only got to score one to win."
Moe has been bolstered by the services of Owen Kelly this season in the absence of Marc Mchallam's move to NYU.
O'Farrell said his inclusion, along with a couple of experienced hands, had held the side in good stead as it looked to hit its stride against the big clubs.
"We've had some personnel changes which we haven't had in the past few years so it will probably take a while to gel," he said.
"There's not too many changes (though), even the guys who have come in have played a fair bit of senior soccer so there's plenty of experience there still.
"We're just trying to concentrate on playing 90 minutes at the moment. Although we haven't lost yet we're probably still not at our best, we've still got a lot more to come."
After dropping round one to Churchill, Falcons has found its feet with some big victories over fellow top sides Fortuna and Monash.
Jesse Kennedy has been back at his ominous best with a dozen goals to date and the Devils will need to contain him to take the points.
The other highlight in round eight matches will be second-placed Fortuna's clash with Sale United, which is languishing in ninth after a poor start to the year.
Churchill faces East Gippsland, Monash tackles Pegasus, Tyers has NYU, Trafalgar hosts Traralgon City and Olympians has the bye.
Monash jumped above Churchill on the ladder after defeating the Rams 3-0 in round seven.
The home side took the lead early when Daniel Abela found a hole in the Rams' defence and prodded home.
The Churchill reply was swift; Taylor Jackson was proving a constant threat but he was repeatedly thwarted by Leon Cook in the Monash goal.
The lead was doubled midway through the half when Braden Paulet crossed for Ty Christy to head home, continuing his record of scoring in every game of the season.
Dan Beyer looked to have given the Rams a lifeline, but his effort was cleared off the line from Marcus Krznaric under pressure from two opponents.
The Rams were without Ray Myers and his presence was sorely missed as Monash controlled the flanks with full back Tom Bramstedt providing a creative outlet for the Wolves.
Monash looked to have wrapped it up late on when Christy crossed to Paulet, who controlled and blasted home at the front post beating ex-Wolves keeper Ross Johnson with power and placement.
Senior men, EGUFC lt Falcons 2000 0-8, NYUSC lt Olympians 2-3, Traralgon City d Tyers 2-1, Monash SC d Churchill United 3-0, Moe United d Trafalgar 3-0, Pegasus lt Fortuna '60 0-2, Sale United had the bye.
NYUSC lt Olympians 1-4, Traralgon City d Tyers 5-0, Monash SC lt Churchill United 1-2, Moe United d Trafalgar 2-1, Pegasus lt Fortuna '60 1-3, Falcons and Sale United had the bye.
Traralgon City d Moe United 2-0, Monash SC lt Churchill United 0-3, Olympians and Sale United had the bye.
NYUSC d Olympians 2-0, Traralgon City lt Tyers 0-4, Monash SC d Churchill United 14-0, Moe United d Trafalgar 4-1, Pegasus lt Fortuna '60 2-3, EGUFC d Falcons 2000 4-1.