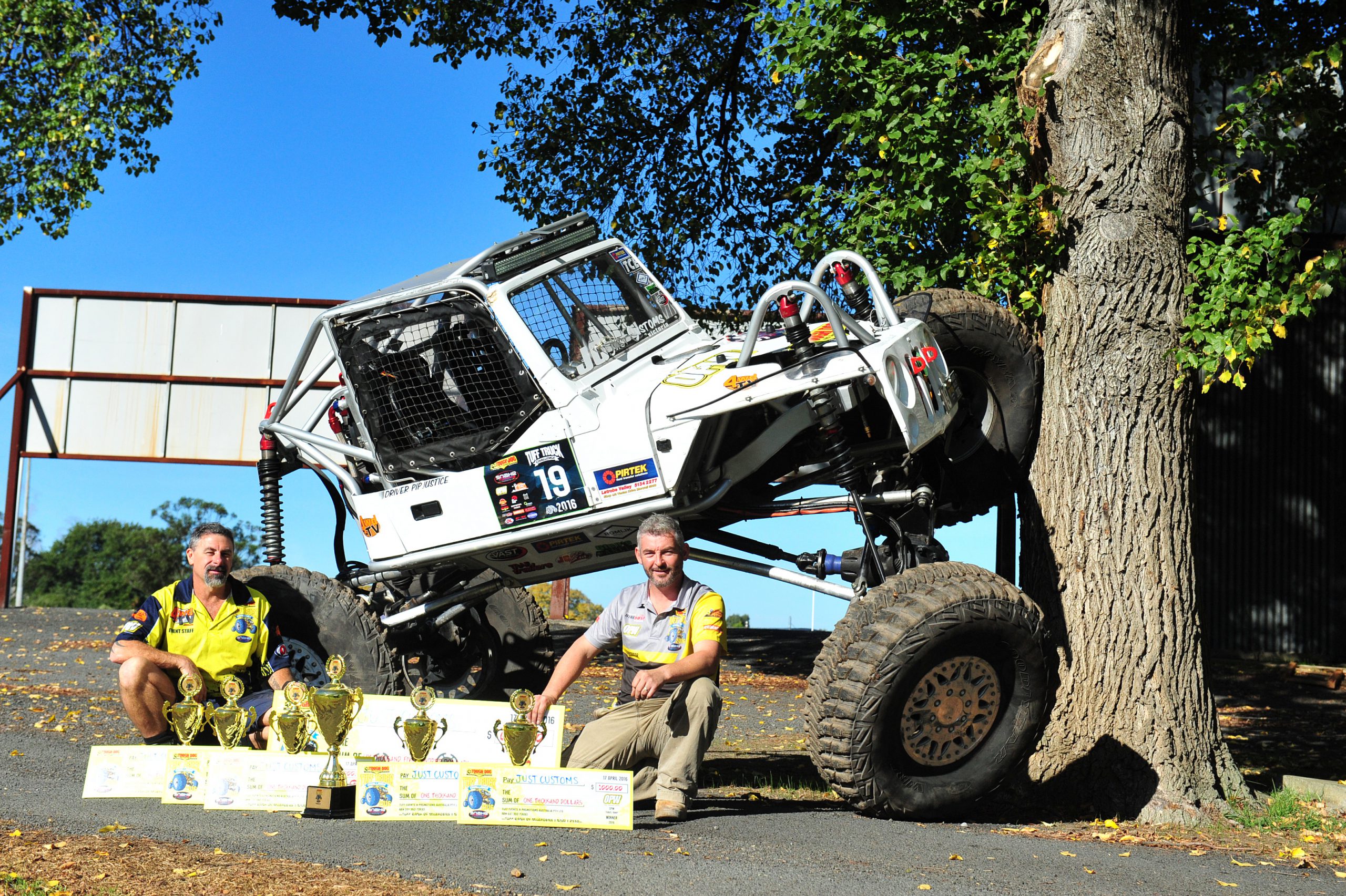 MOTORSPORT
By SAM DARROCH
WHAT do you do when standard four-wheel driving becomes too bland?
In Michael 'Pit' Justice's case you simply slap some monster truck-esque tyres on and take it to the extreme.
Justice and his 'Just Customs' team recently won a second Tough Dog Tuff Truck Challenge in three years, navigating his modified four-wheel drive over, under and through boulders, rock, mud, giant tyres, deep holes and near vertical ascents to the $6500 prize.
The 'extreme four-wheel driving' event in Milbrodale, New South Wales was held over three days with 12 stages, consisting of one static, 10 driving sections and a verification stage to build an overall points score.
Justice and navigator Tim Nolan took out five stages en route to the overall championship win, backing up the car's debut victory in 2014 and a fifth place in 2015 due to mechanical failure.
And if things weren't already extreme enough, they will be come September, when Justice has been invited to compete in the United States at the Supercrawl/Silver State Rock Crawling Championship.
Staged in the Nevada desert, the heartland of 'tuff truck' racing, Justice and Nolan will commandeer tube race car 'Oakie' and compete in pro-mod and unlimited class rock crawling events.
"It's taken it, for us, to a more extreme level – bigger circuits, the Nevada desert has some amazing rock formations," Justice said.
"It's on a heaps bigger scale (than in Australia).
"I never thought it would happen to someone like myself."
The 38 year-old from Traralgon re-entered the tuff truck competition in 2014 after an eight-year hiatus upon the creation of his new vehicle, sourced and built locally over the course of nearly a year.
Car and driver enjoyed instant success by taking out a title on debut, and repeating the dose this year was just reward for a dedicated core of about 50 Victorian volunteers who joined the team in NSW.
Much like the connections of a racehorse, Justice said local people having a stake in the car was a matter of personal pride and interest.
"It's about bringing people together. It gives friends and local businesses that help something to be proud of," he said.
"With the help of local businesses the car was flawless and we beat 65 teams to come home with first prize.
"It was a lot tougher this year. There was a lot more specially developed, new style cars so the competition was a lot closer and harder."
Two other Gippsland teams also competed at this year's event with a Trafalgar and Glengarry team entering.
Justice thanked all the local businesses and individuals who helped with the car and its success.