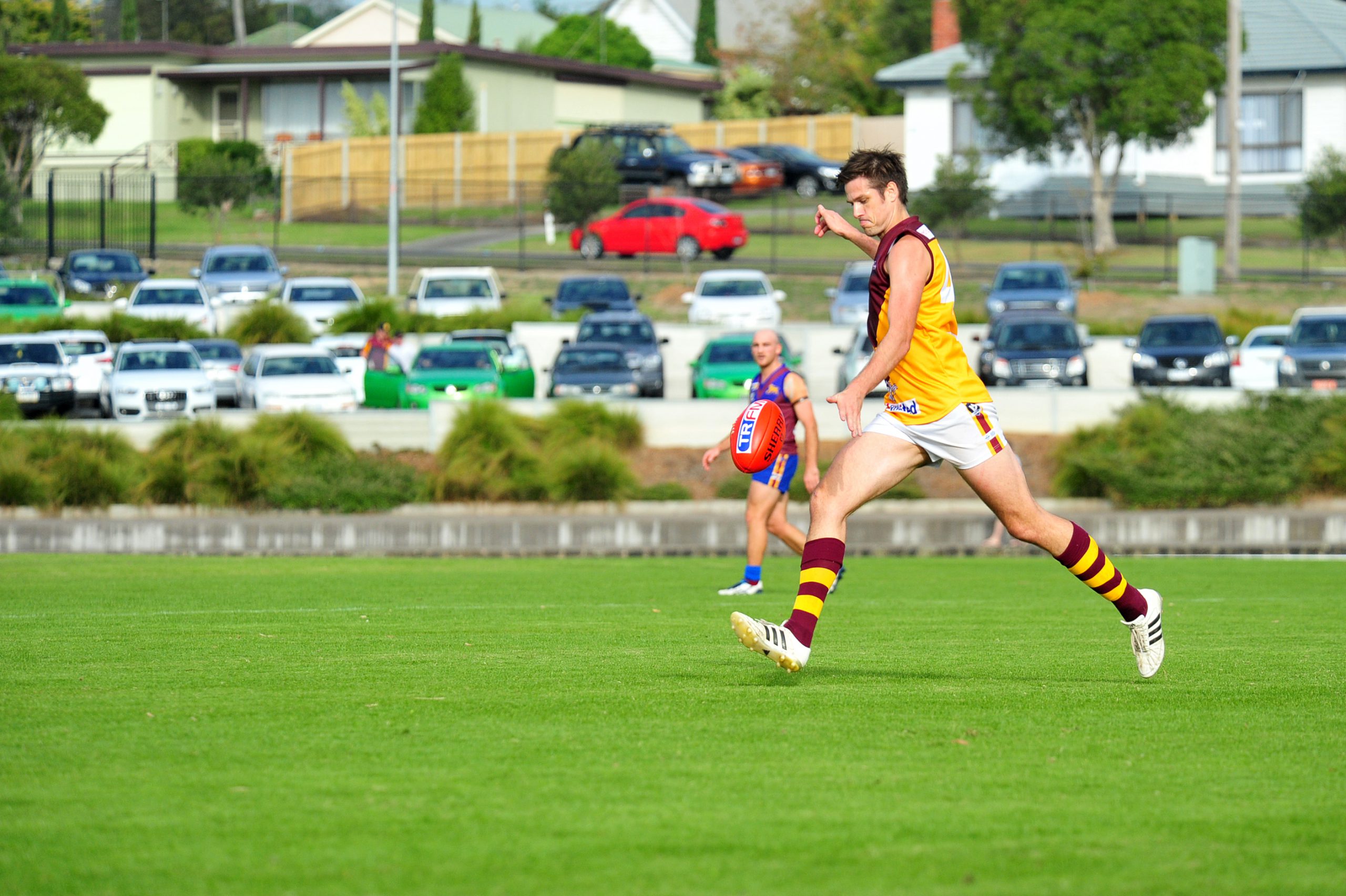 A dreary day at Drouin became a little brighter for the host when the Hawks knocked off Sale by 51 points in round eight of the Gippsland League.

Plagued by injuries since round five, the side which promised plenty on paper had just one win on the board before Saturday's return to form.
Coach Bob McCallum said the win came at the right time, particularly for the young crop propping up the senior group.
"We've got a style we like to play and looks like Drouin wants to play. We've played it well at times but… with a young side when the going gets tough you resort back to the things you're used to and that's when we get into trouble," McCallum said.
"It was a big focus throughout the week to stick to our structures no matter what was happening.
"Trust is obviously a big thing, in each other and your coach. When we do it right it does work and it looks like they're believing it now and when you can really hold onto it for four quarters it shows what we can do.
"Yesterday wasn't just a win, it was a 10 goal win, and hopefully that resonates."
The Hawks surged to an early lead and went into the first break 10 points up.
Three goals to two in the second slowly grew the margin as Drouin entered half-time ahead, 6.7 (43) to 4.1 (25).
The host dried up scoring opportunities for Sale after the break, keeping them to 1.4 (10) for the entire second half, and doubled its own half-time tally by the final siren to score an important 12.14 (86) to 5.5 (35) triumph.
Both sides were missing key men through injury, but Drouin was bolstered by the return of Dan Nicholls and Ben Hughes.
"That injected a bit of age and experience, which is something that would have helped, but our real focus was just to produce a four quarter effort which was something we hadn't done over the past few weeks," McCallum said.
"We got a bit sick of using our age as an excuse so I really put it on the boys throughout the week that it was something we wanted to focus on, and we did it which was great."
With about 10 round one starters out of action by round five, Drouin has struggled in recent weeks.
The Hawks are still without Sean Proctor, Luke O'Brien and Lachlan Bott, but several stepped up in their absence on Saturday.
Chief among them were Brad Virgona, who has found his feet since moving from the Ellinbank league this season, and Jordan Kingi who has begun to make good on his talent at the top level.
"He (Kingi) has always promised a lot… he was outstanding. He's somebody who's got his body and fitness to the calibre you need for this league and it's starting to play dividends for him," McCallum said.
Nicholls kicked three in his return match with the rest of the goals shared among eight individual players.
The Hawks will now regroup to face ladder leader Leongatha in a big test at home this week.
WONTHAGGI brought the high-flying Maffra Eagles crashing back down to earth in a typically frugal performance at home.
The Power gritted out a 7.12 (54) to 5.3 (33) victory in a low-scoring clash to move back into the Gippsland League top five.
After knocking off the reigning premier last week Maffra started in the same vein and led 3.0 (18) to 1.3 (9) at the first change.
One goal each in the second kept the match close, until the Power surged to the front in the third with a three goal term.
The Eagles couldn't close the gap in the last and eventually succumbed, giving back the four-point ladder advantage it held over Traralgon in the process.
BIG improver Warragul fought bravely but could not muster enough to topple Traralgon on Saturday at Western Park.
The Maroons led from start to finish to win out 11.8 (74) to 6.11 (47), underscored by four goals from Lee Stockdale. Traralgon regained second on the table over Maffra on percentage.
BAIRNSDALE made Moe's trip east a miserable one as the Redlegs inflicted a 13.7 (85) to 7.2 (44) beating on the Lions.
Four goals in each of the opening two terms gave Bairnsdale a 32 point buffer at half-time and the host held on to score a comfortable win.
Link Robinson fired through six goals in the victory.
LEONGATHA showed no sign of rust in the wet as the well-oiled machine churned out another massive victory, this time over Morwell.
Aaron Hillberg and Chris Dunne added seven goals apiece as the ladder leading Parrots flew to a 25.18 (168) to 3.6 (24) drubbing of the Tigers. Morwell was held goalless for the first half, but found some fight with three majors in the third.