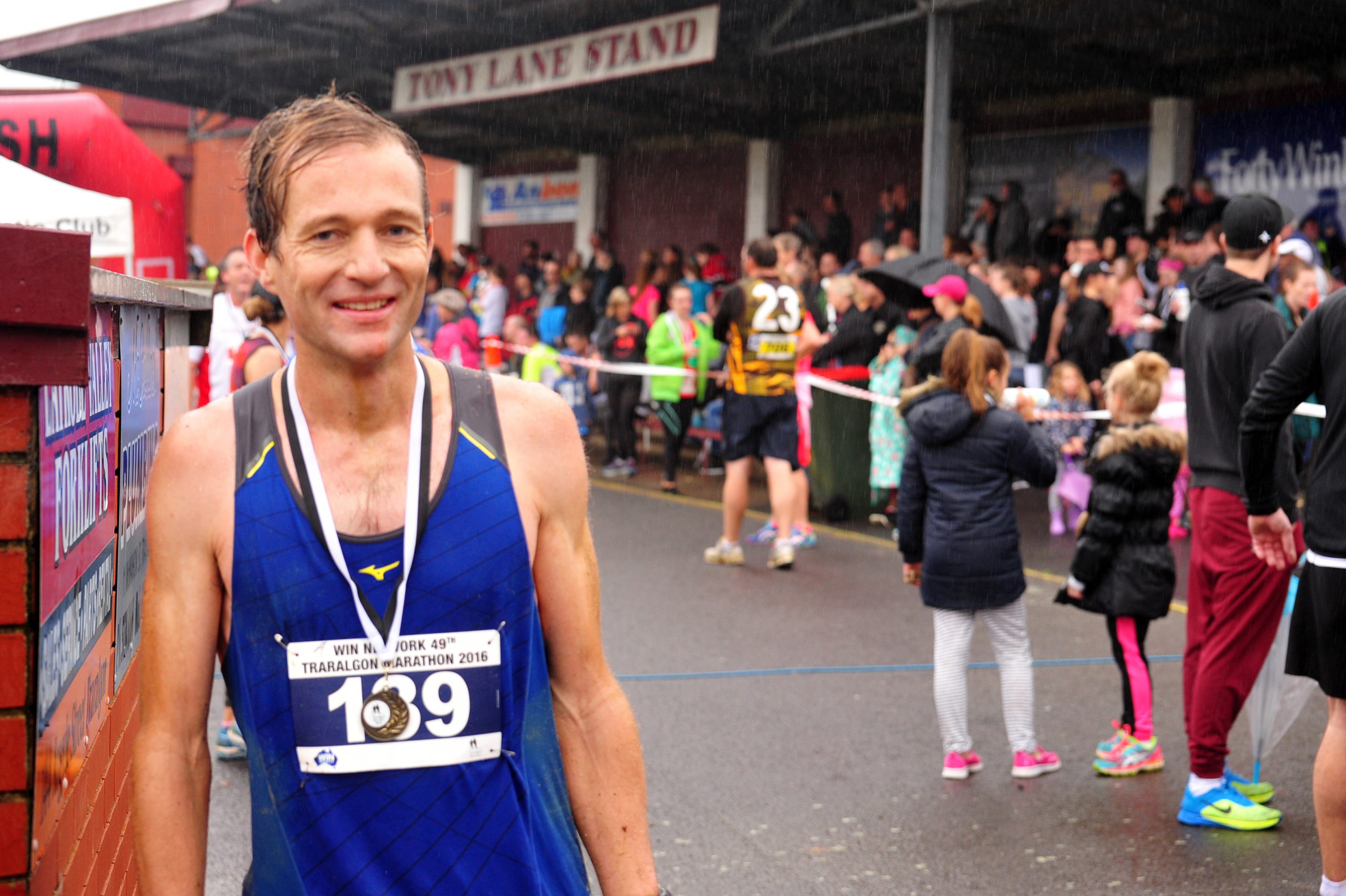 MELBOURNE runner James Vince was told by his daughter he would run a 'PW', or personal worst, on the morning of a dreary 49th annual Traralgon Marathon yesterday.

Motivated to prove her wrong the 38 year-old not only ran a personal best in the rain, but won his maiden marathon in the process.
Vince's time of two hours, 50 minutes and 11 seconds was his fastest 42.2km split by some six minutes and good enough to beat the rest of the field across the finish line at the Traralgon Recreation Reserve.
"My seven year-old told me I was going to get a PW, personal worst, so I had to prove her wrong; she was grumpy I got her out of bed early," Vince said.
"First time ever (winning), I was just hoping to get a PB. At my age you just race against yourself, not against other people.
"I'm not that good, just lucky there's not too many (high-profile) people running this one."
It was Vince's first attempt at the Traralgon Marathon, which traversed a new course this year incorporating the Gippsland Plains Rail Trail to Glengarry.
The new champion, inheriting the title from dual winner Dion Finocchiaro – who did not enter this year – said he enjoyed the course on debut.
"It was an awesome course. It's really nice because the first half is slightly uphill then on the way back when you're feeling wrecked there's a lot of downhill bits which speeds you up a bit and keeps you going," he said.
"The mud was awesome, it's good fun running through the mud.
"It's one of the few winter marathons in Victoria and winter is a good time to run marathons."
Vince was not the only man to eclipse barriers and reach new heights on the day.
There was plenty of joy, emotional embraces and congratulations at the finish line as goals were reached and personal mountains scaled across the distances.
One milestone that was not to be was Katherine MacMillan's third consecutive win in Traralgon, when she was pipped by four minutes by Sarah Franks.

Franks crossed the line in 3.21.55 to top the female standings while MacMillan was about 17 minutes slower than the past two years in the wet. Host Traralgon Harriers had a couple of popular winners in the shorter distances.
After barely missing the old course record for the half-marathon last year Ryan Wissmer set one for the new track which could stand for a long time.
Wissmer flew home in 1.12.52 to win by almost five minutes from Jamie Darcy in second place.
Fellow Harrier Hilary Meyer was also in fine form in the 10km event to win the women's race in 42.25 ahead of Danielle Cox (44.48) and Angela Harkin (44.52).
Madeline Lucas won the women's half-marathon in 1.30.01, Klarie Mcintyre took out the men's 10km in 33.41, and Paul McKeown won the kids' event.
To view full results click here