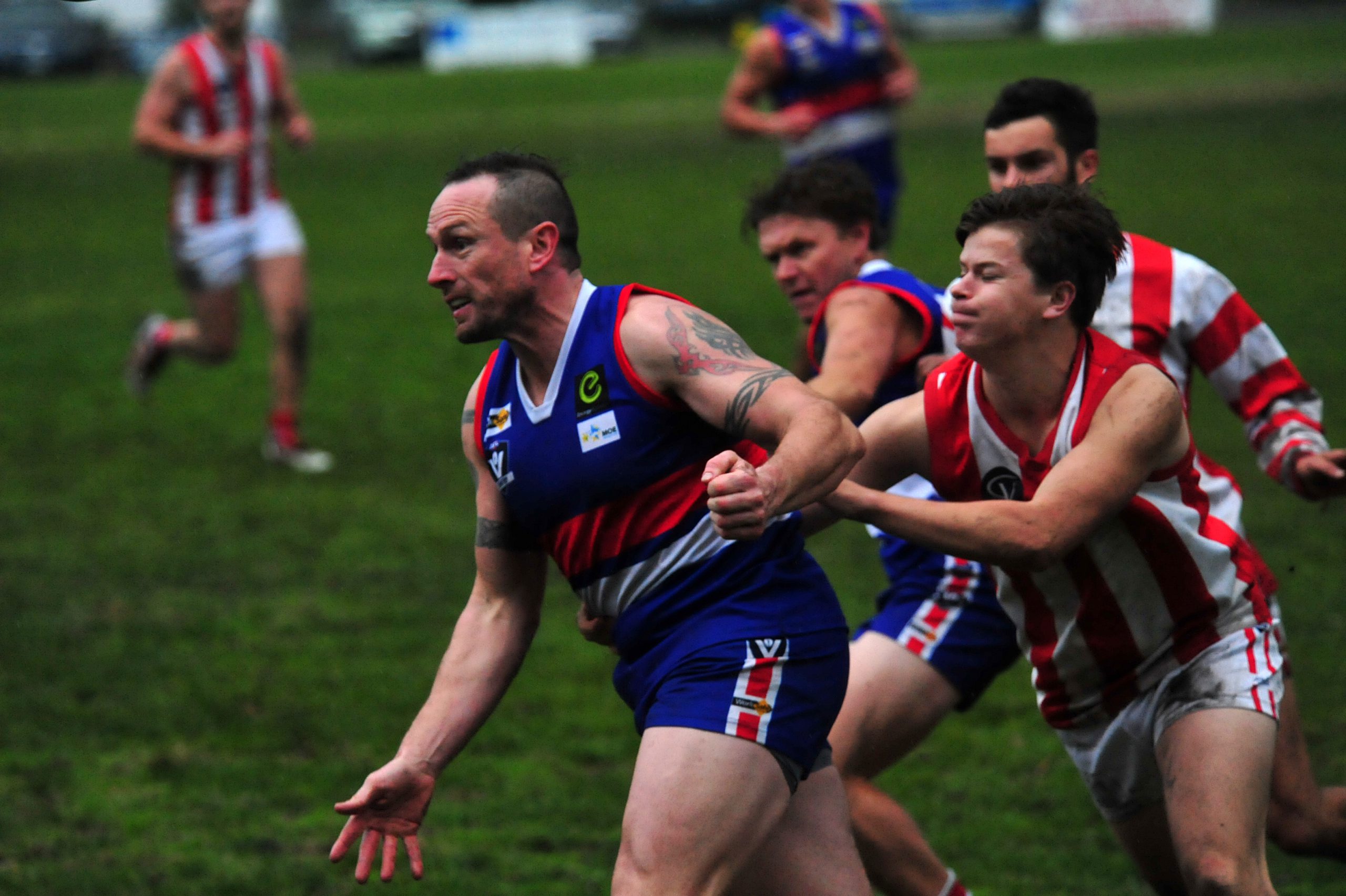 Winter's wrath enveloped Saturday's round of Mid Gippsland football with all the favourites coming home in low scoring scraps.

The gap continues to widen between the top and bottom five with the weekend's average winning margin being 68 points, the closest being 41 points for Morwell East over Yarragon.
MORWELL East's challenge for top spot continued with an 11.10 (76) to 5.5 (35) victory over Yarragon.
Conditions were calm in the first quarter which produced seven goals as players used the dry ball with ease.
It was goal-for-goal early with the East holding a slender seven point lead by the first break.
The Hawks started to spread their wings in the second term; Brayden Darby-Lock and Andrew Brown combined well for the East giving their smaller players Brandon Francis and Lockie White chances at the ball.
The East was chipping the now slippery ball around to find players in front.
Shaun Barnes was a focal point up front and Yarragon's full back Jake Cropley had his hands full controlling the volatile forward.
The Hawks added a further four goals to one to go to a comfortable half-time lead.
The heavens opened after the break and good football was nigh on impossible in a real slog for both teams, with frequent stoppages a constant frustration.
Morwell East managed to goal more out of good luck than good play while keeping the Panthers to only one minor score.
Yarragon's Tim Milner came into the side late and proved his worth for another impressive display but too few of his team mates were consistent, coming in and out of the play.
Visibility was getting poorer as the match progressed but the East hit their target for a good win.
Shaun Barnes was top scorer on the day with four goals and six other players contributed to the team tally.
YINNAR continued its dominance over Hill End to win its seventh in succession over the Hillmen.
In terrible, wet conditions it was Yinnar which moved the ball around better but it took time to settle down to a rhythm.
Hill End had no answer to Yinnar's ball movement; their forward line broke down and with Yinnar winning across half back the Hillmen couldn't buy a score.
Yinnar had more players around the goals and there were plenty of takers with eight Magpies swooping in for a share of the spoils.
Hill End came alive in the third term to outscore the Magpies by two points as conditions worsened.
Goals to Luke Ravenhorst and Dylan Briggs brought a cheer to the faithful but their joy was short lived as the Hillmen scored no more for the rest of the match.
Yinnar settled in and used the conditions to run out winners 12.15 (87) to 2.6 (18).
Jacob Mowat, Daniel Webster and Daniel Schneider were best for the Pies while Isaac Ketchen was good without scoring for Hill End, well supported by Ravenhorst and John Warren.
NEWBOROUGH was the biggest winner of the round when it defeated Trafalgar by 92 points to retain top position.
Again the weather gods made play difficult for both sides, but Newborough adjusted better with stronger players showing good wet weather skills.
The Doggies limped at the first break to be ahead by nine points in a poor effort.
However, after being given a rev, they transformed in the second to add 5.3 (33).
When Trafalgar's Harrison Malady kicked his second goal for the match it turned out to be the Bloods' last score for the game with 65 minutes still to play.
Newborough finished off better to record a 15.16 (106) to 2.1 (13) win as the fog drifted in to close the curtain on a dreary day.
Josh Pearce scored four goals for Newborough with nine players all chipping in to the tally.
Matt Slattery and Anthony Rosato were good for Newborough while Jamie Hines and Daniel Puglia played well for the Bloods.
In cold conditions Mirboo North turned up the heat to run out comfortable winners over neighbour Boolarra by 60 points.
Football was never going to be brilliant as the wet conditions contributed to miskicks, dropped marks and forced stoppages.
The Tigers jumped away early with 10 shots to one but Mirboo North was misguided to finish with 4.6 (30) for the term.
Former Boolarra player Jesse Giardina came in for some verbal 'encouragement' from his ex-teammates every time he went near the ball.
By half-time both teams could have walked off and stayed off as conditions worsened, but Boolarra came out and showed some spark in the third with a determined effort.
Matt Sheridan got into the game on the flank and the backline tightened with James Holmes starting to outdo his opponent.
Troy Tobin scored a couple and Boolarra swung back into the game; although the Demons only scored 3.2 (20) for the term to Mirboo North's wasteful 0.6 (6), they were still too far behind to make any headway.
Mirboo North had advantage of the breeze in the last term and made full use, adding six goals to one to run out winners 14.16 (100) to 6.4 (40).
YALLOURN-Yallourn North had a big reason to celebrate after their 81-point win over Thorpdale.
Following a sluggish start the Bombers came to life; Thorpdale had matched them goal for goal in the first term but as the weather worsened YYN got better.
After half-time the Bombers aimed for Dean MacDonald up forward and he didn't let his side down, banging through five by the finish.
It was almost a feast of opportunity for YYN as they rattled home to win 18.12 (120) to 6.3 (39).
Ten Bombers got on the scoresheet while for Thorpdale it was an almost picket fence except for Jack Kennedy who scored a double.
Mid Gippsland break this weekend for the Queen's Birthday holiday.