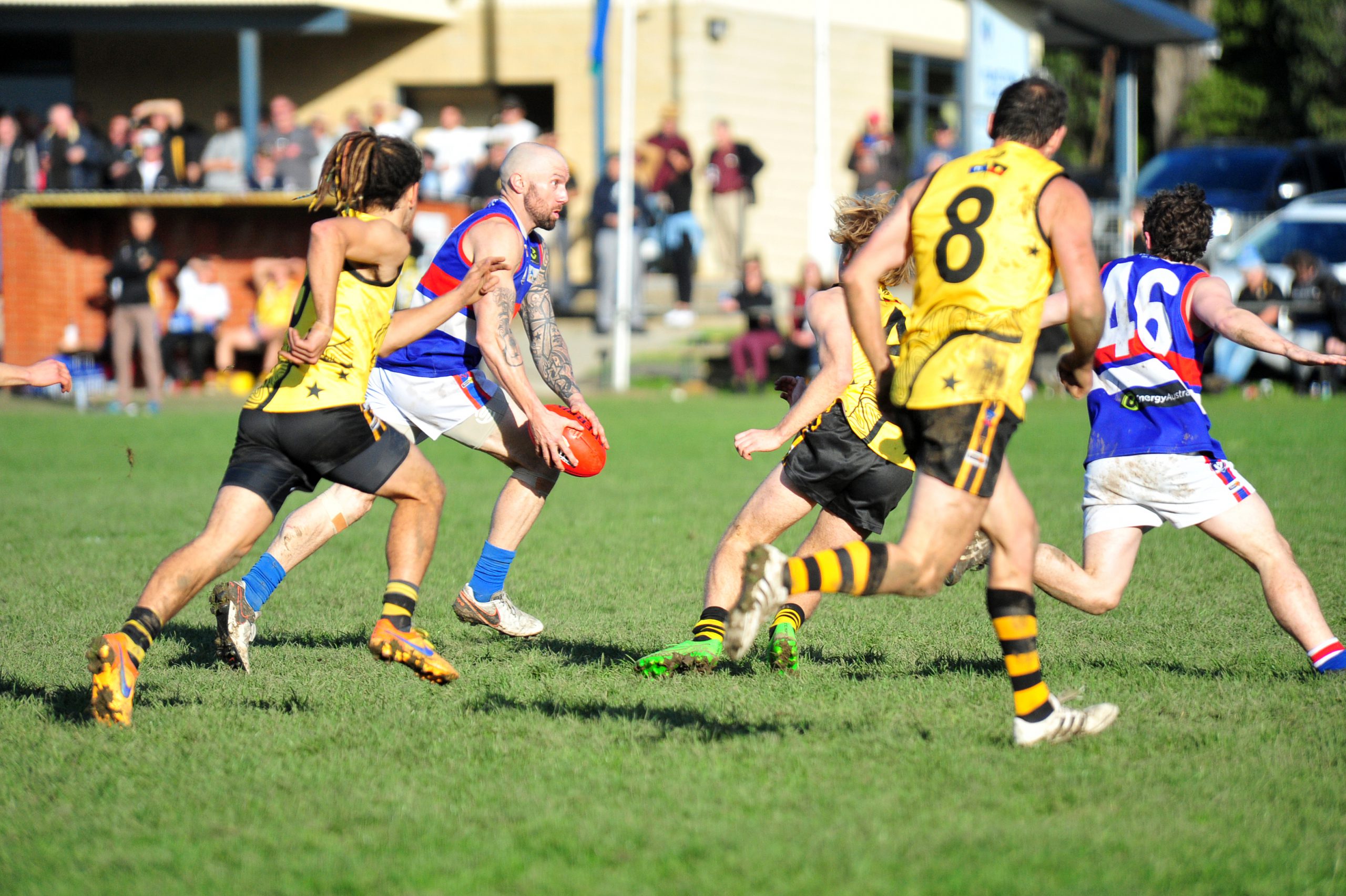 Records were shattered when Thorpdale smashed Trafalgar in a one-sided round 12 Mid Gippsland Football League battle.

The Bloods were missing a handful of vital players who were attending a wedding which made it harder still to be competitive.
Thorpdale capitalised on Trafalgar's lack of manpower to create some records in a huge tally of 35.11 (221), marking the club's biggest win over the Bloods and eclipsing the 1985 score of 20.15 (135).
It equalled the highest aggregate score of 248 points (1991) and Josh Collie's 12 goals beat a long standing record of China Rowlings, who previously managed eight goals against Trafalgar in 1985.
Knowing Trafalgar was not at its strongest Thorpdale hit hard in the first term with great accuracy to score 8.2 (50) to only one goal.
The poor Bloods had no answer to the way Thorpdale played the game; the Blues ran the ball well, played in front and were too good on the day.
It was a free for all around the goals with Thorpdale players lining up and 15 players found themselves on the scoresheet.
Thorpdale's highest score this season had been 15 goals which was surpassed late in the second term and it went in at half-time with a staggering 16.6 (102) to Trafalgar's 2.1 (13).
The feast continued after the break as Thorpdale added a further 19 goals to two to finish with a record (against Trafalgar) of 35.11 (221) to 4.3 (27).
AS part of the indigenous round, Mirboo North wore specially designed jumpers to celebrate NAIDOC week against Newborough.
It was one and two on the ladder going head-to-head but Newborough prevailed to win by 17 points in a scrappy match.
The loss dropped Mirboo North back to third on percentage.
Newborough's first half was its saviour as it established a 40-point lead by half-time, keeping the Tigers to just 1.2 (8) for a poor half of football.
The Tigers recovered in the third term with Kallum Nash scoring vital goals to keep within striking distance.
Newborough's Josh Hecker was proving a gun as he sped around the ground, which players found slippery at times. No-one shone between the two sides as players came in and out of the game creating their own style of play.
Newborough led at three-quarter-time by 27 points and was looking more comfortable.
The Tigers, however, played some of their best football in the last quarter and slowly tried to breach the diminishing gap but Newborough held out to win by 17 points, 9.12 (66) to 7.7 (49).
Nash finished with four goals for Mirboo North to be named best on the day.
YALLOURN-Yallourn North hit second spot on the ladder after a big win over Hill End.
Although not a record score it came close as the Bombers' second biggest win against the Hillmen.
A 6.2 (38) to 1.1 (7) start by the Bombers showed their intent and by half-time added a further 7.1 (43) to nil to go in with a healthy lead.
The last half was a repeat of the first with YYN scoring 16.6 (162) to two goals by the Mountainmen.
It was all one way traffic and the man of the moment Dean MacDonald added another 12 goals, which broke Barry Bourchier's record of 10 goals kicked in 1990.
It's the second time the legendary goalkicker has been surpassed as only last week MacDonald broke a 47 year-old record when he scored 12 against Trafalgar.
There were 11 goalkickers for the Bombers in their 29.9 (183) to 3.1 (19) scoreline.
MORWELL East defended fifth place with a good win over Boolarra.
The Hawks knew a win against the Demons was vital if they want to play finals football.
Boolarra was out of the blocks fast in the opening quarter and with goals to Troy Tobin, Vince Corbett and Matt Coutts it looked as though the Demons might spring a surprise.
Morwell East clawed back after a banana kick goal by Ben Marks, then it was all the East with goals to Lachlan White and Shaun Barnes.
Welles Jenkins played well for Boolarra, gathering kicks across half-back, and Matt Sheridan was also in the thick of the battle.
Morwell East's Andrew Brown was the pick of the ruckmen as the huge man towered over his counterpart Matt Windsor at the centre bounces.
Boolarra was pensive when moving the ball around the ground and hesitated, which allowed Morwell East to match up.
Top knotted Lockie White was also playing well for Hawks.
By half-time the East had put a good second quarter with 4.4 (28) to establish a 36 point break at the change. It was never going to be easy in heavy conditions but Morwell East came out the stronger of the two teams.
Daniel Pollard was playing well on Boolarra goal sneak Coutts but Tobin chipped in for three goals for the Demons. Although the Hawks won they struggled at times, coming under pressure from Boolarra. Morwell East ran out winners 11.18 (84) to 8.4 (52). It was almost a picket fence for the East with nine players sharing 11 goals.
The win gives the Hawks a six-point buffer from Thorpdale in the race for the vital fifth position.
For the second time this season Yinnar inflicted defeat upon Yarragon, eventually winning by 103 points to raise its percentage.
The Magpies are two points up on Morwell East on the ladder and over the next six weeks each match is vital to make up numbers in the finals.
After an even first quarter Yinnar shot away in the second and then it was all over as Yarragon capitulated while the Magpies ran rampant, adding 11 goals to nil after half-time.
Coach-turned-forward Julian Blackford finished with four goals in Yinnar's 19.14 (128) to 3.7 (25) win.