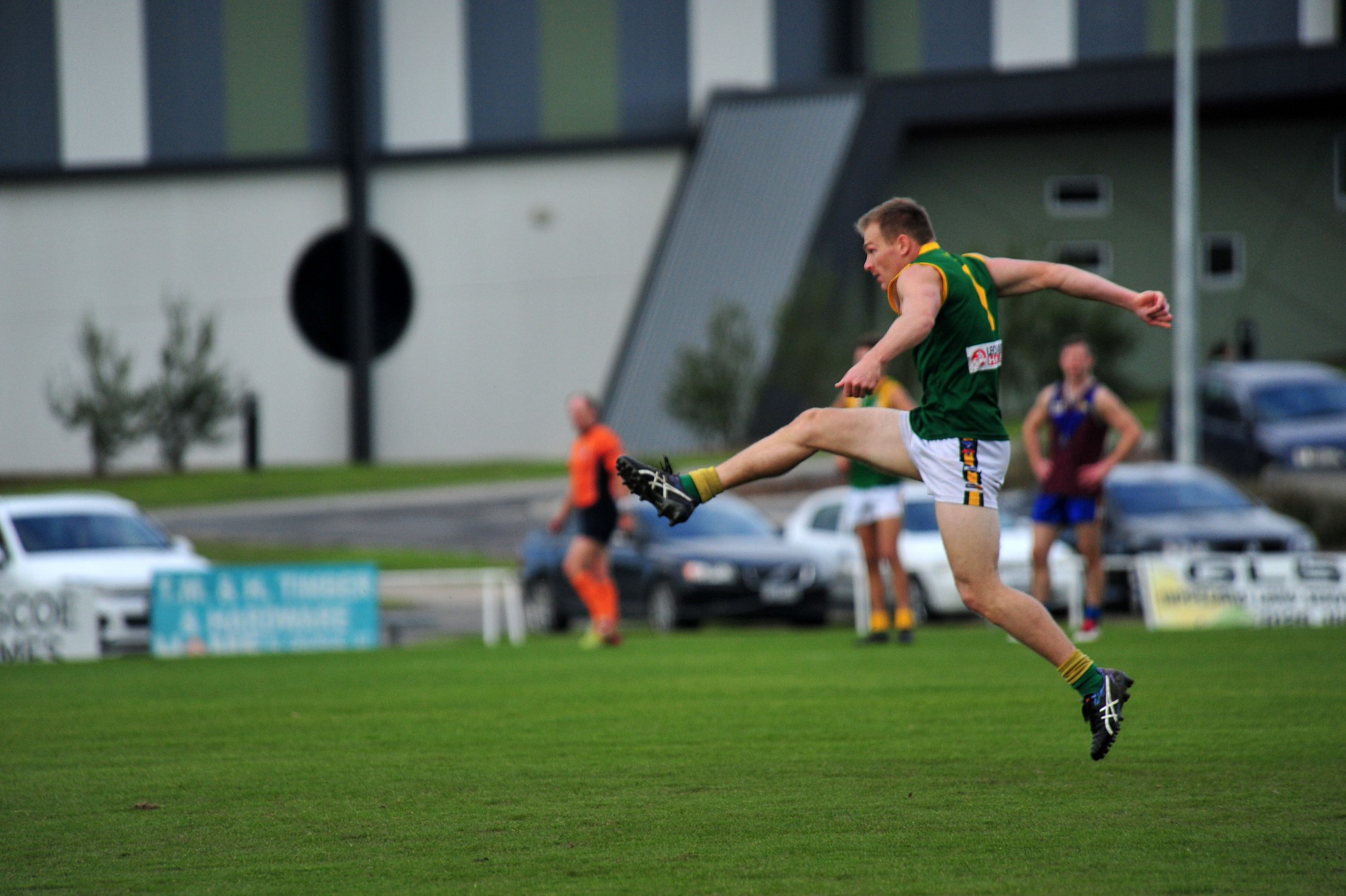 WARRAGUL coach Steve Kidd vowed to take the game to Leongatha in their round 15 Gippsland League meeting and the Gulls did just that on Saturday at Western Park.
The host booted the first three goals of the game against the ladder leader and managed to do what no other side has this season by taking a lead into quarter-time.
Its slender three-point advantage melted away after the break as the Parrots' size and fitness factored in the longer the match went on.
Leongatha eventually posted an 18.16 (124) to 8.9 (57) win, but Warragul proved its ability to match it with the competition's top side for at least a half.
Warragul's half-time score of 8.6 (54) was the biggest kicked against Leongatha this season, far outstripping the next closest effort of 3.2 (20) by Sale in round five.
While the Gulls only managed three points after the main change, their final tally still came in at second best against the Parrots this year behind Wonthaggi's 9.11 (65) in round 11.
Warragul coach Steven Kidd said there was a lot to like about his young side's performance.
"It just showed that we are capable; probably we're still just a little bit young, immature with the bodies and our fitness could probably go to another level," Kidd said.
"I think our intensity and our attack on the footy and pressure were really good in the first half, first three quarters really.
"We took the game on and moved it pretty well I thought for the majority of the game, towards the end we probably got a bit tired and couldn't keep up with Leongatha's spread.
"Their ability to spread and really peel off the backline, we just weren't able to contain that, and their three forwards made the difference."
The Parrots rebounded from the early deficit with an eight-goal second term to lead by 19 at half-time.
After the break the competition favourite turned the screw defensively and did not allow another major while adding seven more of its own.
Chris Dunne and Aaron Hillberg were immense as usual on the Parrots' forward line with six goals apiece, while Cade Maskell chimed in with three.
Brayden Fowler, captain Chris Carey and Nate Paredes were exceptional for the host.
Warragul will have to wait until next week to learn the outcome's bearing on their ladder position, with the remainder of the split round to be played out on Saturday.
The Gulls likely need two wins in their final three games to make finals, with top three sides Traralgon and Maffra looming in the last two rounds.
Kidd said the effort against Leongatha would hold the side in good stead as it chased a spot in the five.
"I think it will give us a bit of confidence we can take it right up to Sale… Traralgon and Maffra. There'll be a bit of belief we can take it to these top sides and maybe get a win," he said.
"We probably need to win two games so Sale is crucial the week after the bye."
While Warragul's fate is up in the air, Leongatha's is straightforward.
The Parrots are all but guaranteed the minor premiership and are on track to become the most efficient side in a Gippsland League regular season.
With just 519 points conceded from 14 completed games at an average of 37.07 points per game, Leongatha is cruising toward the record books for most frugal defence.
The previous lowest points per game conceded was recorded by the 1964 Traralgon premiers who conceded 808 points from 19 home and away games at an average of 42.53.
The current top five for lowest points per game conceded were all premiers in their respective seasons: Traralgon in 1964 (42.53), Sale in 2012 (44.39), Traralgon in 1998 (46.38), Traralgon in 1960 (46.94) and Maffra in 2004 (47.11).
Leading goal kickers
Christopher Dunne Leongatha 6 60
Aaron Hillberg Leongatha 6 40
Lee Stockdale Traralgon 0 36
Zak Vernon Leongatha 0 34
Brayden Fowler Warragul 2 34
Mitchell Bennett Maffra 0 32
Troy Harley Wonthaggi Power 0 30
Ben Hughes Drouin 0 28
John Gooch Sale 0 28
Matthew Rennie Warragul 1 27