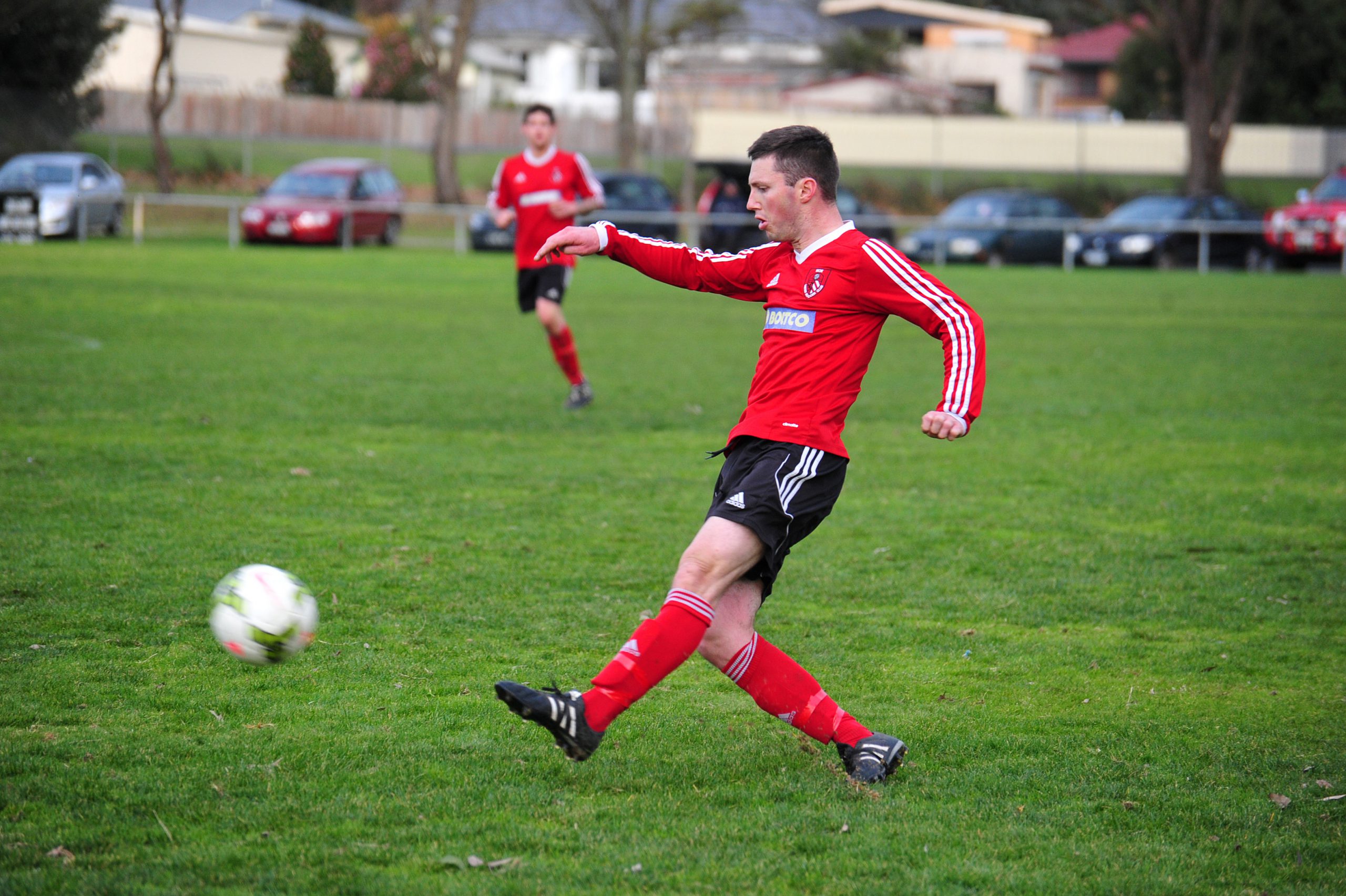 MOE United has regrouped after a shaky fortnight to consolidate top spot on the Latrobe Valley Soccer League ladder with victory over Olympians at Harold Preston Reserve on Sunday.

Trips to Traralgon have proved troublesome for the Red Devils of late, with City scoring a shock win over them in round 16, and Olympians ensured the trend continued in a dogged effort.
Despite a late Olympians fightback, Moe clung on to an important 3-2 victory to retain the ladder lead on differential over neighbour Newborough-Yallourn United.
With just one point from the previous two matches, Moe coach Kevin O'Farrell said it was a relief to sew up three points in round 18.
"That was definitely the aim, get three points and get back on a winning run again," he said.
"Traralgon was pretty good the day we played them, we had a really off day. We could have played for four or five hours and not scored the way we were going.
"(Against NYU) we got it back to 3-3 with about five or 10 minutes to go and we really put them under some pressure and could have got the winner in the end… but three-all was probably fair."
Olympians hit the scoresheet first but the lead was cancelled out when Ty Georgiou found a reply almost immediately.
Matt Shearing then added a brace to extend the visitor's lead to 3-1 before a raft of Red Devils' chances went awry.
With the door left ajar Olympians attempted to squeeze through the cracks and managed a late goal to set up a tense final 10 minutes, but could not produce an equaliser.
"I thought we played okay, probably didn't defend that well at certain stages but we looked like creating a lot of chances, but probably didn't take as many as we should have," O'Farrell said.
Injury, illness and suspension has been rife in the Moe camp in recent weeks.
Nick Fogarty was suspended due to a red card in the Traralgon City game, Lee Dastey has been in and out, Owen Kelly has missed game-time due to illness and Lachlan McKenzie suffered a concussion last week against NYU which kept him out of Sunday's match.
O'Farrell said a return to full strength would hold Moe in good stead for the run home.
"There's still some teams that haven't had their bye yet, some of which are in contention, by the time everyone has their bye and evens out it will be interesting to see where everyone is," he said.
"It will be nice to just settle the side down again; at one stage there we were fairly settled and the results were quite good, but we've been a bit unsettled the last few weeks."
Joint competition leader NYU was a handsome winner over City on Sunday to keep the pressure on at the top.
The Combine scored a 4-1 victory over the Roosters, who finished the game with nine men after red cards to Ralph Austin and Liam McCluskey.
NYU took early control of the midfield and put Traralgon's defence under pressure, which peaked at the 13-minute mark when Mark Fairbrother unleashed a right foot shot from just inside the penalty box that found the back of the net.
The game continued with limited chances due to tight defence by both teams before Brandon Scott headed home from a well weighted corner at the 25-minute mark to send NYU 2-0 up at half-time.
City came out after the break full of run and scored two minutes into the half when Stefan Sbaglia placed a shot wide of the keeper to make it 1-2.
The Roosters were reduced to 10 men on 75 minutes when McCluskey was sent off for a challenge, and when Austin followed NYU took control.
At the 85th minute Tim Armistead drilled the ball home from close range after a pinpoint pass from Luke Buhagiar. The Combine scored again in extra-time when Scott slotted home his second for the day from close range.
Falcons remained one match in arrears of the leaders after Fortuna forfeited Saturday night's Morwell derby, as did Churchill with a 3-0 win over Sale United.
Monash defeated Trafalgar 3-1 to make it back-to-back wins for the men in yellow.
Despite Trafalgar's positive start it was the visiting Wolves who took a 15-minute lead in spectacular fashion when Ethan Lawrence volleyed home a long range effort.
The lead was doubled minutes later when Ty Christy tapped home a Ryan Davis cross as Monash began to find its rhythm.
Monash made it 3-0 early in the second half; Christy's cross caused havoc in the Trafalgar defence resulting in an own goal.
Victory keeper Aaron Vaughan was called on to produce a fine double save, denying Christy his second, before Jesse Davis' follow up volley was turned away as the game opened up.
Trafalgar was rewarded for its endeavour and grabbed a consolation goal late on, but it was not enough as Monash ran out winners.
In other matches Tyers crushed East Gippsland United 9-0 and Pegasus had the bye.