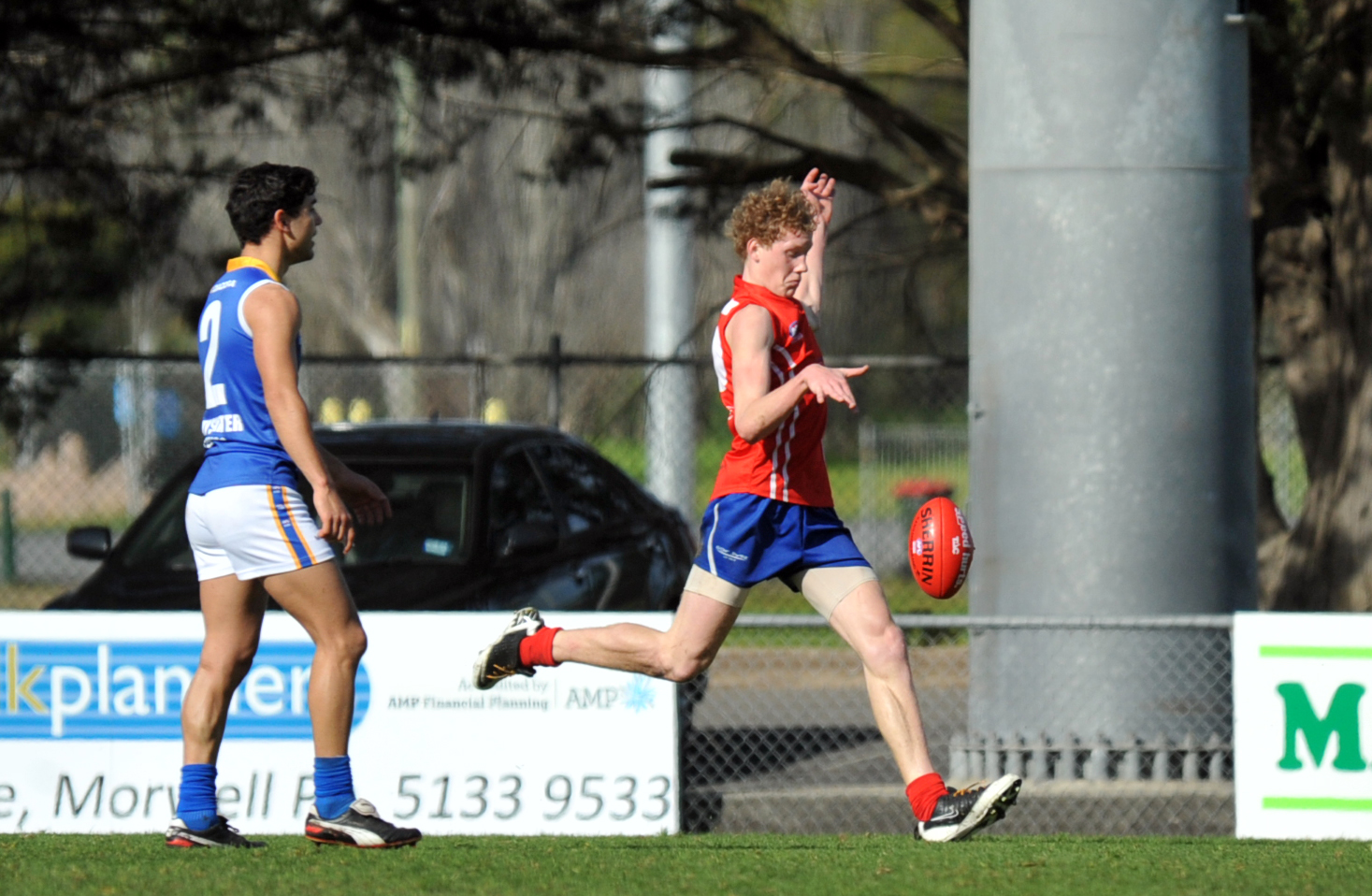 It's been a big year for Declan Keilty.

In his second season at VFL side Casey Scorpions the former Moe and Gippsland Power tall made a senior spot his own, mainly in defence.
His performances across 19 games meant the club named him its 'Rising Star' for the season.
He played in this year's VFL grand final at Etihad Stadium, which his team lost to Footscray Bulldogs 97-66.
Now Keilty has capped off an already stellar year by being drafted by Melbourne in the AFL Rookie Draft.
He said he missed the beginning of the draft.
"I just got home from work and I just finished mowing the lawns and my roommate said it was on," Keilty said.
"I saw (fellow Scorpion Tim Smith's) name and then I got a few phone calls saying I'd been picked up myself.
"Then I received a call from (Melbourne coach) Simon Goodwin who told me what the plan was from there on and the next day I came into Melbourne and started training."
But with a grand final at stake, the 21 year-old said his major focus at the end of the year was trying to win the VFL.
"I think it was the first time I've been in a grand final," Keilty said.
"I wasn't even think of the draft at the time – my focus was just trying to get ready for that game.
"The VFL is just another step and half the players there are AFL players.
"You've really got to take the skills you've got from TAC Cup and continue to develop them."
He said playing at Etihad in the grand final was "crazy" and provided an insight into what it's like to play on the big stage.
"The pace of the ball during the first quarter of the grand final was much quicker (than what I was used to).
"It was pretty close to a standard AFL game."
Casey Scorpions is Melbourne's VFL affiliate, meaning the 21 year-old has had some previous exposure to Melbourne's players.
"Especially with me and Tim playing at Casey this year we had a fair few of the Melbourne boys come through," he said.
Keilty said one perk of being drafted by Melbourne was working with Goodwin.
"Simon's phenomenal – I love the way he coaches everyone here," he said.
"He's really team-based and he also spends so much time one-on-one with people.
"He's actually taking all us first year players to a camp – I'm really pleased to have him.
"I think playing under him and training under him is going to be a massive benefit."
Keilty can play defence, up forward and in the ruck and offers the Demons versatility, but he said his most likely role would be in the back line.
"They kind of asked me what my favourite position is and I feel most comfortable down the back line, so they're going to help me develop that," he said.
While Keilty has not played a game for Moe since 2014 he was quick to name Lachlan Sim, Troy Makepeace, Jason Shields and Jason Macfarlane as big influences during his time at the club.
"They all helped me," he said.
"Even my family, Mum and Dad – they were the best support."