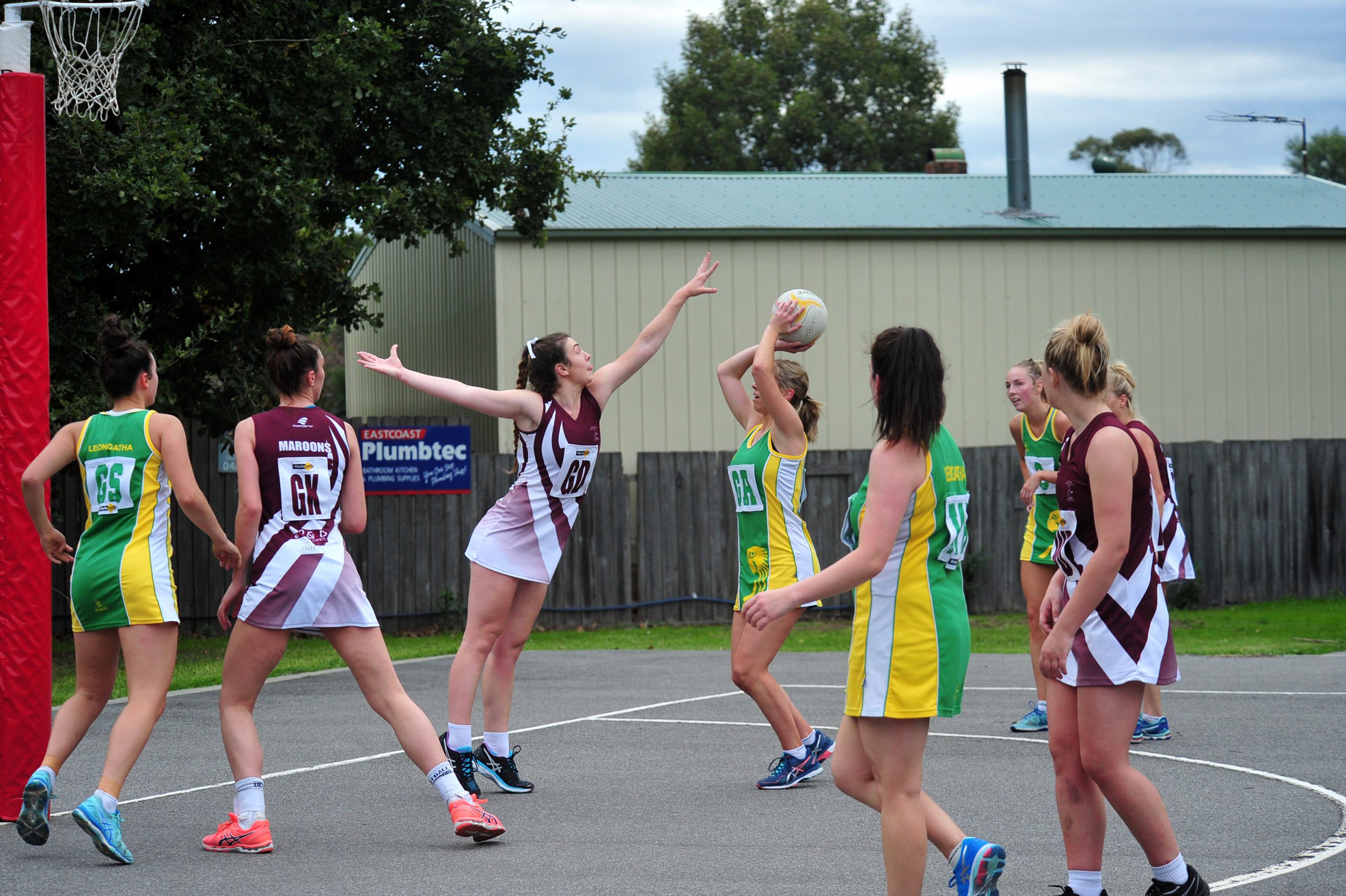 NETBALL
GIPPSLAND LEAGUE

Traralgon's A grade netball side has continued its strong start to the season, beating Leongatha by 34 goals.

After a good start, the Parrots then held the Maroons in the second before the home side went on to take the game, 68-34.
"Again, really pleased with the overall results we're getting," Traralgon coach Kate French said.
"We're finding that we're coming up into the high 60s each game which is a really positive sign coming up against a strong team.
"We certainly felt like it was a lot tighter than the end result suggested."
In a whole-of-team effort from a squad set to contribute a fair number to next week's interleague fixture, Ramayer Gourley came in for praise from her coach.
"Ramayer is so strong and again got best on for us down there in goal keeper," French said.
"She just consistently turns the ball over, which means that it's coming into our attacking end more commonly than in a normal game.
"I call the Gourley sisters the 'Twin Towers'. It's really quite nice for us mid-courters."
The win means Traralgon now finds itself at the top of the ladder, two points clear of Morwell and Drouin who are also both yet to lose but share second and third due to a first round draw.
"We're not getting too complacent," French said.
"We're aware that we're still got really tough opponents coming up in Drouin and Morwell.
"We know we've got to work hard."
Moe v Drouin

While the Lions didn't get the win over the reigning champs, they did go close, clawing their way back to end 42-48.

Playing with her first choice squad, Moe coach Vicki Van Gelderen was happy with the Lions' showing.
"Obviously we'd like to win but happy with a six-goal loss to last year's premiers," she said.
Moe was forced to mix it up and Van Gelderen said the results were positive.
"We can swap and change and make moves that help us perform better," she said.
Part of those moves saw Shannon Freeman, who's normally at centre, relocated to goal keeper.
From there she played a key role in the Lions' fight-back.
"Shannon Freeman was probably the star of the day," Van Gelderen said.
"She started out slow and ended up hot and helped us bridge a gap that was pretty large at the very start.
"The full team performance was great."
Morwell v Sale

Morwell carried on its winning ways, this time with a big victory over Sale, 54 to 25.

"They had a very nice game, yesterday," Tigers coach Gail MacFarlane said.
A 15 to four-goal first quarter opened Morwell's account and while output dipped a little in the second, the Tigers found their mojo and went on with it.
At one stage in the second half, shooter Claire Allison couldn't miss, sinking 11 in a row.
"We really piled it on in the third quarter," MacFarlane said.
"Claire went 11 in a row, she was a hot hand, for sure."
Saturday's loss means Sale is the only team in the league yet to win this season.
In other A grade games Wonthaggi Power had a strong victory over Bairnsdale 53 to 24, while Warragul got a four-point win over a visiting Maffra, 44-40.
Gippsland League netball now takes a break for representative duty.