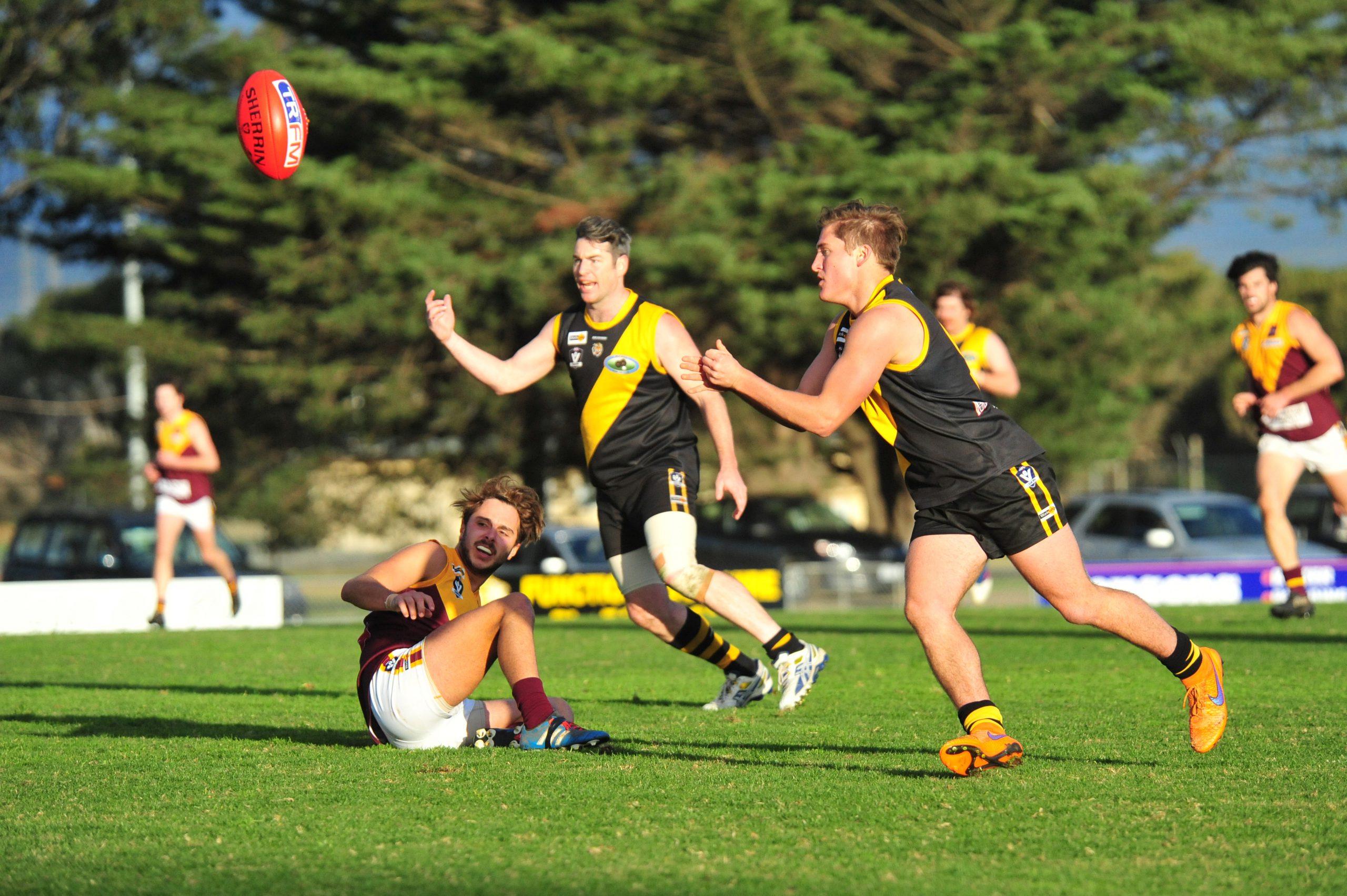 FOOTBALL
GIPPSLAND LEAGUE
Morwell will look to avenge its shock loss to Sale last weekend when it faces Leongatha at home in this weekend's headline round 14 clash.
The Parrots are poised in first spot on the Gippsland League ladder, while the Tigers are five games off the pace in fifth.
Morwell heads into the clash off the back of a disappointing loss to ninth-placed Sale, while leader Leongatha look set to continue its winning ways after it edged out Traralgon by nine points.
When the sides last faced off in round five, Morwell struggled to make up for a goalless first half and never got a look in during the 77-point defeat.
Morwell coach Joel Soutar labelled the Parrots "dangerous", and said his charges would need to bring their best this weekend.
"We've got a bit of work to do but that's a challenge for the group," Soutar said.
"They (Leongatha) are one of the best sides in the competition at the moment.
"We know our best footy is good enough and we get a few players back this week, so we just have to bring it."
Leongatha coach Beau Vernon said his side would take little out of its last victory against Morwell.
"They (Morwell) were a bit off last time we played and they're a lot better at home, so every time we play them over there it's always a good challenge," Vernon said.
"They're coming off a loss too, so we know they're going to be fired up."
Vernon cited the Tigers' small forwards as a potential cause for concern ahead of this weekend's game.
"They've got a pretty dangerous forward line with the likes of Joel Soutar, who is a really smart and hard player, so we'll have to watch out for that," he said.
Leongatha is shaping up to field a near full strength team against Morwell with Zac Vernon and Tom Marriott both chances to return.
Warragul v Sale
Sale has its sights set on another scalp this weekend when it takes on Warragul.
The Magpies upset Morwell to the tune of 33 points in round 13 and will look to swoop on a vulnerable Warragul outfit after its 82-point loss to Maffra.
Warragul is seventh with five wins and Sale sits in ninth on three wins.
Last time the sides met in round five, Warragul was too strong for Magpies on the road, running out 25-point victors.
The Gulls forwards were dominant on the day, with Brayden Fowler bagging four and Nathaniel Paredes and Jedd Serong three each.
Warragul was on the receiving end of an 82-point shellacking at the hands of Maffra last weekend, while Sale upset Morwell by 33 points at home.
"We take a lot out of the win against Morwell," said Sale coach Shane Fyfe.
"We'll be looking to play our game and hopefully we can play well."
Moe v Bairnsdale
Moe will prove to be a tough task for Bairnsdale when fourth takes on eighth this weekend at Ted Summerton Reserve.
In their round five clash, Bairnsdale led at every change to outrun the Lions by 20 points.
Bairnsdale will look to travel well this week after falling to Wonthaggi by 10 points at home.
Moe survived a first half scare against cellar dweller Drouin, holding off the luckless Hawks to win by eight points.
Wonthaggi v Maffra
Wonthaggi hosts Maffra this weekend when sixth takes on second.
Last time they met in round five Maffra piled on 10 goals in the second half to record a 57-point win.
Both teams come into the weekend with confidence after securing wins at the weekend.
Maffra was impressive in its 81-point demolition of Warragul and Wonthaggi held on to secure a 10-point win on the road against Bairnsdale.
Wonthaggi coach Stuart Gilmour said while the Power's performance wasn't perfect, he took a lot out of the win.
"We really only played one good quarter of footy and still managed to win, so we learned a lot from that.
"It was a really good travel for us, we presented very well so we're turning the page now to our game against Maffra this weekend.
"We know that Maffra is really strong inside their contested football, and we need to be able to match that physically and mentally."
Despite its opposition trailing in seventh spot on the Gippsland League ladder, Maffra coach Wayne Butcher said he wouldn't take Wonthaggi lightly.
"They (Wonthaggi) are coming off a win and that's when they're very dangerous," Butcher said.
"We always have very hard-fought games against them so it should be a good contest."
Traralgon v Drouin
Traralgon are two games off Leongatha and Maffra in third spot, with Drouin yet to record a win for season 2017 in tenth.
The Maroons remained competitive with ladder leader Leongatha at the weekend but lost out by nine points at the final siren.
The Hawks came agonisingly close to clinching its first win of season 2017 against Moe at the weekend, surrendering 31-point lead at three-quarter time to lose by 22 points.
Traralgon is shaping up to be a tough task for Drouin as they look towards finals.
Hawks coach Bob McCallum said his side would need to string together a full four-quarter performance if it is to challenge Traralgon.
"We've been trying to put together a full game all season and we came so close against Moe, which was agonising," McCallum said.
"We certainly felt like we let that one slip."
He said this weekend's clash against the Parrots presented a big opportunity for the "really young" Drouin side.
"In round five we were scratching for a side and we'll have a few out this weekend which is unfortunate but our structure and game plan and the boxes we want to tick won't change," McCallum said.
Captain Darcy Irwin is out for Drouin while it also sweats on the fitness of key players Jordan Kingi and Rhys Salter.