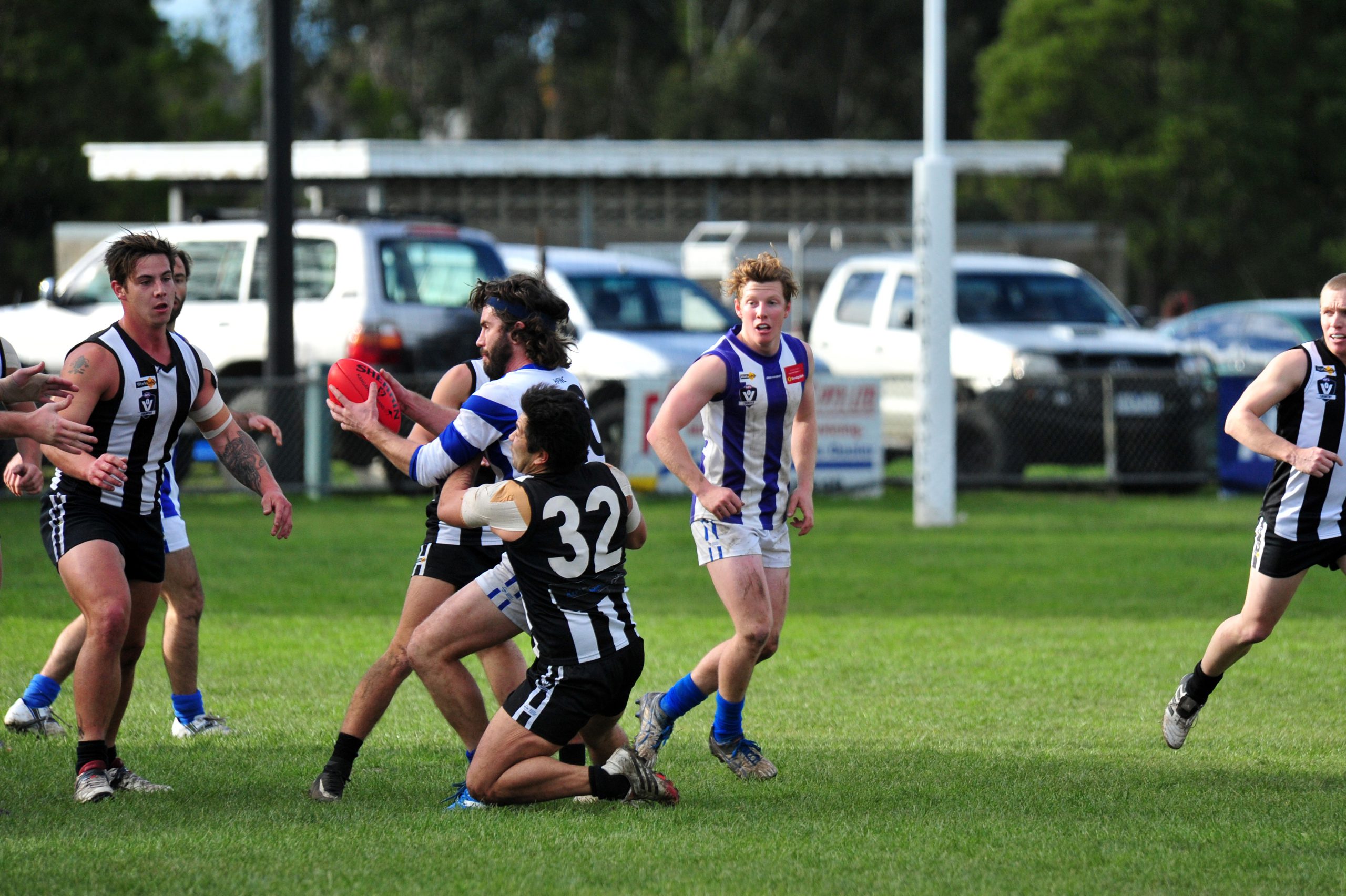 FOOTBALL
NORTH GIPPSLAND
SPLIT round action returns this weekend in the North Gippsland football league as Woodside hosts Sale City, Traralgon Tyers United takes on Cowwarr and Yarram seeks redemption over Glengarry following one of only two losses for the season to the Magpies in round five.
The Demons sit second, four points away from top-placed Heyfield, while the Magpies sit seventh with five wins and eight losses.
Dan Vardy will return to the Demons' line-up following a one game suspension for striking while Griffin Underwood is also expected to receive the call-up after recovering from "slight hamstring" injury earlier in the season.
Yarram coach Chris Pettit said his team would use the home ground advantage to its favour following a seven-point loss to the Magpies in May.
"We have a lot to work, we had a fade-out against Sale City last round and couldn't stop it… so it's going to be a tough game," Pettit said.
"We know they're going to have momentum at some stage throughout the game so we just need to work on how get the game back in our favour."
But the Demons will be without Kyle Sleep after he strained his hamstring during last round's clash against Sale City.
Glengarry coach Chris Day said his charges beat Yarram earlier in the season but said it would be a "tough contest to win".
"We had a light training session last week, and a pretty solid one on Tuesday night… we're focusing on fitness work and some skill work while analysing their game plan," Day said.
"We're about 10 per cent away from being full strength and we won't be losing any players from the previous round.
"We match up pretty well against Yarram so I think our style of play suits to us to play well against them."
He remained tight-lipped about who would return to the side on Saturday but said he was expecting "at least two good players to return following the week off".
Woodside v Sale City
SALE City hits the road to Woodside following a one-point loss to Yarram last round after trailing by five goals at three-quarter-time.
The Wildcats, who sit fifth, head into the game following a 78-point thrashing over Gormandale earlier in the month.
But Woodside coach Gary Jones said Sale City would be "a bloody tough challenge for the fellas".
"We're going to try and get first use of the footy and get our possession count up early," Jones said.
"Sale City are a tough team, they've touched us up a few times in the last few games so we've got to be careful.
"We've been pretty close to filling out our list, we're just got to reassess a few blokes who have been out for injury over the first half of the season."
Sale City is set to welcome Brendon Rathnow back into the side following work commitments, while Jake Milham will don the jumper following a long-term knee injury.
"We're keen to go over to Woodside and play some controlled footy and put a good score on the board," Sale City coach David Piasente said.
"For us we had a lot of guys who were pretty sore coming into the last game, a lot of the guys had a flu, so we really needed this break to rest and take our minds off footy for a while.
"We're going to be big on turnovers and forcing that pressure."
Brad McKay and Mitch Evans are also expected to return to the Bulldogs' line-up after returning from holiday.
TTU v Cowwarr
Traralgon Tyers United and Cowwarr will battle it off in the final North Gippsland split-round game this weekend, the Bombers looking to recover from a round five 28-point pumping.
The Bombers sit eighth on the ladder with four wins and nine losses while the Saints sit two spots above with six and seven.
"The Saints always put on a tough contest, they always lift a notch or two when they come up against us," TTU coach Nick Turnbull said.
"We're putting a lot effort into developing the younger boys, as we have all year getting games of senior football into them."
"There are no major injuries, likely to be an unchanged side from the last couple of weeks, and the bye has certainly helped that."