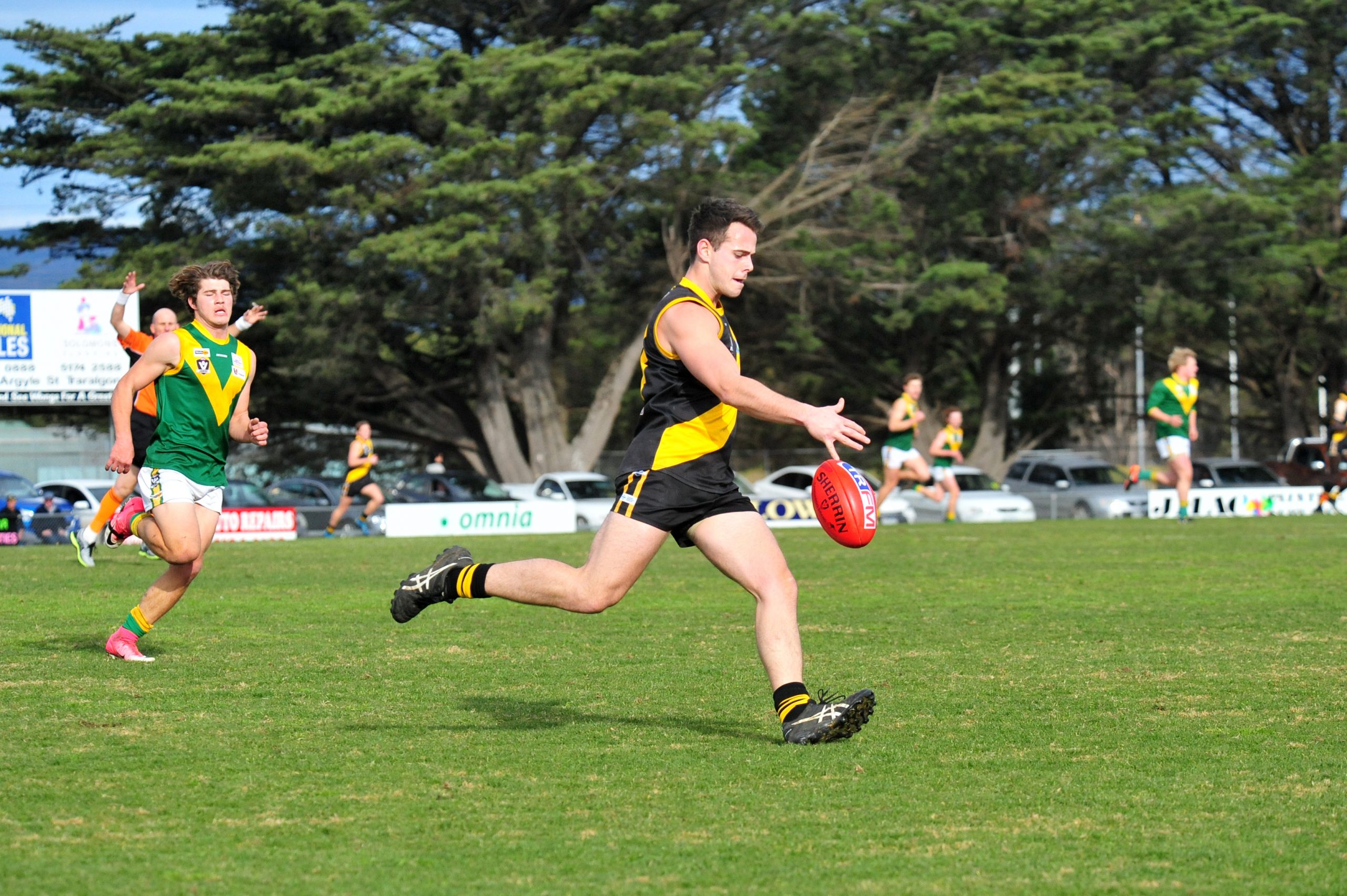 FOOTBALL
GIPPSLAND LEAGUE
Sale provided the upset of the round with an 11-point win over seventh-placed Warragul on Saturday, 12.8 (80) to 10.9 (69).
Warragul led by two points at half-time but only managed to put on a single goal in the third quarter and struggled to etch back the lead thereafter.
Sale kicked eight second-half goals to Warragul's five to run out 11-point victors on the road.
Sale coach Shane Fyfe said a "solid four-quarter effort" enabled the Magpies to run over the top of Warragul.
"It was an arm wrestle for both teams and the conditions were quite soft underfoot but we knew it'd be a tight tousle so it was really good to come out on top," he said.
Fyfe said the performance was a confidence boost for Sale and expected his side to take plenty from the win.
"It'll help build our confidence for sure," Fyfe said.
"We know that our style of footy helps us stay in games and now win some as well."
Scheduled for a clash with Moe when they return after the bye, Fyfe said there was lots to be wary of against the Lions.
"They seem to have a good spread of goal kickers," he said.
"I had a look at the results from the weekend and they've got a lot of avenues to goal and great run off half back so we'll have to be careful."
Fyfe said the bye came at a "great time" for the Magpies as a number of senior players look to iron out some niggling injuries.
"Constant playing for 10 weeks has caught up on us a bit so the rest will do us good."
Jordan Dowsett and Jordan Dessent kicked three each for Sale, while Jack Lipman scored two and took out best on ground honours.
Moe v Bairnsdale
Moe proved indomitable in its 73-point win at the weekend, stacking on 12 second-half goals to Bairnsdale's three to run out 22.14 (146) to 11.7 (73) winners.
Ashleigh Dugan was awarded best-on-ground for his five goals while Scott Van Dyk came away with three for Moe.
Moe coach James Blaser said he was buoyed by his side's form heading into the bye this weekend.
"It was good for us to be back at home," Blaser said.
"We feel we're starting to play good footy at home and we managed to play a really good fast-paced game against Bairnsdale which gives us confidence."
Blaser praised the efforts of the Lions' list, citing an even-spread of talent as their biggest strength.
"Colin Sanbrook was fantastic for us, but when you win like that it takes all 22 players to have a good game," he said.
After the bye Moe comes up against Sale on the road and Blaser said the round 15 fixture was shaping to be an exciting one.
"Sale at Sale is always extremely hard task and they've had good results the last few week," he said.
"We won't change our preparation at all going into it but we expect them to be really solid."
With a clean injury list, Blaser said his troupe would relish the chance to rest and recuperate ahead of the run towards finals.
"We've got a few sore bodies but the bye should work pretty well for us, it's come at a good time."
Moe sits in fourth position on the Gippsland League ladder with 10 wins and four losses, streets ahead of Morwell in fifth spot with six wins, while Bairnsdale lags is in ninth with four wins.
Morwell v Leongatha
Despite what the score line may suggest, Morwell was valiant in its 31-point loss to the Parrots and came within eight points of the ladder leader at three quarter time.
The Leongatha defence was impenetrable in the second half and the Tigers managed just a single point in the final term to be overrun 10.14 (74) to 6.7 (43).
Robert Michaelides scored three for the Tigers while Christoper Dunne also scored three for Leongatha.
Leongatha showed its depth of talent with eight individual goal kickers for the day.
Anthony Rosato was best on for Morwell in the defeat, while Christopher Dunne's three goals were enough to earn him the six votes for the Parrots.
The Tigers sit in fifth position on the Gippsland League ladder a massive four games off Moe in fourth position.
Morwell will face Bairnsdale after the bye while Leongatha comes up against Drouin on the road.
Traralgon v Drouin
It was always going to be a tough ask for Drouin to take on Traralgon on the road and the challenge proved too big for the Hawks as they went down 16.16 (112) to 6.4 (40) on Saturday.
Mark Collison shone up forward for the Maroons with six goals and Matthew Northe with four.
Troy Forrest, Haydn Hector and Bailey Cameron all put in solid performances to feature in the best players for the day.
Drouin never got a look-in during the 72-point defeat, managing just six goals to Traralgon's 16.
Traralgon is two games off the pace in third spot with 10 wins, while Drouin remains at the bottom yet to record a win for 2017.
Traralgon will face Maffra after the bye while Drouin will be set a tough task when it hosts Leongatha at Community Bank Oval.
Wonthaggi v Maffra
It WAS a tight tussle all day at Wonthaggi when the Power hosted Maffra in round 14 with the lead never extending beyond seven points either way.
Maffra travelled well and managed to edge-out Wonthaggi by two points in the 9.8 (62) to 8.12 (60) win.
Wonthaggi's inaccuracy on goal proved costly in the end with twenty scoring shots for just eight goals.
Dominic O'Connor kicked three for Wonthaggi, while Zac Gilmour earned best-on plaudits for the losing side along with Shannon Bray and Jack Blair.
Andrew Petrou notched three goals for Maffra and shone alongside James Whelan who was awarded six votes for best-on.
Maffra sits just behind Leongatha on the Gippsland League ladder, equal on 12 wins and two losses.
Wonthaggi will travel after the bye to face Warragul at Western Park while Maffra takes on Traralgon in a battle of second and third.