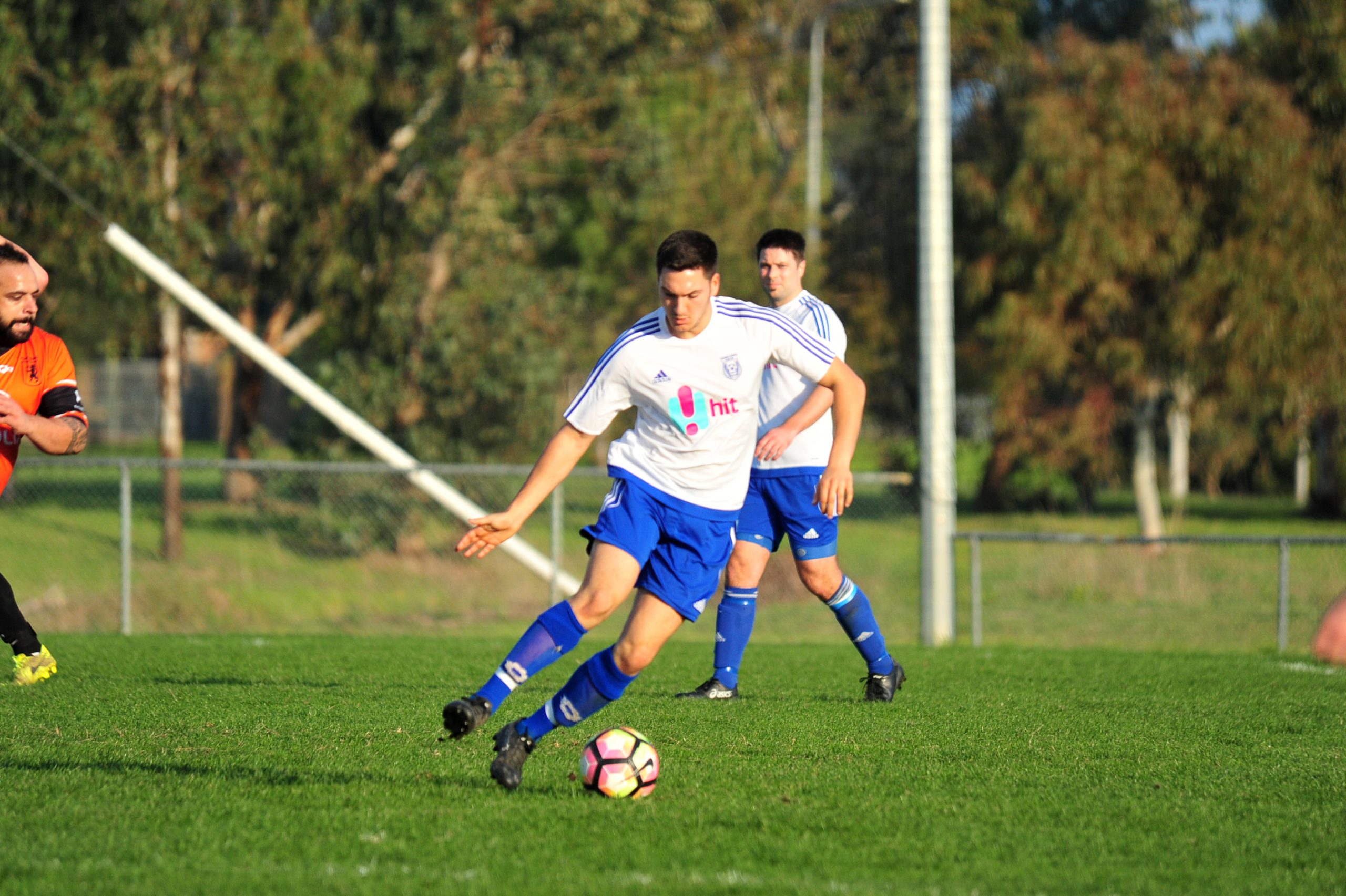 SOCCER
LATROBE VALLEY SOCCER LEAGUE
Bragging rights are still up for grabs after the two top teams Falcons and Olympians fought out a thrilling 4-4 draw in front of a vocal crowd.
It was the fifth tie between the two and the highest ever goals in a drawn match.
Falcons got under way quickly and graced the scoreboard at the 14th minute through a Jamie Pistrin goal.
Five minutes later, Olympians lost Peter Labros after he was sent off which left them to play 80 minutes with only 10 men.
Falcons again scored at 21 minutes through Jesse Kennedy.
The loss of the star player spurred Olympians on and two goals within five minutes came from excellent down-the-field work from Bryson Tanti and Dragan Milesevic to Kuku Mahmoud and Brandon Scott to tie it up at 2-2.
It was end-to-end work as both teams tried to break the deadlock and it was Olympians at 44 minutes that got the breakthrough when Bryan Tanti and goalkeeper Adam Brooker collided and the loose ball was struck by Tanti into the open net to give the Olympians an unbelievable 3-2 lead.
However on the kick-off, Falcons forced the ball forward and Jamie Pistrin was felled, giving him a chance free kick and the resulting shot went through for his second beating Olympians keeper Aiden Reilly to level the scores on the half-time whistle.
Three minutes into the second half Falcons had a goal disallowed for offside after a Sam Amira shot rebounded off the post and Jesse Kennedy put it away only to find the linesman's flag raised.
Dragan Milesevic and Bryson Tanti were giving Olympians plenty of chances.
Olympians' substitute Alradi Ali had a one on one with the Falcon's keeper, rounded him and scored Olympians' fourth goal on the hour. Falcons moved into panic mode and three rapid shots were saved by keeper Reilly.
Kuku Mahmoud was playing well for Olympians and Falcons' Kevin Carcella was prominent on the left side feeding Jesse Kennedy up forward but Olympians stood firm in defence.
A penalty appeal from Falcons went unnoticed as Sam Amira was felled in the box.
Olympians with their 10 men were superb in defence but eventually had to crack under pressure and at 75 minutes the combination of Kevin Carcella and Jesse Kennedy saw Kennedy put away his second to tie up the match at 4-4.
Falcons were disappointed not to win but praised the efforts of Olympians to gain a point out of the match.
Newborough/Yallourn v Trafalgar
Newborough/Yallourn asserted its power over Trafalgar in a one-sided effort.
The Victory were expected to put up a good show against the Combine but its efforts turned flat as Newborough/Yallourn were able to win comfortably in their biggest win over Trafalgar.
The Combine had four on the board by half-time but Trafalgar steadied in the latter half and was more competitive, the rain had made conditions slippery but the Combine managed two more goals at 58 and 87 minutes to wrap up the game 6-0.
Mark Fairbrother with a hat-trick was the main destroyer.
Fortuna v Monash
Fortuna, from its lowly position on the ladder, was able to share the points against Monash 2-2 in a game where either team could have taken the match.
After a goalless first half it was set for a dramatic finish, with Monash scoring just into the second half through a Mark Koolen goal but Fortuna was equal to the task when coach Luke Cheney beat the keeper and levelled six minutes later.
It was tough going in the conditions but Monash was able to snatch back the lead at 68 minutes through Shawn Lawrence and Fortuna had to pull something out of the bag if they wanted a share of the points and eight minutes before the end, James Carlin levelled again as fans went into raptures.
Time ran out for both teams and the score stood at 2-2.
Traralgon City v Sale
Traralgon City had a tough time against an enthusiastic Sale team and the Roosters made it difficult to get their usual pattern flowing.
Sale put the pressure on the Roosters but a lapse in defence resulted in Traralgon City scoring at 33 minutes through Liam Johnson.
The score stayed that way until the break.
Traralgon City kept the pressure up on Sale giving the Swans little avenue to score.
Two goals from Mark Bruzzese and Liam Johnson within two minutes took the game away from Sale as the City took a 3-0 lead.
Sale eventually got one back at 78 minutes with Callam Markovic rounding the keeper but it was too late as Traralgon City ran out winners 3-1.
Moe v Tyers
Moe had its biggest win over Tyers since 2013 and an early showing saw Moe race to 6-0 by half time.
Tyers forced the brakes in the second half but couldn't stop the Red army from a trouncing win (9-0).
Braces from Luke Bathgate, Kyle Jennings and Nick Dastey all contributed to the big win.
East Gippsland v Churchill
Churchill had a hard-fought win over East Gippsland, coming from behind to snatch victory 3-2.
East Gippsland hit the ground running but the slippery conditions halted its style of play.
Two goals within two minutes at 35 to Jayden Steele and Thomas Forster at 36 minutes gave the Eagles a sniff of victory but only two minutes later an own goal brought Churchill back into the match.
A goal on the shadows of half time by Churchill's Brayden Dunne saw the score level at 2-2 and East Gippsland suffered a hard blow when it was reduced to 10 men just before half time.
Neither team gained any advantage in the second half.
Churchill forged ahead at 64 minutes through Jarryd Johnson to lead 3-2.
Round 16 preview
Trafalgar v Fortuna
Trafalgar and Fortuna look to be the match of the round, with Trafalgar in sixth position looking for that elusive fifth spot on the table, while Fortuna is down the list in eighth position but little separates the two teams.
History shows Fortuna has won its last five over Victory which included a 3-2 win at their last outing.
Sale v Monash
Seventh-placed Sale has a hard match-up against fourth-placed Monash.
The Swans went down last weekend but will need to regroup against Monash who struggled against Fortuna.
Overall Monash has won the last three against Sale and need to be wary as Sale plays a lot better at home.
Olympians v Churchill
Olympians, sitting in second can expect a difficult match against Churchill.
They put in a superb effort against top team Falcons last week sharing the points in a tough match.
Although Churchill is in 10th position, it is always competitive against Olympians.
Churchill lead Olympians 34 wins to 33 overall and this is an opportune time for Olympians to square the ledger.
Falcons v Newborough/Yallourn
Top team Falcons can expect fifth-placed Newborough/Yallourn to be competitive.
The birds just scraped in with a draw last week in an eight-goal fest but can expect that the Combine will match them man-for-man in a keen completion.
Newborough/Yallourn had a fairly easy game against Trafalgar last week but can expect a tougher battle against the birds.
History is on Falcons' side as they have won the last seven against Newborough/Yallourn.
Traralgon City v Tyers
Traralgon City in third position is up against 12th-placed Tyers and will be expected to take the points as Tyers is struggling to match it with the other teams.
A 9-0 hiding last week wouldn't instil too much confidence in the Lightning but they will be still giving it their all against the Roosters.
Traralgon City has won the last three against Tyers and on form should make it four in a row.
East Gippsland v Moe
Although Moe is in ninth position, it still could be too good for the Eastern Eagles who are sitting two spots down from the Reds.
Moe will be fresh after a 9-0 win last weekend. While East Gippsland may have lost to Churchill, it was still competitive.
Moe has won its five matches over the East so far and considering they won 4-1 last time they should add another win to the record.