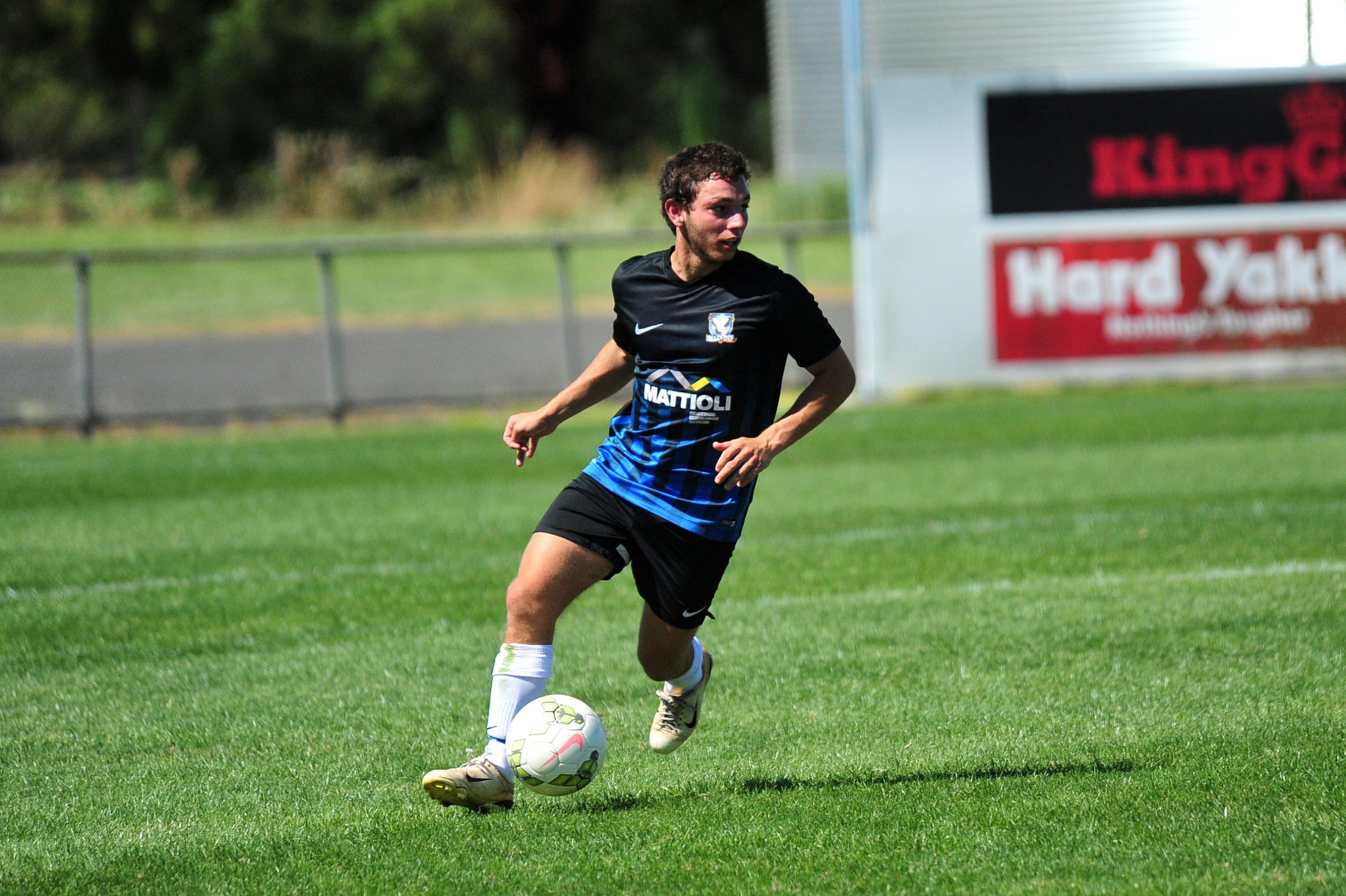 SOCCER

LVSL
Falcons 2000 continued its run to the finals, disposing of third-placed Traralgon City.
It was tough going early as both sides were willing adversaries.
Falcons were without coach Nick D'Allesandro and regular keeper Adam Brooker but their replacements did a serviceable job, especially Rob Guarascio in goals who saved many of the City attacks to record a clean sheet.
Traralgon City were on the attack early and leading goal scorer DJ Matar forced the Falcons' keeper to dive to save what would have been a certain goal at the six minute mark.
Falcons to the town end were moving the ball well with Frankie Yousef on the wing providing a springboard to attack, Jesse Kennedy was busy early trying to evade the Traralgon City defenders but it was Aaron Daniels who scored a rare goal, coming from defence to head in a Jesse Kennedy cross to give Falcons a 1-0 advantage.
Three minutes later Falcons went 2-0 after Traralgon City had a corner but on the rebound caught Traralgon City off guard and Jamie Pistrin put it past the keeper.
The Roosters were unlucky not to have scored with two good chances, both from corners, but the Falcons defence was strong. Traralgon City were making it hard for Falcons to play their usual style but their backs were broken when Sam Amaira scored from point blank range to give Falcons a 3-0 lead just on half time.
After the break it was back and forth with both keepers coming into the action but the score remained unchanged.
Trafalgar v East Gippsland
Trafalgar crept into the final six at the expense of Sale and is set to play in its first final series providing they can beat or hold league leaders Falcons to a draw in this week's final round of matches.
The Victory will also need a bit of luck with East Gippsland beating Sale if it is to make it into the finals.
Trafalgar was quick out of the box against East Gippsland and within five minutes Lloyd King had a goal on the board.
East Gippsland stung back with a vengeance and two goals by Andrew Mills swung the match away from Trafalgar, the East were up 2-1 and looking for a surprise win. Trafalgar were behind but attacked in force and Callum Spencer equalised within the shadows of half time.
With only minutes left to the break, Trafalgar moved up a notch and prolific Nathaniel Paredes scored a brace within two minutes to give the Victory a 4-2 lead at half-time.
After half-time East Gippsland tried to bridge the gap but found Trafalgar too strong but a consolation goal by Thomas Foster saw the final result 4-3 in favour of Trafalgar.
Fortuna v Tyers
An eight goal aggregate and three penalty goals were the highlight of a sometimes brutal clash, the referee having his hands full with some hot-headed players.
Fortuna's coach Luke Cheney was first on the score-card with a clever goal at seven minutes in, Fortuna were dominating play leaving Tyers flat-footed.
Luke Cheney scored his second at 38 minutes to take Fortuna in at half-time up 2-0.
A clash in the penalty area saw Mauro DeLuca step up to the plate and he put it past the keeper for Fortuna's third.
Tyers fought back and they were on the end of a penalty and Budd Tanner scored.
It was game on, as Mauro De Luca scored his second for Fortuna but Tyers were yet to finish with Budd Tanner taking his second penalty kick and he made it two from two.
The excitement wasn't over yet with Daniel Holt scoring Fortuna's fifth goal and just near the gong Tyers' Shayne Pavich drove a bomb past the keeper to give them their third, but too late as Fortuna won 5-3.
Newborough/Yallourn v Sale
Newborough/Yallourn consolidated fourth position on the ladder and in the process knocked Sale out of the six after their 4-2 victory.
The combine was off the mark early in the match and before Sale could think about what was going on Andrew Batt had a goal on the board.
It has been a see-saw season for both teams and when Nick Buckhoreelall equalised for Sale at the 23 minute mark it was game on.
Both teams knew the importance of the win and when they went in at 1-1 at half-time the honours were shared.
Newborough/Yallourn swung into top gear in the second when Marc McHallam scored at 55 minutes and then on the hour Dylan Fairbrother put Newborough/Yallourn 3-1 up.
Andrew Batt scored his second to give them a 4-1 lead and all hope was gone for Sale as time was running out.
Nick Buckhoreelall scored his second for Sale but it came too late to save the Swans from dropping down a notch on the ladder as Newborough/Yallourn ran out winners 4-2.
Moe v Churchill
Former league powerbrokers Moe and Churchill played out a low-key clash on Sunday
Moe who took out the game 2-1 but they were behind 0-1 at half-time.
Churchill opened the match up at 16 minutes through Ray Myers and hung on till the break.
Moe turned the tables on the Rams and it was Luke Bathgate's brace in the 46th and 87th minutes that turned the game around to give Moe a 2-1 victory.
Olympians v Monash
Two potential finalists fought tooth and nail to beat each other and it was Olympians who had to fight back after being down at half-time.
The Generals dominated play in the first half and when Thomas Bramstedt beat the keeper at 25 minutes a huge roar went up.
Olympians were in shock and played out to half-time but were behind 0-1.
Peter Labros got Olympians back on track with a clever goal nine minutes after the break which took scores to 1-1.
Thomas Bramstedt was again in the thick of the action and when he got past the Olympians's keeper it gave them a 2-1 lead.
There was still plenty of time for Olympians to get another and Dragan Milesivic beat the keeper to level at 2-2.