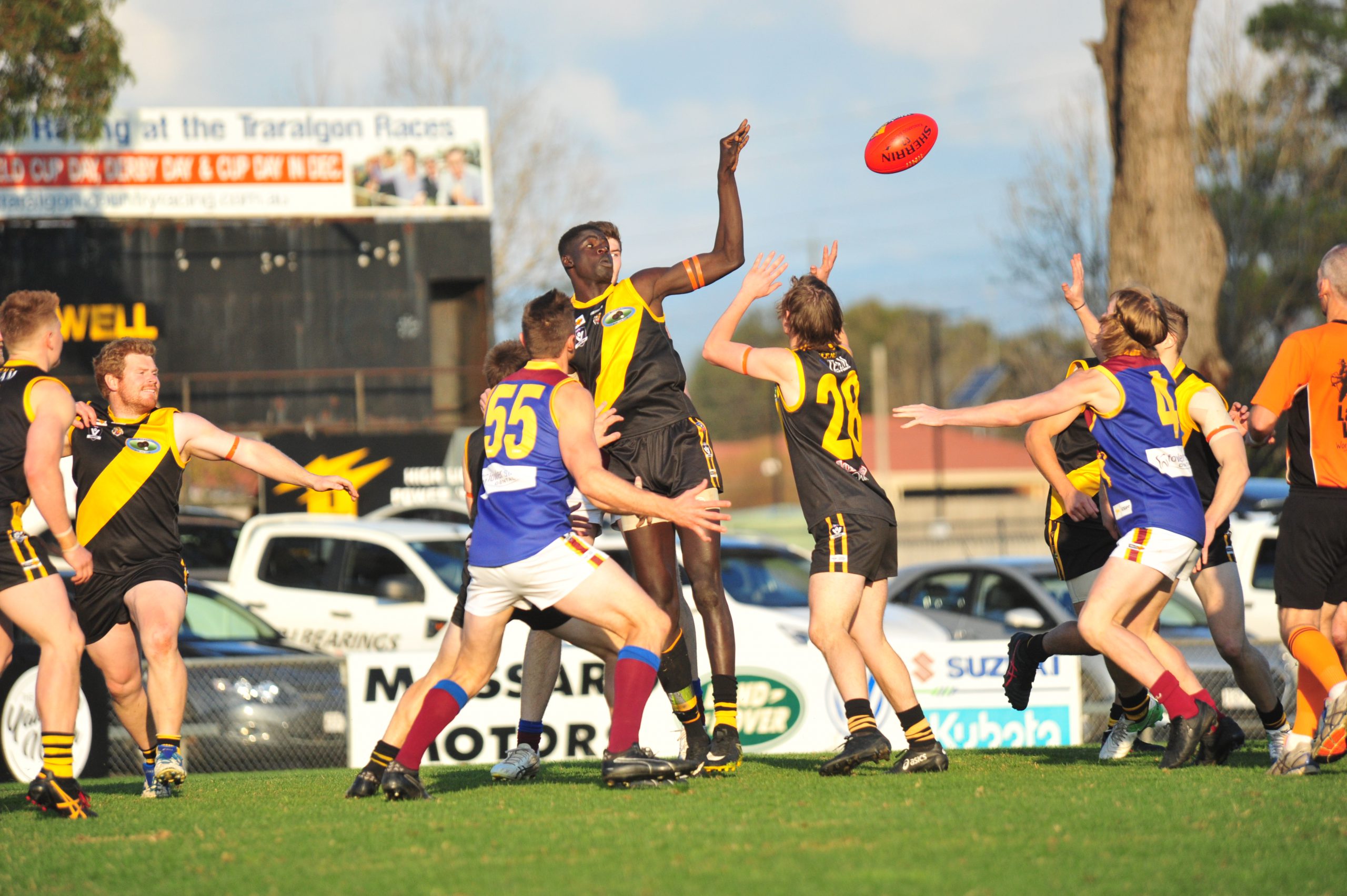 FOOTBALL
GIPPSLAND LEAGUE
Reigning premier Maffra will kick-off the 2017 Gippsland League finals series this weekend when it meets Traralgon in the qualifying final.
The winner will do battle with minor premier Leongatha for a spot in the grand final in next weekend's preliminary final.
Moe and Morwell face-off for the second week in a row, this time in the elimination final with the winner meeting the beaten qualifying finalist in the first semi-final the following week.
The Maroons come into the qualifying final in hot form after topping off season 2017 with a resounding 72-point win over Warragul in round 18.
The Eagles weren't so lucky in their final home and away game for the year and were outclassed by the Parrots by 16 points.
In their most recent encounter in round 15 Maffra was relentless, stacking on 17 goals to Traralgon's eight on their way to record a 59-point win.
It was a different story when the sides met in round six.
Traralgon looked to be home and hosed at three-quarter time with a 42-point lead but the Maroons hung on by just eight points after a spirited five-goal fight-back from Maffra.
Lee Stockdale proved the difference for the Maroons with four majors while Jackson McMahon and Jordan Sandy each scored two.
Ahead of this weekend's clash, Maroons coach Mark Collison said his side's best footy was enough to overcome any opponent.
"We've won one each and I think we match up pretty well against Maffra so which ever sides brings the best footy will get the results," Collison said.
"Maffra is a very good side and is deserving of finishing second and I think we're deserving of finishing third."
He said preparation was key for the Maroons ahead of the weekend.
"This week will be about planning for what we want to get out of training on Tuesday and Thursday and we'll obviously do our homework on what Maffra does well and what we do well," Collison said.
He highlighted his side's successful tilt at a top-three finish as "just one box ticked" and said it was now time for the Maroons to "get down to business."
He also cited Maffra's big-game players as a source of danger.
"They've got a lot of quality players like Sam Pleming down back, so we've always got to put time in to him," Collison said.
"They've also got a pretty potent forward line and midfield so we'll have to focus on them as well."
Moe v Morwell
Moe and Morwell will do battle for the second consecutive week this Sunday when they meet in the elimination final at Traralgon Recreation Reserve.
The Lions will head into the do-or-die game with confidence after recording a clean sheet against Morwell in the season proper.
They were far too strong for Morwell at the weekend, running out 37-point victors in the final home and away game of the season.
It was a similar story when the sides met in round nine and the Lions edged out the Tigers by 14 points.
Morwell coach Joel Soutar said his side "didn't come to play" at the weekend and expected a big turnaround in form ahead of this weekend's final.
"We started really well and were in reasonable form so we're just trying to keep positive and bring a better performance this weekend," Soutar said.
"We look forward to facing them in a final and getting another go at them but we're going to have to play better footy to turn it around."
Morwell hasn't played a seniors finals series since 2014 when it beat out Wonthaggi to claim the premiership and Soutar said the Tigers were excited to be back in the mix this year.
"The boys are keen to play their first final in a few years so to be back in there is great," he said.
In order to turn around their form against Moe, Soutar said the Tigers would look to "change up" a number of things.
"We'll work on ball use and we'll mix up positions a bit but mainly focus on our ball use and pressure," he said.
The Tigers will be buoyed by the returns of Isaac Abas and Jack Brown, with Kane Grinstead-Jones a possible inclusion.
Weekend finals fixtures
Qualifying finals at Sale Recreation Reserve – Saturday, 2 September
Seniors – Maffra v Traralgon
Reserves – Leongatha v Traralgon
Thirds – Moe v Traralgon
Fourths – Bairnsdale v Traralgon
A Grade – Morwell v Drouin
B Grade – Leongatha v Traralgon
C Grade – Wonthaggi v Maffra
17 & U – Drouin v Traralgon
15 & U – Leongatha v Sale
13 & U – Bairnsdale v Maffra
Elimination finals at Traralgon Recreation Reserve – Sunday, 3 September
Seniors – Moe v Morwell
Reserves – Moe v Morwell
Thirds – Bairnsdale v Maffra
Fourths – Leongatha v Maffra
A Grade – Leongatha v Moe
B Grade – Drouin v Sale
C Grade – Warragul v Traralgon
17 & U – Sale v Moe
15 & U – Bairnsdale v Morwell
13 & U – Traralgon v Wonthaggi