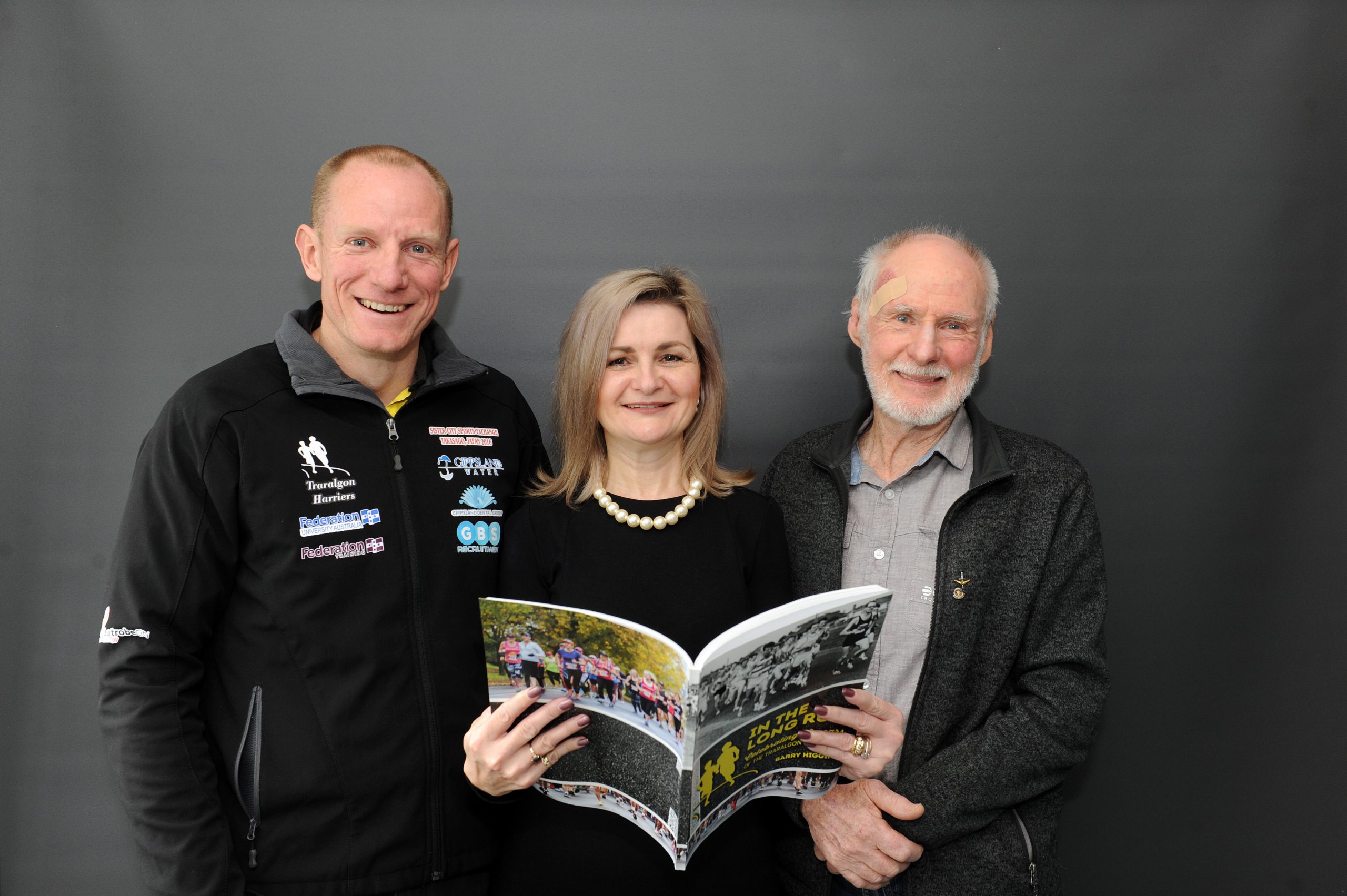 The Traralgon Harriers have a lot to celebrate this year.

This year marks the 50th anniversary of the club and the 50th running of the famous Traralgon Marathon.
Formed in 1967, the Harriers are celebrating a half-century of fitness and fun with the release of two special edition books.
Marie Little is a friend of the Harriers and was charged with compiling the Traralgon Harriers 50 Years book, a rich catalogue of stories from members across the years.
"When I started working on this [book], just to read-through the stories was actually phenomenal and I absolutely loved reading about all the individual stories," Little said.
"I attended the marathon in June to promote both books and spoke to some of the old founding members of the Harriers and it was really just awe-inspiring."
Little, though not a runner herself, was "blown away" by the tales of Harriers past and present.
"This organisation is amazing, they represent those traditional values of mateship and regardless of where you're from they welcome you with open arms," she said.
"They value tradition and the way they have preserved their history I think that's lost a lot these days.
"After reading through some of the amazing stories my 14-year-old daughter wants to join the Harriers."
The Harriers have hosted many big-name athletes over the years, including ultra-marathon runner Yiannis Kouris and legends George Perdon and Cliffy Young.
The stories, first-hand accounts of athletic triumphs and tribulations, have been carefully handled by Little who said she wanted to ensure each one retained its character.
"I've been working on it for a year and I wanted for people to read about someone's experience or story and have it actually reflect that person, so I didn't really want to play with the language too much, I wanted to keep it authentic as possible," she said.
"It's really given me a real kinship and understanding of what community is all about and it's been really quite an inspiring experience for me personally."
Many have come and gone over the years but Little said she hopes the release of the two books will inspire a new generation of runners.
"It would be really sad to see it fall back away and not have that passing of the baton, but the club does an amazing, remarkable job of encouraging young runners and this year's event had record numbers of young runners as well," she said.
Barry Higgins is a long-time Harrier and has lovingly compiled a full history of the Traralgon Marathon titled In the Long Run Celebrating 50 Years of the Traralgon Marathon.
"Marathon is a metaphor for life, it's satisfies not only physical needs but social needs as well," Higgins said.
Higgins, who has run "only about 30" marathons and ultra marathons, has seen the Traralgon Marathon change significantly over the years.
"The Traralgon Marathon is the oldest in Australia. At the beginning we only had about 30 runners and this year for the 50th anniversary we had roughly 600 people across the events," he said.
"In the beginning almost no women ran and the first woman didn't run until 1978, but this year it was nearly an even-split."
Harriers president Ben Bailey puts the longevity of the club down to two simple things – passion and community.
"I put it down to the people. If we're short on numbers for our park run on Saturday morning someone will always put their hand up, its run by the love of it and the people that love doing it," Bailey said.
"Fifty years is good and I'm sure we can go another 50."
In the Long Run Celebrating 50 Year of the Traralgon Marathon is available for purchase at newsagents in the region.
Traralgon Harriers – 50 Years will be available at state, national and local libraries, with a limited number available for distribution.
The Traralgon Harriers are also marking their half-century milestone with a celebratory dinner to be held at the Traralgon Vineyard on Saturday, 21 October.
For more information on the Traralgon Harriers, to book tickets to the 50th anniversary dinner or to obtain a copy of Traralgon Harriers 50 Years, visit www.traralgonharriers.org.au