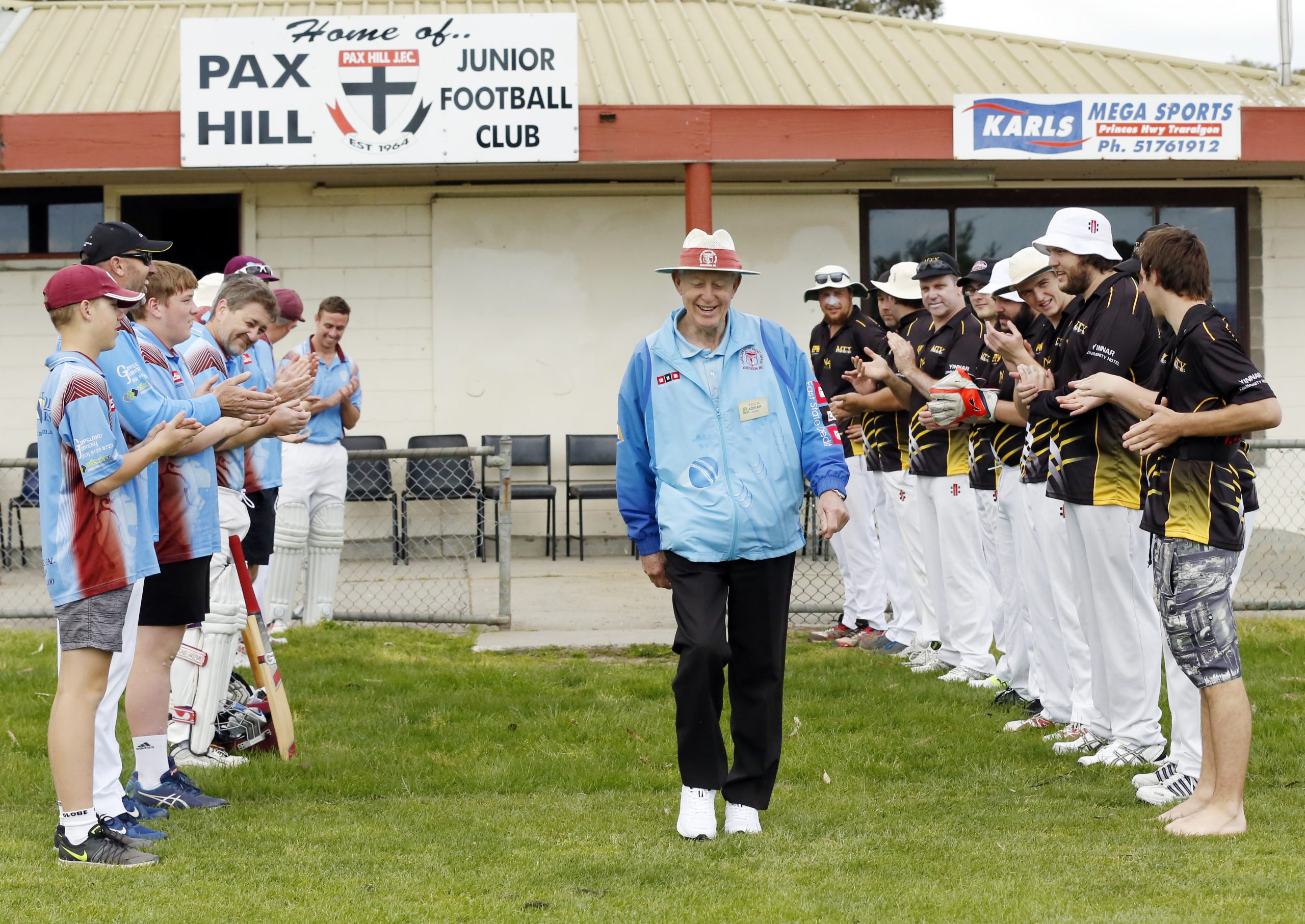 CRICKET
Adrian Fairley's love affair with cricket began in 1956 when he started playing with the Traralgon High School and Ex Students A grade side.
Sixty years on, Fairley has amassed a slew of playing awards but it's his umpiring resume that really stands out.
Last weekend the 75-year-old Traralgon resident took to the field as an umpire for the 500th time.
Players from the Centrals and MTY Raiders B grade sides formed a guard of honour for Fairley in a show of respect for his years of service and the astonishing milestone.
"It has been a real privilege to be involved with the game of cricket during these last 60 years, both as a player for 28 years and now as an umpire for 32 years," Fairley said.
"I didn't expect anything special to happen [at the game] because it might be a milestone but you're not doing it for that, you're doing it because you like being involved with cricket."
The retired school teacher has umpired across all grades of cricket and likened officiating the game to commanding a classroom.
"We came to the conclusion that between you, the school and the kids, you knew the rules. I struck a few tough kids over the years but in general it was okay," he said.
"There have been several occasions when I have had to caution players for unsporting like behaviour and on a couple of occasions I've reported players.
"Poor behaviour both on and off the field of play is unacceptable but I haven't had too much criticism over the years."
Fairley's no-nonsense approach to officiating the game has made him a widely-respected figure in Gippsland and beyond and he was awarded a certificate of appreciation by Cricket Victoria for more than 50 years service to the game.
Despite the accolades and decades of experience, Fairley said there are still times he questions a call.
"Sometimes you think 'did he hit that?' but we haven't got any of the review systems that the major games have so you've just got to give it as you see it," he said.
"We're not perfect and we make mistakes but the spirit of the law is that players accept the decision and get on with the game.
"It doesn't matter what level of cricket it is, you always try to do your best."
A life member of the Traralgon and District Cricket and Traralgon and District Umpires associations, Fairley first got in to umpiring out of a sense of obligation.
"When I retired from cricket back in 1983 I decided to join the umpires because there was a major shortage," he said.
"My knowledge of the laws and bylaws was adequate but after attending special meetings there was still a lot for me to learn.
"I have come to realise that having respect [for] all players, umpires and officials is an extremely important aspect in conducting a game of cricket."
After 32 years Fairley has grown to love his spot on the field and has no desire to hang up the hat any time soon.
"I have come to appreciate that standing behind the stumps is the best place to see the game of cricket," he said.
"I still enjoy umpiring and I will continue to umpire for the remainder of the 2017/18 season and hopefully beyond."