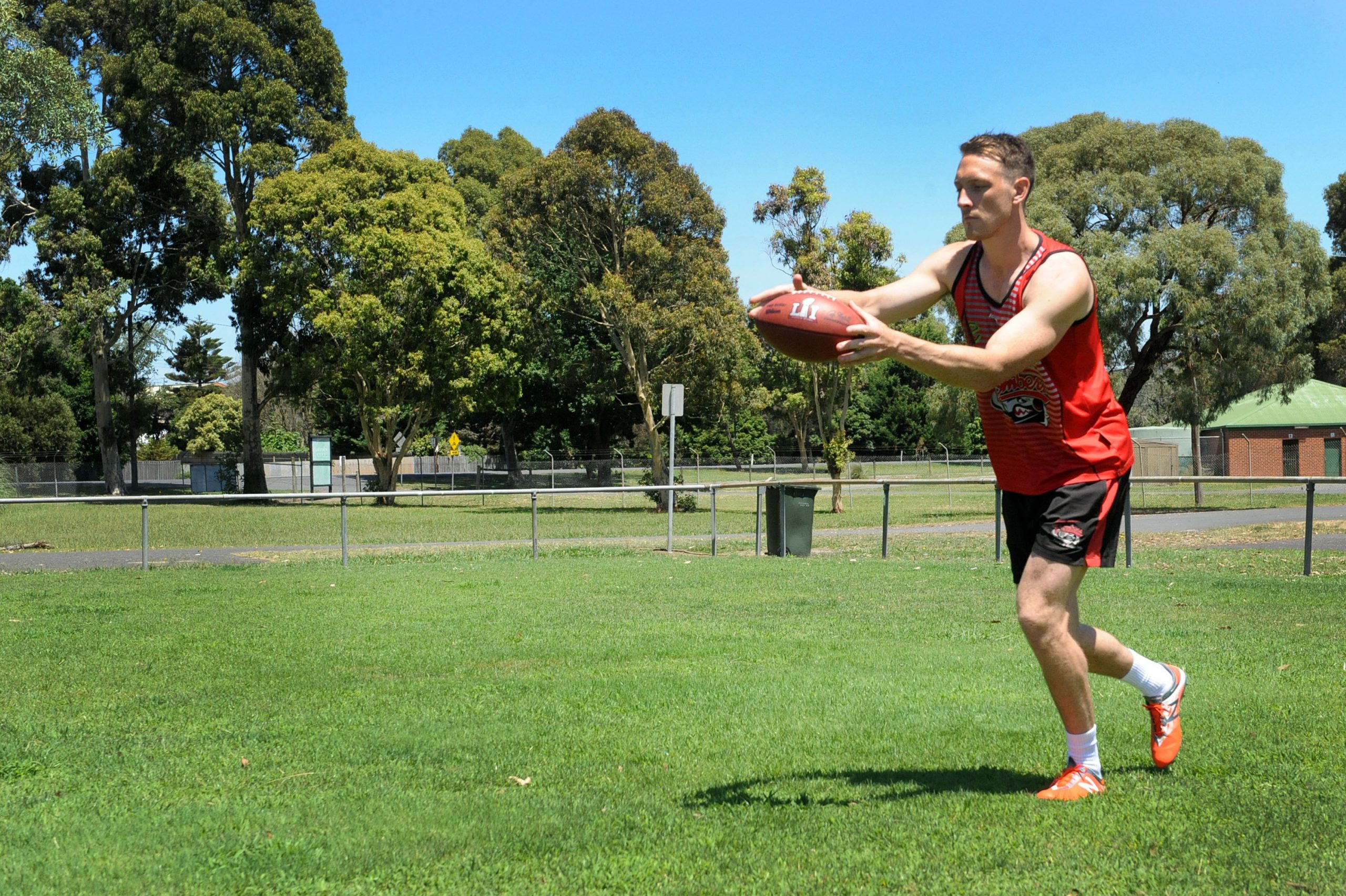 Tom Hutton was deep in another preseason with Yallourn/Yallourn North in the Mid Gippsland Football League until this week when he was made an offer too good to refuse.
After an "absolute whirlwind of a month", the super boot has earned a prestigious scholarship to play American football with the Oklahoma State Cowboys.
"It's been pure excitement up until yesterday," Hutton said.
"I started getting followed on Instagram by all these Oklahoma fans and I just thought 'hang on, what's going on here?'"
The full weight of the achievement is yet to sink in for the 27-year-old carpenter by trade, who astonishingly picked up a pig skin for the first time just a month ago.
"I was told about [American football] a few years ago so I thought 'I'll probably be too old for it now', thinking that it was like Aussie Rules and that if you were over 21 then you had no chance," he said.
"But then I saw a few older blokes getting scholarships so I thought I may as well give it a go."
The Newborough resident decided to attend a Prokick Australia training session in Melbourne in December and immediately drew the attention of college scouts.
"They were pretty impressed and told me it was worth sticking with it," he said.
"They were looking for a 40-yard punt with around four seconds of hang time … I was exceeding that and they knew I'd be worth a crack.
"I didn't know if they were just trying to get my business but [the scouts] were going after me really hard."
Within two weeks of his first training session, the paper mill shift worker received an extraordinary phone call from Prokick Australia.
"I woke up after night shift on two hours sleep and this person said 'we know where you're going, you're going to Oklahoma State and we've got the coach on the phone'.
"I thought 'Jesus Christ, can you give me half an hour? I need to have a shower and actually wake up and make sure this is not a dream'."
He journeyed to Melbourne again to prove to recruiters the giant punts weren't a fluke and, after speaking with the Oklahoma State special teams' coach, was reassured of his new reality.
"They wanted footage of me and then once they had that I had a phone call saying 'congratulations, we're going to take you'."
A league best-and-fairest winner and dual premiership player, Hutton was preparing to take over the reigns as captain at Yallourn/Yallourn North this year but will now make plans for his imminent move to the United States
The Cowboys form part of the Big 12 Conference and compete at the NCAA Division 1 Football Bowl subdivision level.
As part of his scholarship at Oklahoma State, the new recruit is contracted for a minimum of four years and will undertake a degree in teaching with a major in trades.
"It's pretty amazing, I can put my trade into practice and if I don't want to do that then I'll still be involved in a professional sporting team."